Environmental site assessments are crucial when closing commercial and industrial transactions to protect the involved parties against costly environmental liabilities and cleanups. So if you want to reduce the risks and expenses of putting up a business, we recommend conducting a Phase 2 Environmental Site Assessment (Phase II ESA).
Here, we will discuss what Phase 2 ESA is, what is included in the report, how it is done, and its importance to your business.

What Is the Purpose of Phase II Environmental Site Assessments?
Phase 2 ESA, also known as site investigation or subsurface investigation, is an in-depth assessment of commercial or industrial properties. It involves materials sampling and lab analysis for potential contamination by hazardous substances such as petroleum products. Its main objective is to determine the degree of contamination that can lead to significant health and environmental concerns in case any is found.
When Is an Environmental Phase 2 Assessment Done?
When the Phase 1 Environmental Site Assessment (Phase I ESA) has identified Recognized Environmental Conditions (RECs) in the site, Phase II assessment is done to confirm the contamination. Thus, it can only be done if the results of Phase 1 ESA require additional investigation for the evaluation of the potential impacts of the identified RECs.
Who Should Perform Phase II Site Assessments?
Only certified and experienced engineers and geologists or environmental professionals, like RPF Environmental, who are well-versed in these assessments should conduct Phase II ESA. These include expertise in ASTM, CERCLA AAI, and other local, state, or federal regulations and standards. This will guarantee accurate results to save you from costly legal issues caused by improper assessments in the future.
ESA Phase II Coverage: What Does a Phase 2 Environmental Report Consist Of?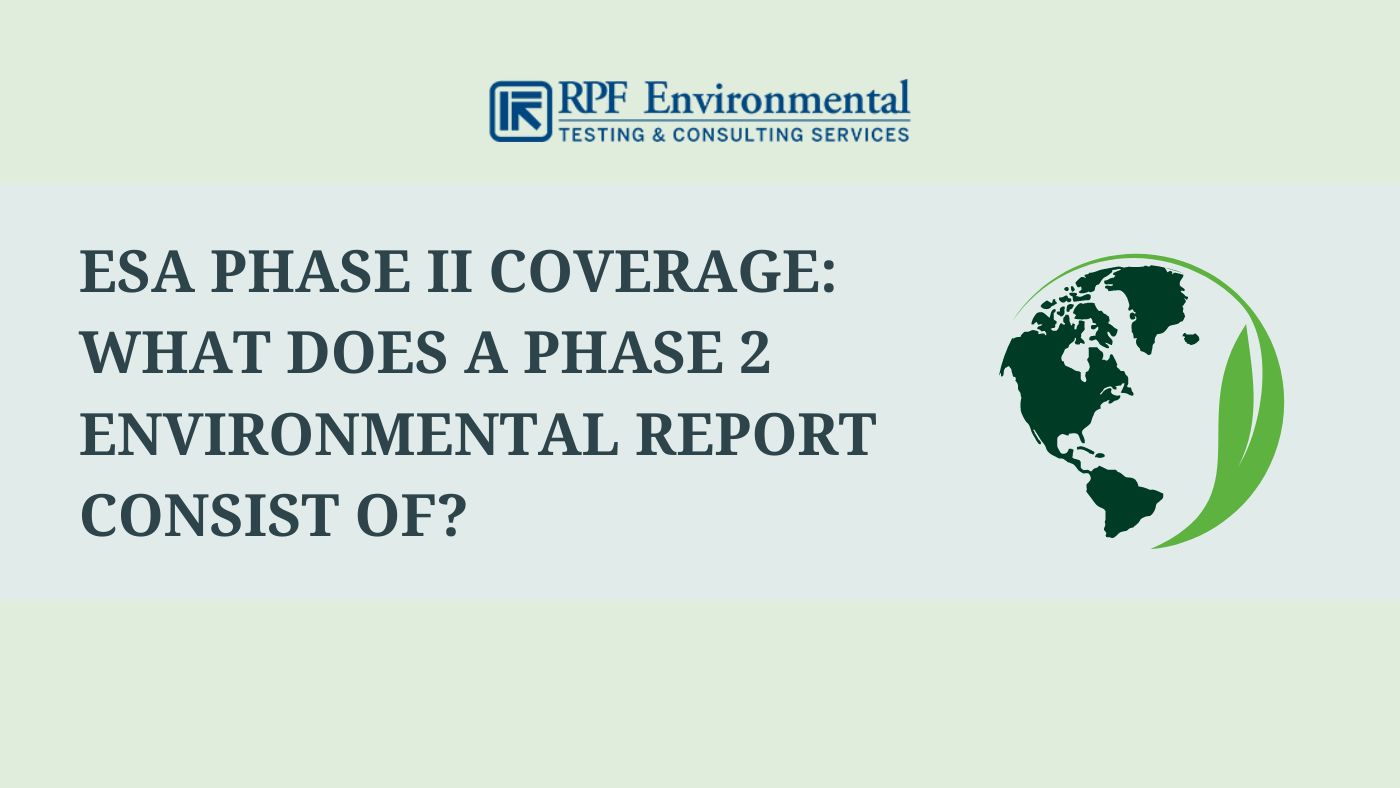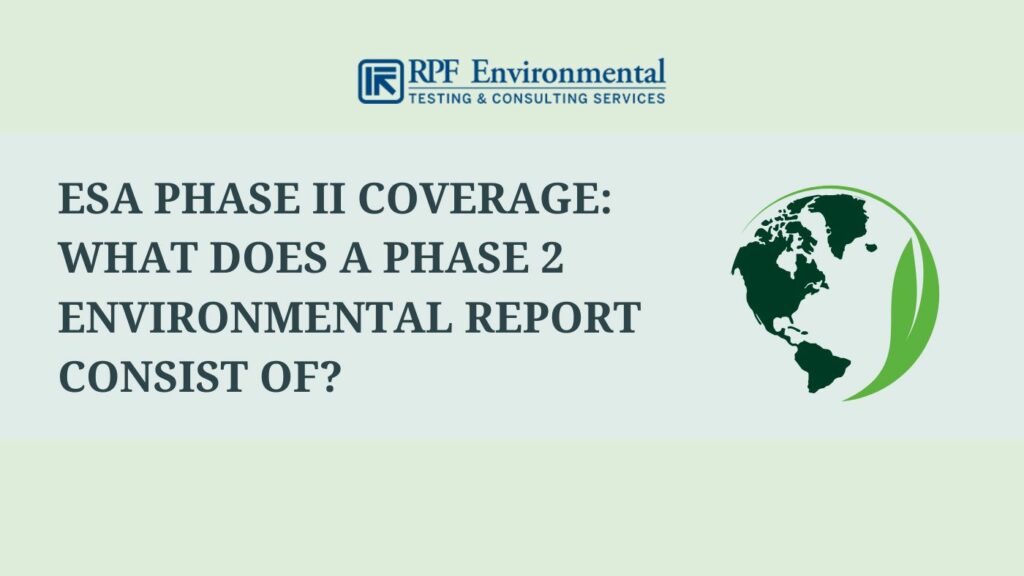 The coverage of Phase Two ESA will depend on site-specific factors and the client's needs, but it usually involves the following:
An intensive review of Phase 1 ESA data along with geological conditions and historical land use
Drilling and sampling of soil, soil vapor, and/or groundwater
Laboratory analysis and running various risk assessment models
Screening of Volatile Organic Compounds (VOCs)
Comparison of the gathered data against applicable screening levels and other regulatory agency standards
Recommendations for further investigations in case the results exceed application screening levels
Phase 2 site assessments may also include the evaluation of:
Ecological systems
Endangered species
Wetlands
What Is Not Included in a Phase II ESA?
Phase 2 site investigations only assess whether contamination exists on the site or not. Thus, it does not include determining the extent of the contamination. This also means that the data is not enough to estimate needed remedial actions and cleanups.
Phase 2 Environmental Site Assessment Checklist: How Are Phase 2 Site Assessments Done?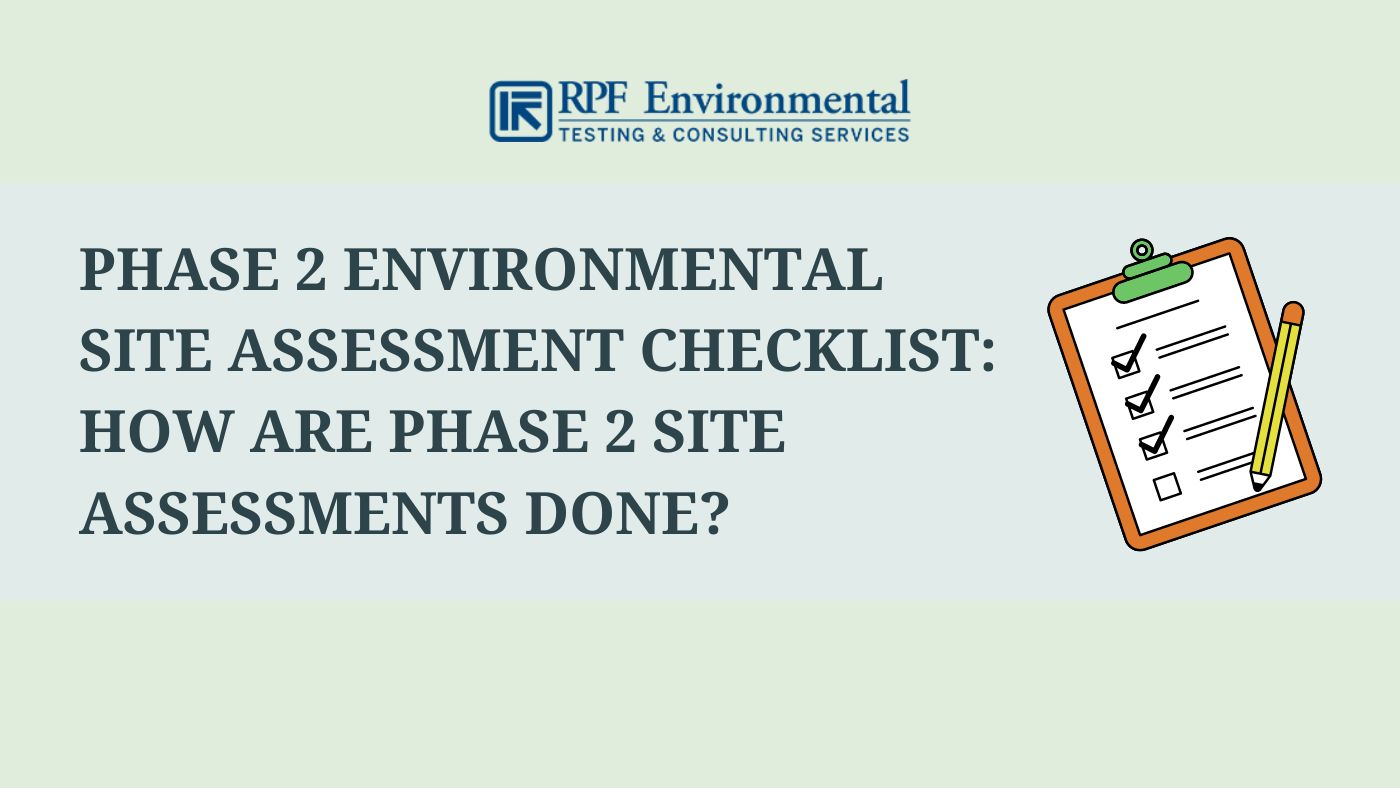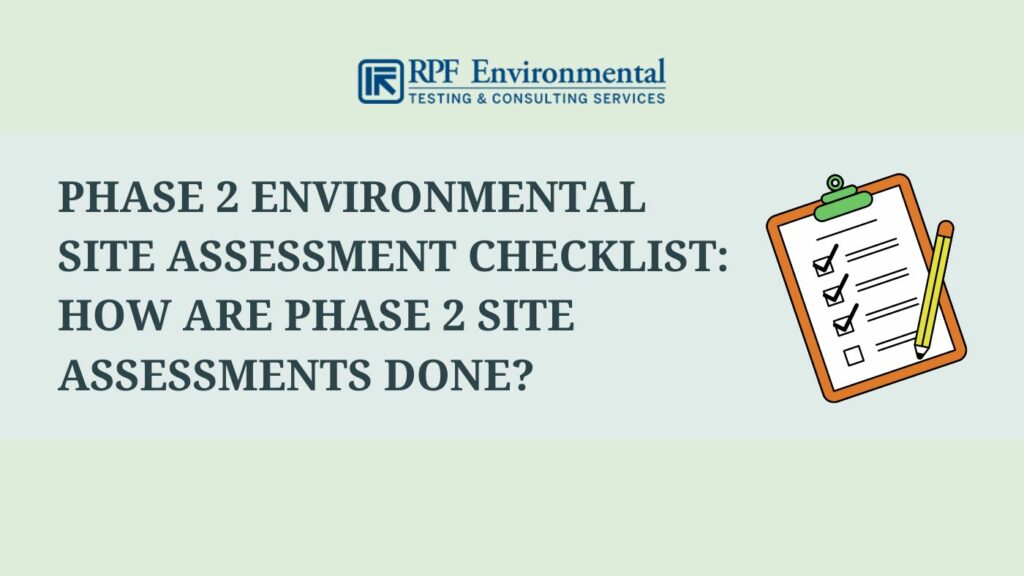 Generally, a Phase 2 Environmental Site Assessment undergoes five steps:
Step 1. Performing an In-Depth Review of Site-Specific Records
This step involves reviewing relevant data regarding the property to help in designing a proper scope for the assessment. These include the following:
Site-specific data such as historical records and site maps that will determine the location, depths, frequency, and quantity of samples
Site access concerns and health and safety plans to prevent accidents and injuries when doing the fieldwork
In addition to ASTM standards, local, federal, and state regulations will also be reviewed
Moreover, some Phase 2 assessments may also require geophysical surveys to characterize subsurface anomalies including utility lines and underground storage tanks.
Step 2. Designing the Phase 2 Site Assessment Scope
All Phase 2 ESAs include materials sampling and chemical analysis to confirm whether petroleum and other hazardous materials are present or not. But, the scope will be different for every site.
The scope will also depend on many factors including the following aside from the ones mentioned above:
The property's historical uses (i.e. Assessments for gas stations will be different from dry cleaners)
Types of identified or suspected contamination and other potential risks
Environmental issues and variable site conditions
In addition, the scope includes details regarding the fieldwork and analysis to be done:
Types of samples
Sampling media
Number of locations to sample
Drilling depths
Types of equipment to use
Field investigation methods
Analytical criteria including reporting values
Risk assessment methods
NOTE: A successful and accurate Phase II Site Assessment will depend on a well-designed scope. This will help in obtaining useful results that can give you detailed information regarding the business risks that you need to consider.
Step 3. Fieldwork: Groundwater and Soil Sample Collection
The fieldwork process will be planned carefully and initial preparations will be done including a preliminary walk around the site and utility clearance marking. After that, drilling and sample collection will follow using cutting-edge drilling equipment.
Aside from soil and groundwater sampling, other specific things that may be sampled and tested that might contain hazardous materials are:
Drums
Buried tanks
Indoor air quality
Catch basins
Floor drains
Dry wells
NOTE: The necessary permits must be obtained before the fieldwork is done for compliance with applicable laws and regulations.
Step 4. Data Analysis and Technical Risk Assessment
After fieldwork, licensed professionals will perform laboratory analysis for the samples which is done according to ASTM and EPA standards. This process also aims to determine whether the detections comply with applicable standards in the jurisdiction by comparing them against screening levels.
After that, the data collected will be used to run risk models and perform vapor intrusion analysis for potential health and environmental concerns.
Step 5. Phase 2 Environmental Report Preparation
Once the investigation is completed, all data are compiled in a Phase 2 Environmental Site Assessment Report which includes the following:
Geological background and overview of the site
Demonstration of actions done including the objective, methodologies, and findings
Conclusions and recommendations for the next steps based on the findings and industry standards
Why is a Phase II ESA Important?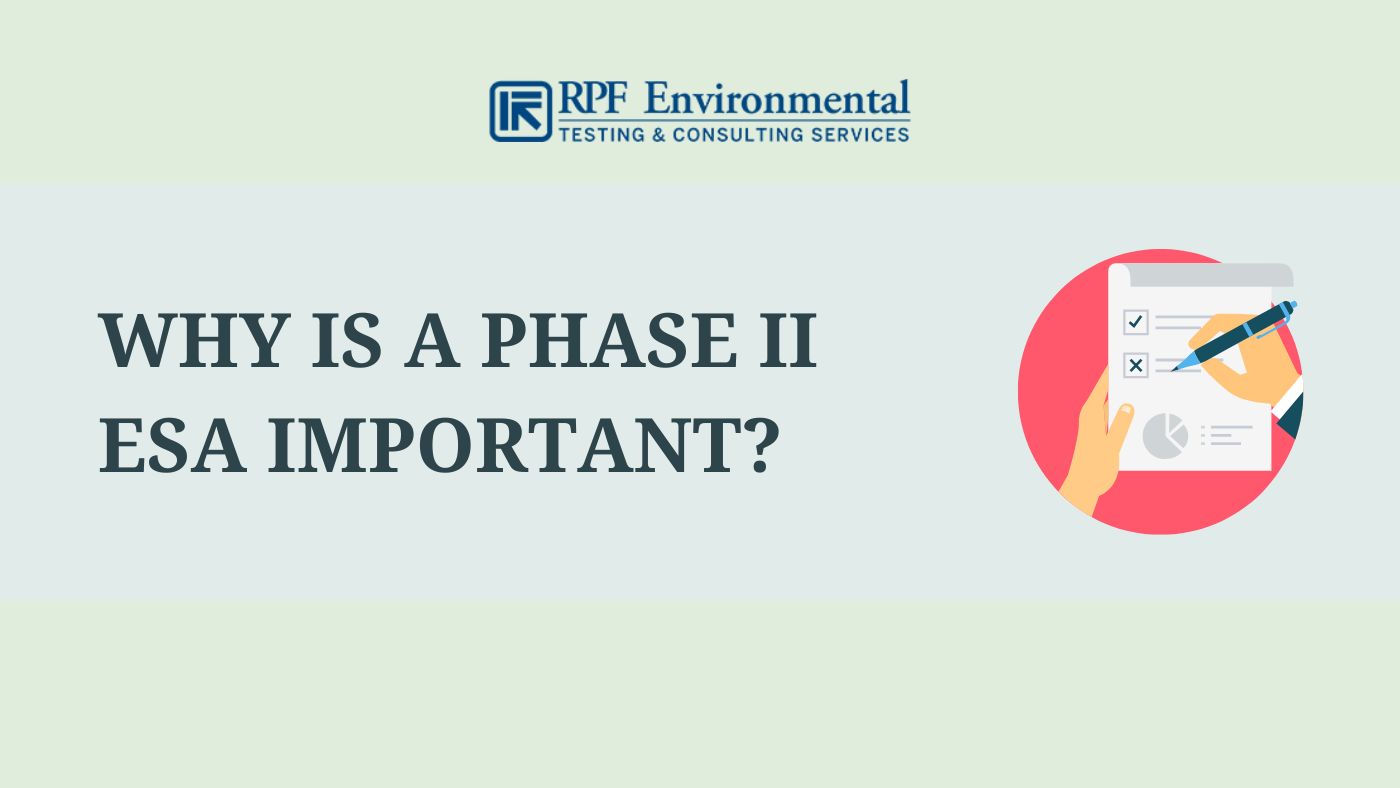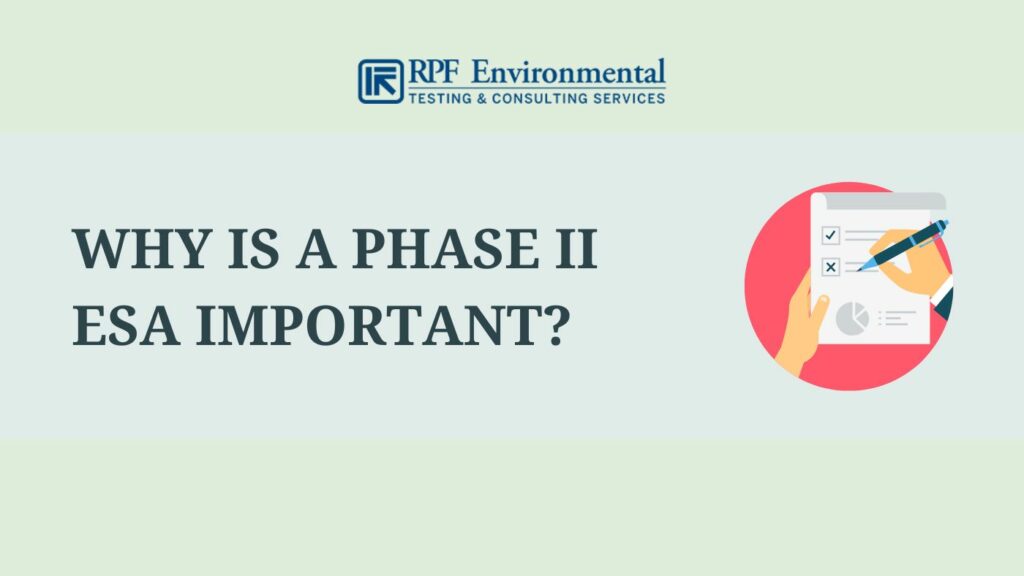 A Phase 2 environmental site assessment focuses on answering important questions that you might have regarding financing, long-term liabilities, cleanups, and even property price when purchasing.
The benefits of a Phase 2 ESA to your business include:
To limit potential business risks
To help you negotiate more favorable prices depending on the results of the assessment before closing the transaction
To reduce environmental liabilities and costly cleanup expenses in the future and protect your investments
To inform involved parties on how to protect themselves or employees from hazard exposure
How Long Does a Phase 2 Environmental Assessment Take?
Phase II site assessments take longer compared to Phase I assessments. But usually, phase 2 ESAs take around four weeks or more.
Also, the length of the process will depend on many factors including:
1. Complexity, Risk, & Size of the Site
Sites that have larger areas, higher risks, and are more complex will take longer. This is because the scope, methodologies, and access issues will also be more complicated.
2. Sampling Requirements
The sampling process takes the longest to implement because there might be a need to outsource companies that will perform other fieldwork operations such as drilling. Finding a trustworthy company that can do the job efficiently can take time.
How Much Does a Phase 2 Environmental Site Assessment Cost?
Phase 2 ESA costs are also significantly higher than Phase 1 due to the complexity of the process. The cost can range from $5,000 to $100,000 or more for complete assessments.
In addition, the costs can vary widely depending on site-specific factors including:
Phase 1 ESA results
Types of materials to sample
Sampling methods including drilling methods
Subsurface access issues
Types of analysis required
Overhead constraints
What's the Next Action After a Phase 2 Environmental Assessment?
Depending on the results of Phase II ESA, you might either be doing an additional investigation or not based on the recommendations from the final report. Further investigation may be the next step to determine the extent of the contamination as well as remediation for cleanup especially when significant levels of contamination are found.
NOTE: Phase 2 ESA doesn't include remediation efforts and additional contamination testing.
What's the Difference Between Phase 1 and Phase 2 Environmental Site Assessments?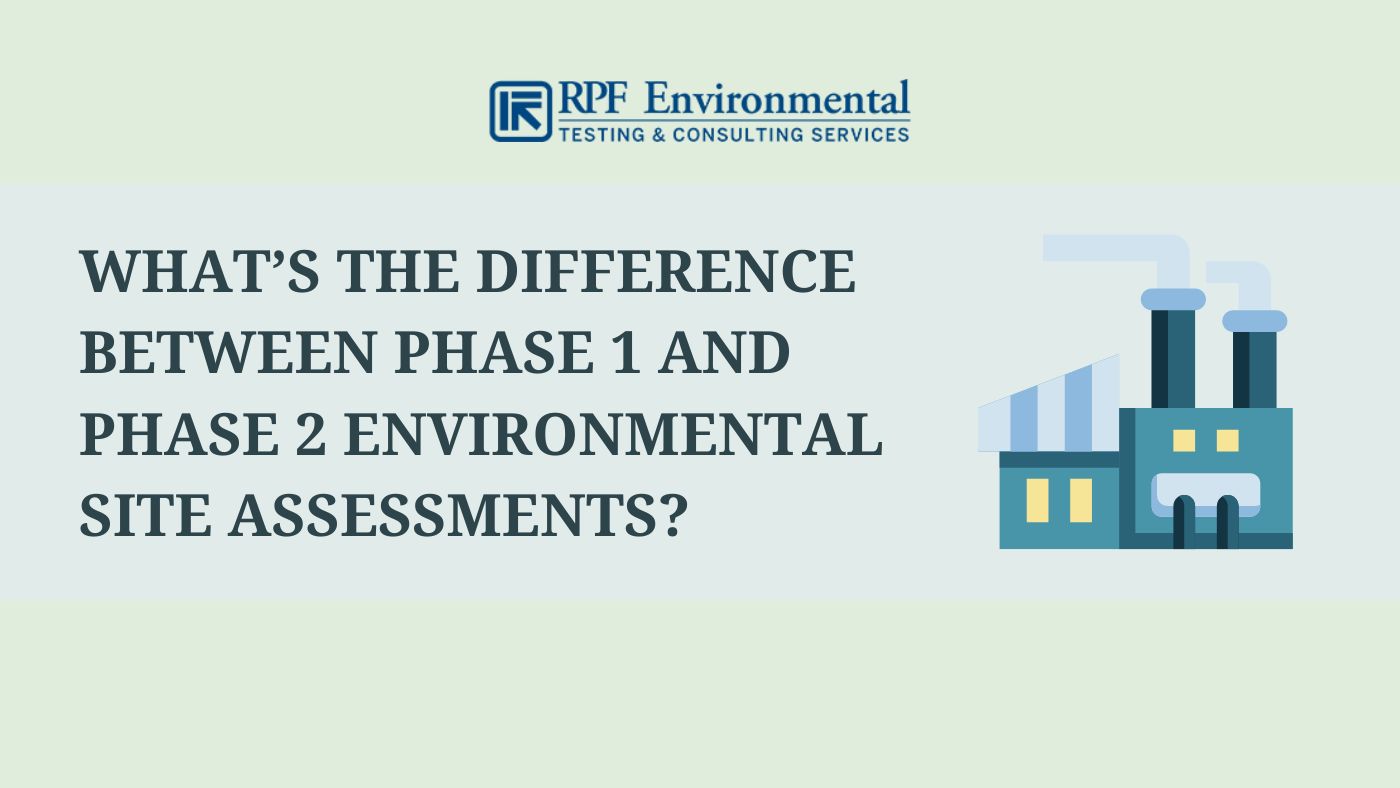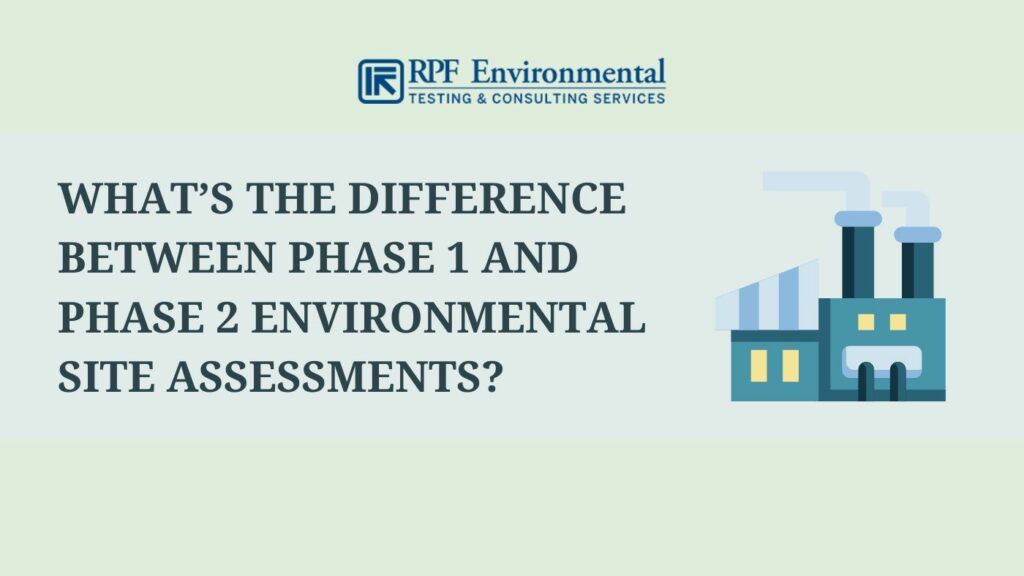 The main difference between Phase I and Phase II assessments is their scope:
Phase I ESA: Determines how likely a property contains hazardous substances through visual inspection and interviews.
Phase II ESA: Performs a more in-depth investigation to confirm the presence of contaminants through sample collection and laboratory testing.
In addition, below is a table summarizing the process done in Phase 1 and Phase 2 site assessments for easier comparison:
Phase 1 ESA
Phase 2 ESA
– Reviewing databases and historical records of the site and surrounding properties to determine past uses
– Site reconnaissance and visual inspection
– Interviewing previous owners, occupants, operators, government officials, and others
– Only done when RECs are identified in a Phase 1 ESA
– Collecting soil, soil vapor, and groundwater samples
– Laboratory analysis and risk assessments for potential health and environmental concerns
– Comparison of the results with regulatory guidelines to determine the safety of the site
Also Read:
FAQs
What triggers a Phase II ESA?
A Phase 2 ESA is typically triggered by the identification of Recognized Environmental Conditions (RECs) and other hazardous materials in the Phase 1 assessment.
How long is a Phase 2 ESA good for?
There are different policies regarding the shelf-life of Phase 2 ESA reports. This is why consulting an environmental professional who is updated with the laws and regulations is important. However, some jurisdictions will consider the assessment valid after some number of years it was taken as long as there have been no changes to the site and regulations under which it was performed.
Conclusion
A Phase 2 Environmental Site Assessment is only necessary when Phase I has discovered potential contamination. It is an important assessment done in commercial real estate transactions to determine the site's usability, cleanup liabilities, and potential business risks to protect your investment.
RPF Environmental is a certified due diligence environmental consulting and testing company in the New England region that provides cost-effective solutions to businesses. We can guarantee compliance and accuracy in our Phase 2 ESAs. We also provide EH&S trainings. Contact us now!