Exposure to asbestos poses enormous health and safety hazards that must be managed or eliminated, as quickly as possible. If your building requires asbestos identification, the inspection process will be conducted by an industrial hygiene consulting firm. Depending on what the inspection uncovers, it could call for the safe removal or in-place management of the asbestos. The inspection firm should also be independent of any abatement contracting companies hired to conduct asbestos removal work.
Need an asbestos survey? To learn more about our asbestos remediation services, please call RPF Environmental at 603-942-5432 today.
What is an Asbestos Survey?
An asbestos survey aims to document and identify the presence of asbestos-containing materials (ACMs) in a building, especially before demolition or renovation activities. It also involves quantifying how much ACMs need to be removed to avoid disturbing them and releasing asbestos fibers into the air. Thus, minimizing exposure on the premises during demolition/renovation.
When Should Asbestos Surveys Be Done? How Do I Know if I Need an Asbestos Survey?
Asbestos surveys are often required for due diligence. Before beginning any renovation, demolition, asbestos abatement, or other activity that could impact suspect material, an on-site evaluation must be completed by a certified asbestos inspection professional. This inspection is required by federal rules and regulations set forth by OSHA and the US EPA, as well as many state regulations, and even some local codes.
Moreover, asbestos surveys can also be done on buildings that are suspected to have been damaged due to previous flooding or natural disasters that may have compromised the building's structure.
Who Should Perform An Asbestos Survey?
An asbestos survey, including sampling and laboratory analysis, should only be done by certified asbestos consultants.
The asbestos inspection firm should be able to demonstrate sufficient experience, licensing, and adequate professional liability insurance coverage for environmental testing services. Without professional liability insurance, the owner will have no recourse for damages due to errors in judgment or professional opinion, all of which are beyond the scope of the contractor's general liability insurance.
The Asbestos Survey Report & Testing Process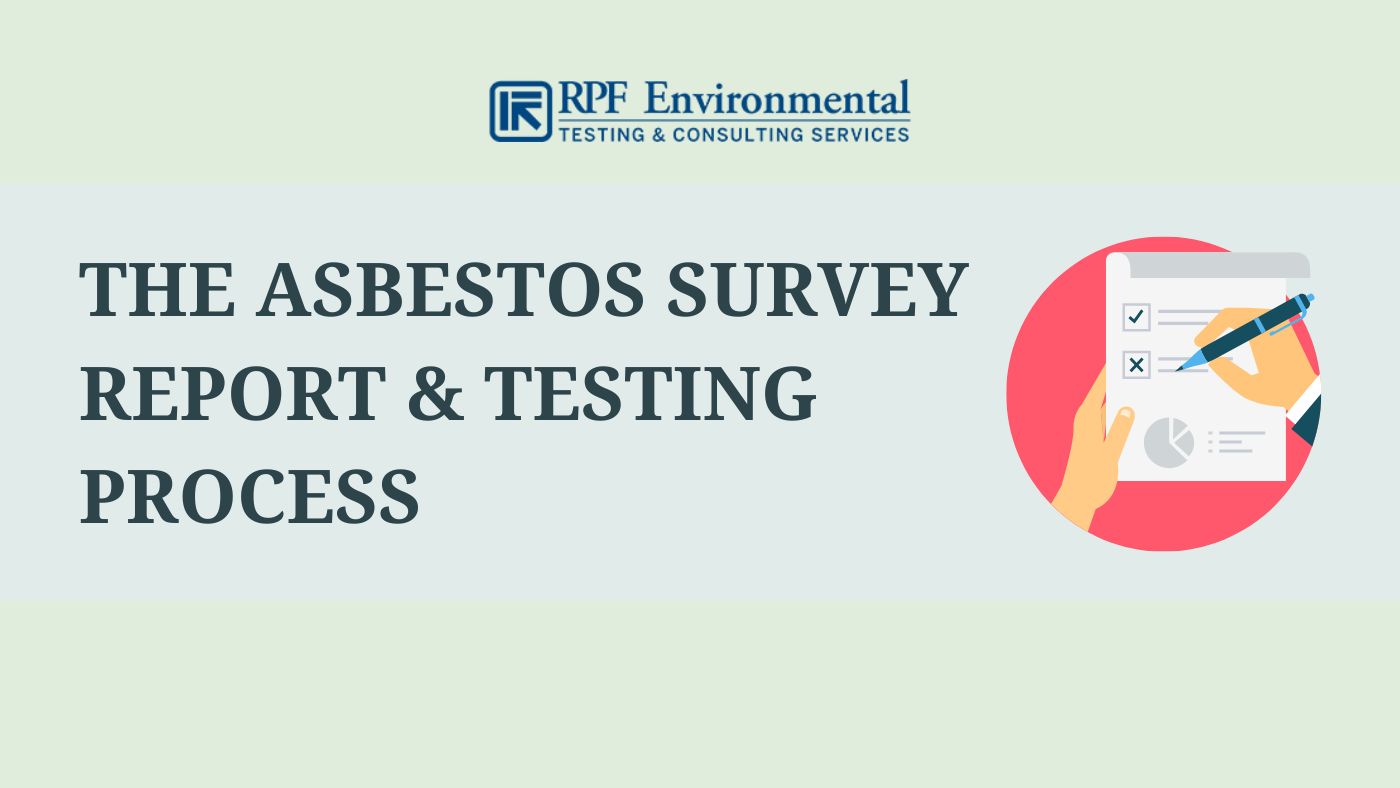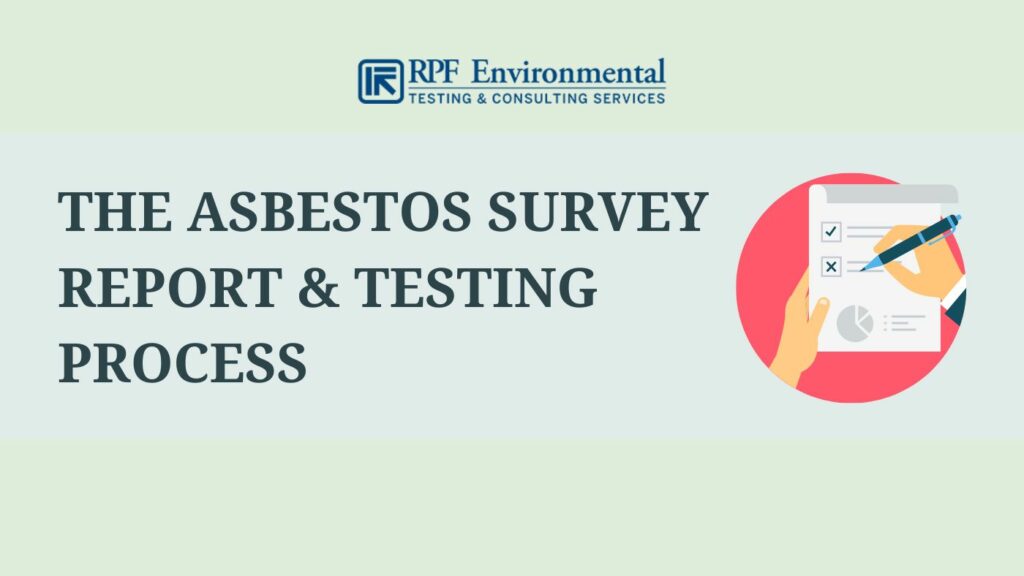 The asbestos testing process involves:
A thorough visual inspection of the affected building space
Inventory of suspect material
Bulk sample extraction
Laboratory analysis
Recommendations
Survey reporting
Field Inspection
Field inspections involve visual inspection and assessment of areas in a building that are suspected to have ACMs where the friability of the materials is tested.
Sampling
Materials that are suspected to contain asbestos like concrete flooring, walls, doors, and others are sampled.
Various regulations stipulate specific numbers of samples be taken from each type of material. One might ask why more than one sample is needed from each type. A simplistic analogy is the "chocolate chip cookie theory": you take a bite of the cookie, but you may or may not actually get a chocolate chip. For asbestos-containing material, this is due to the manufacturing process for the materials as well as limitations of analytical methods. Having a truly qualified, experienced, and independent inspection firm is critical.
Recommended Reading: Asbestos: How Many Samples are Right?
Laboratory Work
The samples undergo laboratory analysis. The laboratory performing the sampling and analysis should be certified and accredited.
ACM Survey Report
After the laboratory results are analyzed, a final survey report that documents the ACMs is prepared. The report should be clear and unambiguous.
What is Included in an Asbestos Survey Report?
An asbestos survey report should include the following:
Surveyor's name
A summary of the survey
Details about the site
Survey date, scope, methodology, & main findings
Details about the laboratory performing the sample analysis
Overall recommendations & conclusions
Any limitation of the survey
Other relevant data
Asbestos-Containing Materials: What Types of Building Materials are Suspect and Require Asbestos Sampling?
Asbestos was used in hundreds of different building materials, including:
Adhesives
Ceiling tile
Felt papers
Gypsum board and joint compound
Grout
Caulking and glazing
Fireproofing
Thermal insulation
Siding
Roofing
And many other products
Although some types of asbestos were banned in building materials, there are still products that can be purchased today with asbestos present.
Note: Undisturbed asbestos and those still in good condition are unlikely to present a risk. But once the materials are damaged or disturbed during repair, maintenance, demolition, and other related activities, asbestos fibers can become airborne. Also, workers may unknowingly inhale or ingest asbestos and may develop serious health complications. This is why professional asbestos identification is important.
How Long Does an Asbestos Survey Take?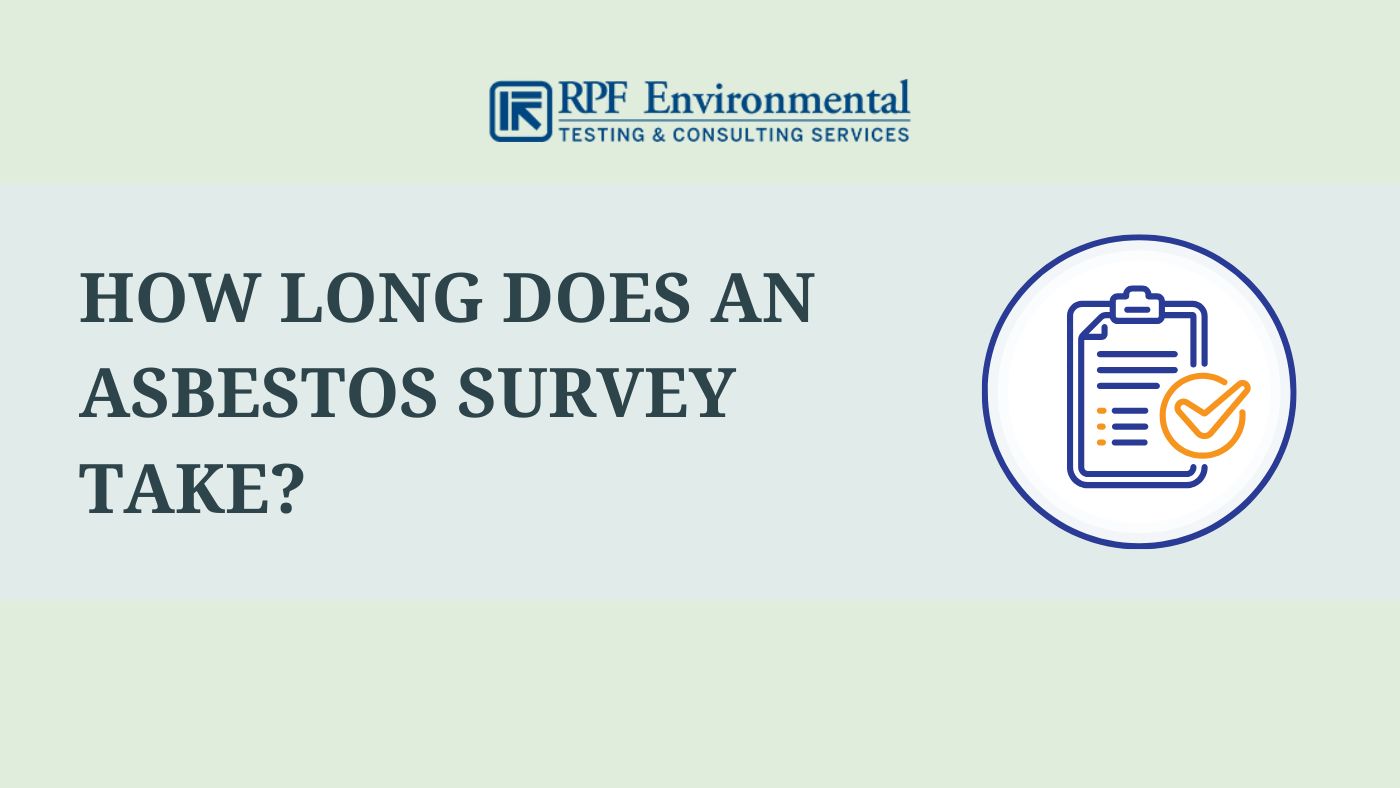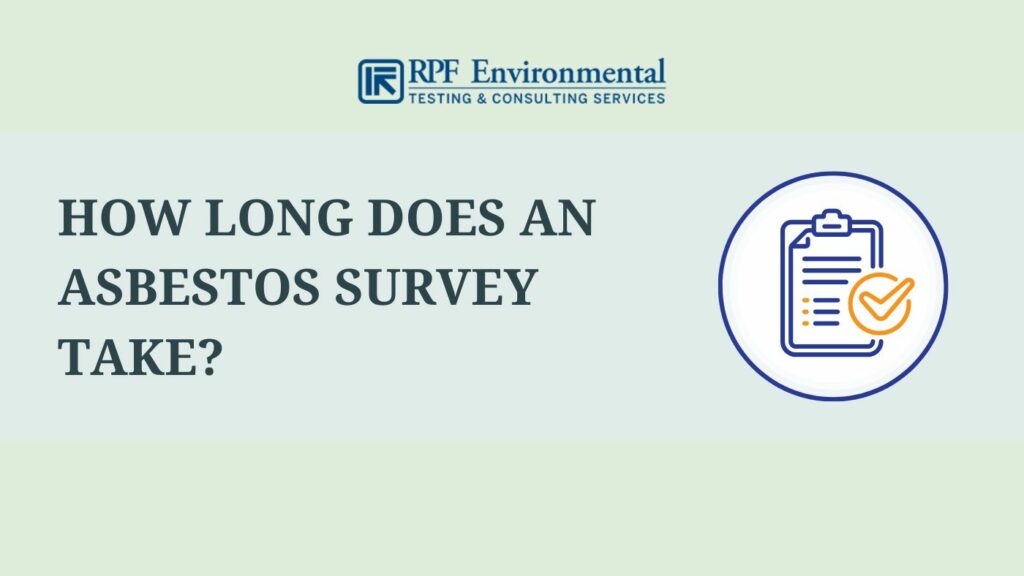 For many projects, an on-site inspection can take as little as a couple of hours or, for larger buildings, multiple days. The inspector will need full access to every room and space in the building or return site visits may be needed. Following the site work, standard laboratory analysis typically entails 3 to 10 days, with rush or emergency turnaround times available for substantial premium fees.
Without conducting extensive demolition during the inspection, there is always the potential that concealed suspect material is present within the enclosed wall, floor, ceilings, or mechanical spaces. This must be considered when it comes time to plan for abatement or demolition work, should any be required.
An area that often is overlooked when planning for inspections is a repair to sample locations. As part of the inspection, small pieces of material must be extracted from the building. This is typically ½" to 1" square of material per sample. This can result in aesthetic issues at the least to significant building envelope issues in the case of exterior sealants and roofing products.
Why is Asbestos Testing Important?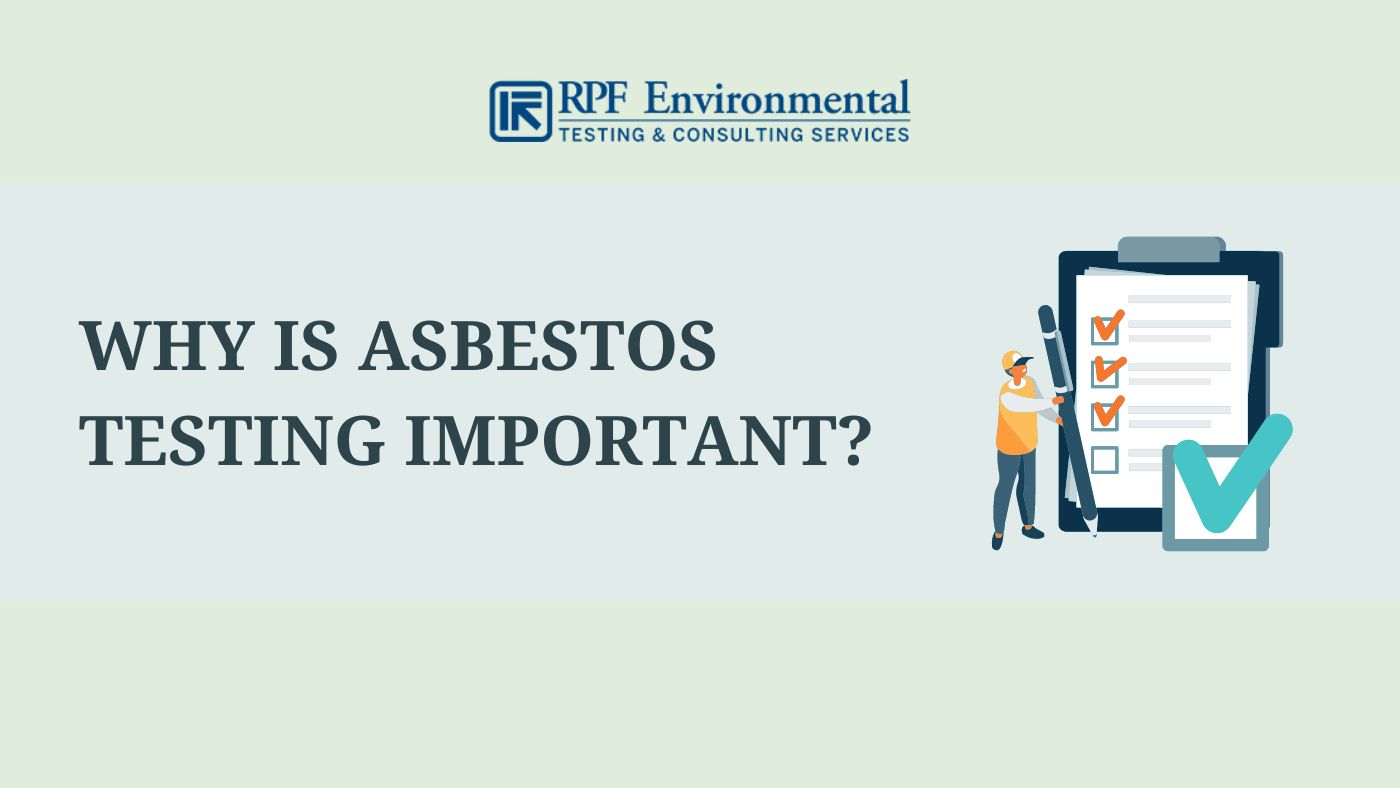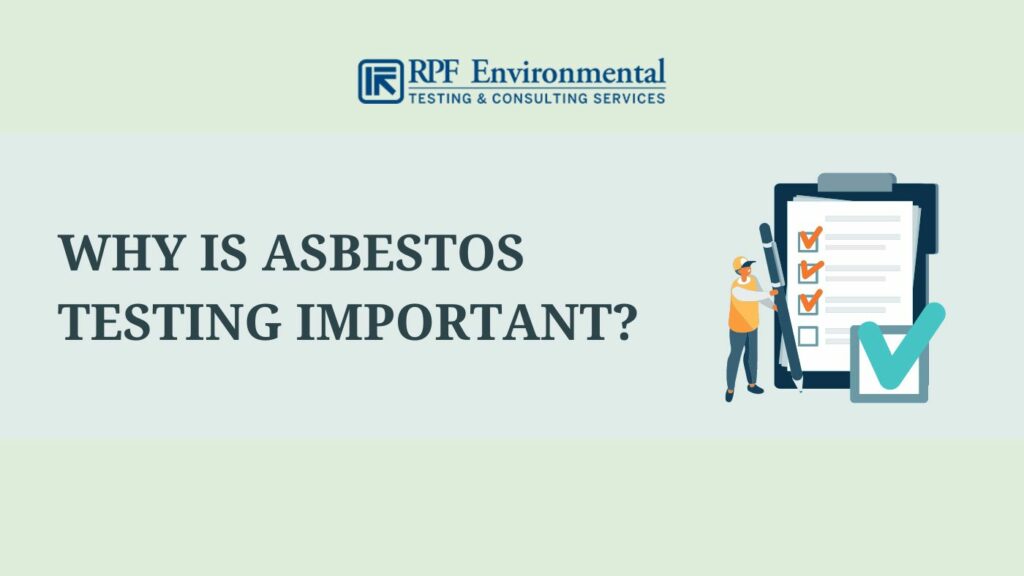 Aside from due diligence, asbestos testing and surveys help businesses prevent unexpected costs and delays as well as guide them with proper remediation actions.
Due Diligence
Environmental surveys, including asbestos surveys, for managing risks are part of your legal responsibilities especially if you are in the construction industry. There are laws and regulations requiring asbestos survey reports for buildings undergoing demolition or renovation. This is to protect the workers and building occupants from inhaling asbestos fibers. Also, many building departments won't issue permits if an asbestos survey is not completed.
Moreover, prudent sellers and buyers may request an asbestos survey along with a lead survey during commercial real estate transactions.
Prevent Unexpected Costs & Delays
Asbestos survey reports also help you plan properly regarding renovations, especially if you are a buyer. You may encounter unexpected costs and delays caused by asbestos-containing products which can compromise your project's feasibility if you don't conduct an asbestos survey.
Guidance for Proper Mitigation or Remediation
Since the presence of asbestos cannot be identified through smell or visual inspection, asbestos testing through sampling and laboratory analysis is the only way to identify asbestos. The accurate results can help you in planning how to safely remove or manage asbestos in the building in case the presence of asbestos is confirmed.
For instance, ACMs in good condition should be manageable and can be sealed while damaged ACMs are hazardous and will require proper removal.
FAQs
Do you need an asbestos report?
For employers, commercial building owners, or anyone in the construction industry, managing asbestos in your property is included in your legal duties. So yes, you need an asbestos survey report especially prior to demolition, renovation, or other related activities.
What is an ACM report?
Asbestos survey reports determine the presence of asbestos-containing materials (ACM) in a building. They involve sampling and laboratory analysis performed by a certified asbestos professional.
Is it worth having an asbestos survey when buying a house?
Many homebuyers invest in asbestos surveys to ensure that the property is free from any issues. It is worth conducting an asbestos survey if you want to assure yourself of your family's safety, protect your investment, and prevent costly problems in the future. Also, take note that standard surveys or home inspections may not be able to identify asbestos. Make sure that you hire a licensed asbestos surveyor.
What to Do if an Asbestos Survey Report Comes Back Positive
A thorough professional report is a must following the inspection. Sometimes removal of the asbestos may be required; however, if the material is in good condition it often is safely managed in place. In the next blog, we will discuss the options for asbestos abatement and obtaining proposals from qualified asbestos removal contractors.
Asbestos inspections are detail-oriented and require on-site access, proper sample extraction, and extensive documentation and reporting. To learn more about our asbestos mitigation services, please contact RPF Environmental today.