Phase 2 Environmental Site Assessment costs can significantly vary, depending on the complexity of the assessment and the results of the Phase I ESA. But one thing is certain – you may need to pay more to guarantee an effective and compliant Phase II ESA. Many overlook due diligence when it comes to environmental assessments, but the results will greatly impact your business in the future.
Here, we will discuss the factors influencing the varying cost of a Phase 2 ESA in detail along with expert tips to guarantee that you'll get reasonable prices.

RPF Environmental is a professional consulting and testing company that offers cost-effective and certified Phase 2 Environmental Site Assessments along with EH&S training programs. We serve clients in New Hampshire, Maine, Massachusetts, and beyond. Contact us for more details!
Phase 2 Environmental Site Assessment Overview
A Phase II environmental assessment is conducted after potential hazardous substances are identified in the Phase 1 site assessment. It may involve the following subsurface investigations to determine the degree of health and environmental risks in commercial and industrial properties:
Reviewing historical site use and geological conditions
Drilling and sample collection (soil, soil gas, and/or groundwater)
Lab analysis and risk assessment
Evaluation of the results
Recommendations for additional investigations not covered in Phase 2 ESA
How Much Does a Phase 2 Environmental Cost?
The price of a Phase II Environmental Site Assessment can range from $5,000 to $100,000 or more depending on the complexity of the site and methodologies. Since no two Phase 2 assessments are the same, the cost can vary greatly. Thus, consulting a certified professional, like RPF Environmental, is best to get an accurate cost estimate that will meet your needs and ensure due diligence.
9 Major Factors That Determine Phase 2 Environmental Site Assessment Costs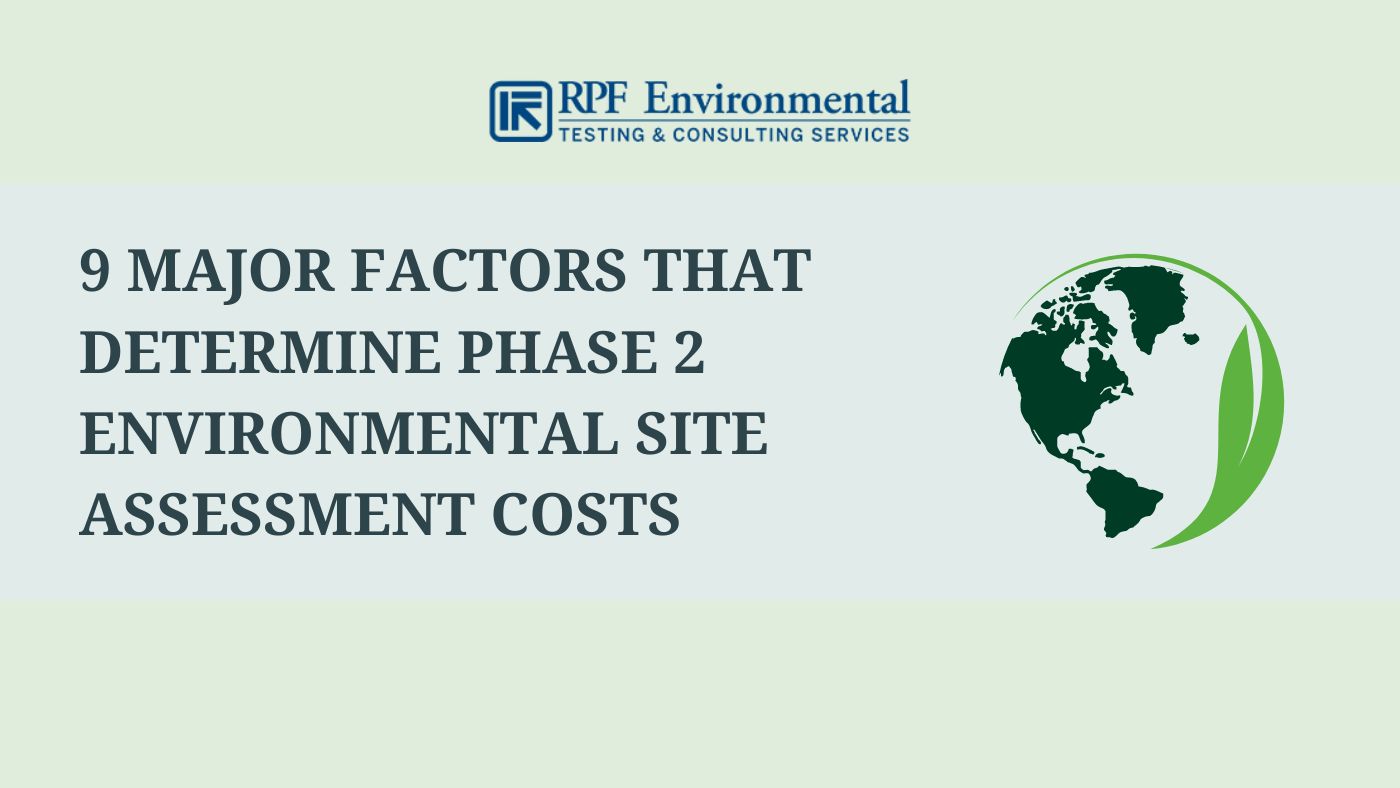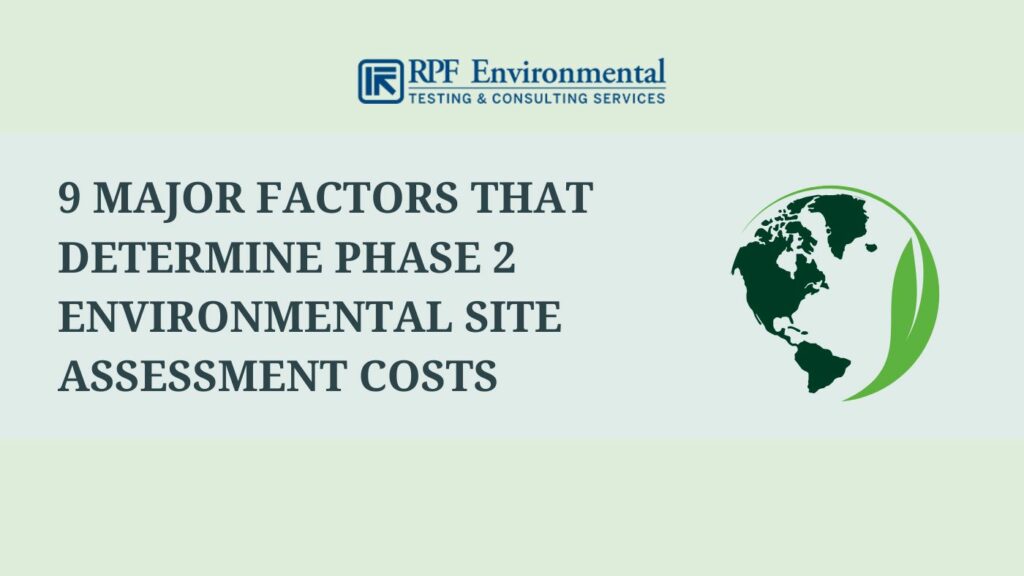 As mentioned, Phase 2 ESA costs can vary widely from project to project. Below are the key factors that influence these costs and why they can be expensive:
1. Scope
The scope of a Phase II ESA will generally be based on the concerns raised in the Phase 1 Environmental Site Assessment regarding Recognized Environmental Conditions (RECs). These will determine the best methodologies needed which will impact how extensive the laboratory analysis will be and this can be expensive.
The scope will depend on many factors such as:
The property's compliance with federal, state, and local environmental regulations
The historical uses of the property (if the past uses, like industrial applications, have the potential to have caused severe contamination, the assessment will be more expensive)
The length and level of contamination in the property
Presence of underground storage tanks and drums
2. Accessibility and Characteristics of the Site
Large sites and sites that are hard to access may pose challenges and require more equipment which will affect the cost. Also, specific types of drilling equipment can't be used to access areas with structural or topographical issues. The location of the contamination will matter too.
In addition, larger sites will cost more to assess compared to smaller sites because more area needs to be covered for materials sampling. Larger sites will need:
Drilling more holes for taking samples
Collecting and analyzing more samples
More time spent on the fieldwork
More manpower and tools
Moreover, the distance between the site and the environmental consultants and equipment to be used may also affect the cost.
3. Subsurface Composition
Drilling into stones or rocks will need more time and more expensive equipment compared to drilling into soil, dirt, or sand.
4. Type & Range of Contamination
The previous uses of the property and the type of potential contamination will affect the type of investigation that needs to be done. For instance, sites that deal with gallons of underground tanks or drums may cost higher. Also, the estimated extent of the contamination can impact the investigation.
5. Soil Sampling
Soil sampling costs will depend on where to collect samples and how many to collect to guarantee accurate tests. This sampling method helps in identifying not only the types of hazards present but also where they are coming from (e.g. underground storage tanks) and how long they've been there. These results are important in planning proper remediation methods.
6. Groundwater Sampling
Groundwater sampling serves the same purpose as soil sampling along with the determination of the extent of the contamination as well as water flow direction and quality. For this sampling method, the cost will be determined by the following:
The nature of the samples
Installation of monitoring wells specifically the needed depth and how many to install
7. Types of Equipment Required
The types and number of equipment needed to get reliable and accurate information will depend on the previously mentioned factors. Some sites may require specialized and expensive equipment such as:
Electromagnetic surveys for finding metal pipes
Smaller equipment than can be used in tight spaces
Radar tests for locating underground tanks
8. Types of Analysis
The type of contamination will determine whether soil, water, and/or air will be tested and what types of lab analyses and risk assessment methods are needed. The analysis can either be narrow or broad depending on what we are looking for like heating oils, dry cleaning fluid, heavy metals, automotive fuel indicators, and others. Also, these will determine whether specialized testing procedures are needed which can cost more.
9. Experience and Qualifications of the Assessor
Lastly, the environmental professional's experience and their capability to conduct the assessment effectively with a well-planned scope while maximizing due diligence and minimizing risks matter. Experienced professionals who know what they are doing may charge you more.
Phase I vs. Phase II Environmental Site Assessment Costs
Trusted companies will usually offer Phase 1 environmental site assessments for $1,500 to $6,000+ which is far cheaper compared to Phase 2 assessment costs. This is because Phase 1 only involves reviewing records, visual site inspections, interviews, and reports which can be done in just two weeks or more.
On the other hand, Phase II ESA costs can range from $5,000 to $100,000 or more because they require more intensive analysis and additional equipment.
Expert Tips: Avoiding Phase 2 ESA Cost Scams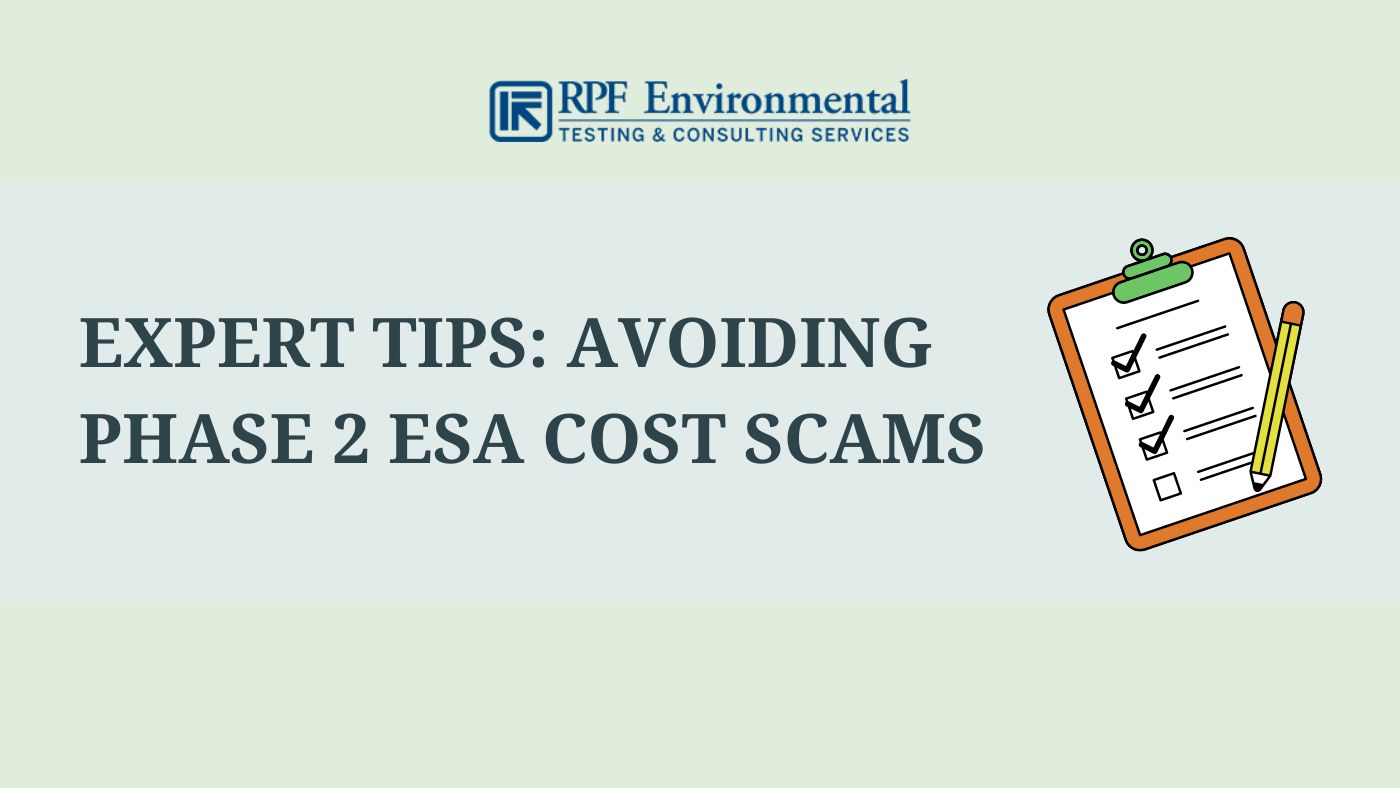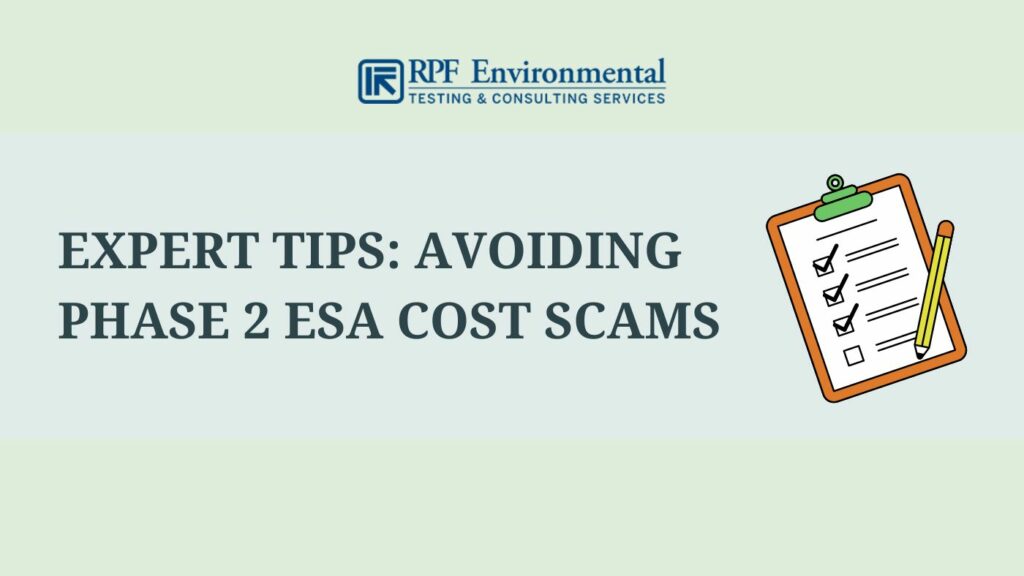 When considering Phase II ESA costs, don't settle for low offers because you might end up with expensive legal issues in the future. Below are some expert tips we can give you:
Beware of Hidden Phase 2 ESA Costs
Some consultants offer cheap Phase 1 ESAs and present you with results saying multiple contaminants have been found which will require you to perform a Phase 2 ESA. But oftentimes, they will charge you very high costs for Phase II. If this is the case, you might need to hire a different consultant for Phase 2 or someone to redo Phase 1 for more reliable results.
Beware of Cheap Phase II Assessments
Suspiciously low prices mean the scope was reduced significantly and does not conform with industry standards such as ASTM and CERCLA AAI. This will lead to inaccurate and useless results. You might end up with costly legal issues and remediation expenses once another site nearby is tested and contamination is found on your property in the future.
Reduced scopes also mean severe contamination might be missed due to inadequate sampling and laboratory analysis. Conclusions and recommendations will be faulty and you'll end up just wasting your money and redoing the assessment all over.
This is why it is important that you do your research, ask questions about the methodologies, and compare scopes before you accept a Phase 2 ESA proposal.
How Long Does a Phase 2 Environmental Take to Complete
Phase 2 ESAs may take longer compared to Phase 1 due to the collection and analysis of samples. On average, the assessment takes four weeks but can reach months.
Also Read:
FAQs
What is involved in a Phase 2 environmental assessment?
A Phase 2 site assessment involves an in-depth review of site-specific records, collecting samples, laboratory analysis, running risk assessment models, and providing recommendations based on the findings.
How much does it cost to do an environmental assessment?
Phase 2 site assessments usually cost between $1,500 to $6,000+ while Phase 2 assessments may cost from $5,000 to $100,000 or more.
Conclusion
Phase 2 environmental site assessment costs can be expensive, but this is due to the intensive investigation needed for accurate results to protect you from expensive liabilities. Working with certified and experienced environmental consultants who are well-versed in the required standards and regulations is important.
RPF Environmental is a one-stop-shop certified consulting and testing company. We provide environmental site assessments and EH&S trainings for businesses in the New England region and beyond. Contact us now to get services tailored to your needs!