Employers are required to provide a safe workplace to their employees. Aside from avoiding violations, creating a safe workplace also promotes worker efficiency and productivity. One of the most effective methods of doing this is through OSHA safety audits and remediation which involves identifying, controlling, and eliminating workplace hazards.
Although OSHA does not require safety audits, the organization imposes hefty fines on noncompliant companies that violate their occupational safety standards. This guide will discuss everything you need to know about safety audits and remediation including its importance, types, process, and others.

RPF Environmental is composed of certified professionals who can conduct OSHA safety audits for your organization. We can help identify gaps and inefficiencies in your safety programs and train your employees through our EH&S training programs. Contact us now!
What Is a Safety Audit in the Workplace?
Safety audits are also called EHS (Environmental Health & Safety) audits and are used to evaluate the effectiveness of an organization's safety programs, processes, and policies. They are performed either by an internal EHS team or a third-party organization hired by the company.
3 Types of OSHA Safety Audits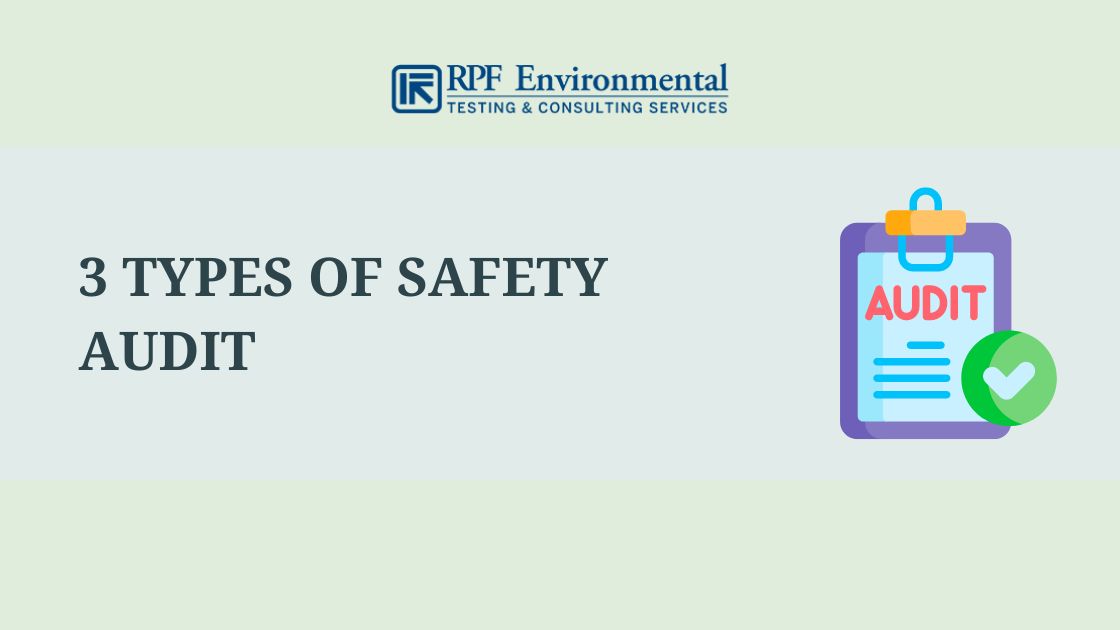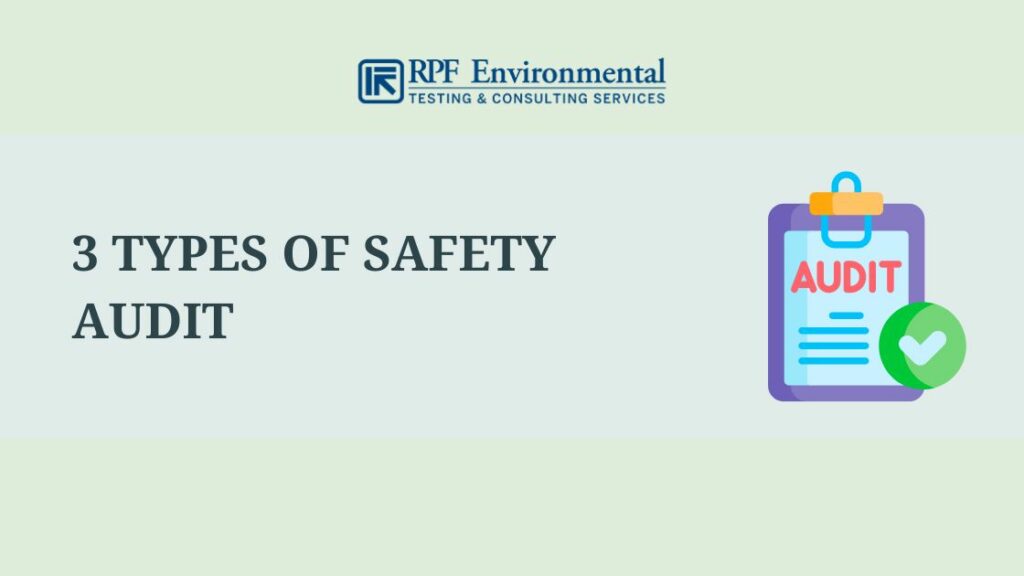 There are three major types of OSHA safety audits differentiated by their purpose:
1. Compliance Audits
Compliance audits are one of the most common safety audits where the auditor reviews the company's safety rules, policies, and other related practices. This is to ensure that they comply with OSHA's safety standards and other safety regulations. If noncompliance areas are found, this can result in hefty penalties and fines which can affect your company's reputation.
2. Program Audits
These audits test your safety program directly by performing a thorough evaluation of its design and effectiveness as well as interviewing employees. Thus, identifying weaknesses and gaps in the program so they can be corrected quickly.
3. Management System Audits
These audits combine compliance and program audits and are also called "overall" audits. They aim to evaluate your company's entire safety procedures and determine its compliance with company policies and other regulatory standards like OSHA.
Management system audits are also more comprehensive types of audits that involve compliance assessments, worker interviews, and workplace inspections.
Does OSHA Require Safety Audits?
"There is no comprehensive requirement for general industry employers to conduct audits, but there are many audit requirements in individual standards, including fundamental generic standards." – OSHA
OSHA does not require safety audits, but the agency encourages companies to take preventive measures to protect their employees from workplace hazards. Moreover, there are specific OSHA standards requiring employers to evaluate their workplace, identify hazards, and develop written programs to create a safe working environment for their employees. These standards include the confined spaces and lockout/tagout standards.
Comprehensive safety audits and inspections also prepare you for impending OSHA audits and allow you to identify noncompliance areas that might lead to potential penalties due to violations. More importantly, they help improve your operations and prevent costly liabilities that might negatively impact your business.
Who Conducts Safety Audits?
Safety audits can be done either internally or externally:
Internal Safety Audits
Internal audits are performed by a team organized by the company itself. They are employed by the company to conduct audits.
External Safety Audits
External audits are done by external consultants that the company hires.
Most companies hire third-party auditors or consultants that are independent of the company to conduct safety audits to avoid bias. It is also to make sure that the audit is done by skilled and experienced individuals who are equipped with the right knowledge to conduct the audit properly. Shareholders may also require third-party organizations to conduct the audit objectively.
Tips:
If you are doing an internal safety audit, make sure that the auditors are not auditing their own department to ensure unbiased results. Also, ensure that the auditors are well-versed in OSHA's standards so they can properly identify workplace hazards and non-compliance areas.
If you are going to hire an external auditor, do your research first and make sure that they are qualified and experienced to do the audit.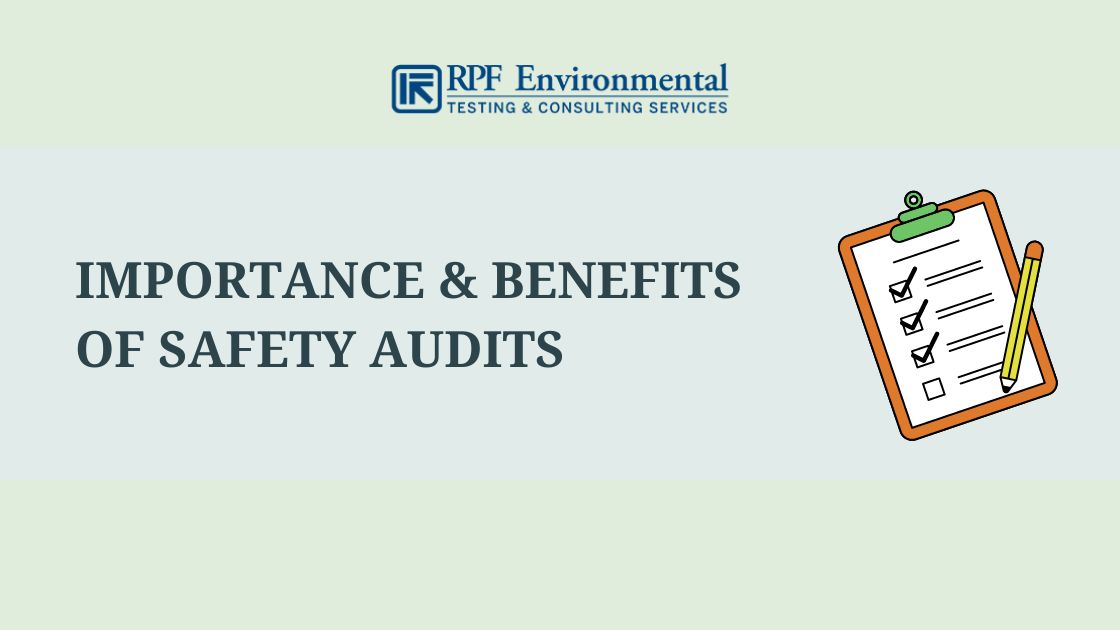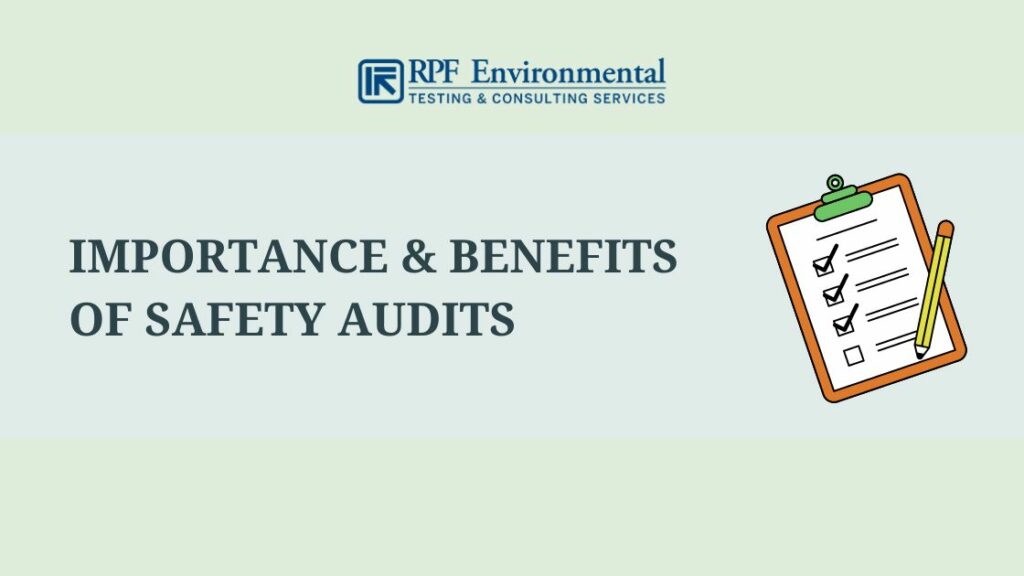 Purpose and Importance of OSHA Safety Audits
OSHA safety audits are rigorous assessments that verify if your safety program is really working as expected and if you are keeping your workers as healthy and safe as possible. Safety audits are done to:
Review your existing safety programs
Analyze workplace safety
Identify hazards and remove them if any exist
Determine the causes of workplace accidents and injuries
To verify that your employees are following effective safety procedures
Evaluate hazards according to OSHA's regulations and other guidelines
To ensure that your equipment and operations comply with applicable federal, local, and state laws and regulations
Identify gaps in your safety program and areas of non-compliance so corrective actions can be outlined
To ensure that you are maintaining necessary administrative records
Benefits of Safety Audits to Your Company
In addition, safety audits can greatly benefit your company especially when it comes to keeping your operating expenses at a minimum and maintaining your reputation.
They can help in:
Improving workplace safety by reducing accident rates (i.e. correcting safety hazards that can lead to serious injuries and fatalities)
Lowering worker compensations as accidents are reduced
Avoiding costly legal issues and violations by ensuring your compliance with OSHA's standards
Avoiding costly equipment repairs, maintenance activities, and replacements by identifying potential problems before they get worse
Improving worker productivity and efficiency
Protecting your public image and reputation
When Is a Safety Audit Needed?
Below are some instances that may require a safety audit:
When there are changes in your operations or processes
When a new management or department has been created including business expansions
When you have acquired new equipment where you need to make sure that employees are using them correctly
Step-By-Step Safety Audit Procedure: How an Effective Safety Audit Is Conducted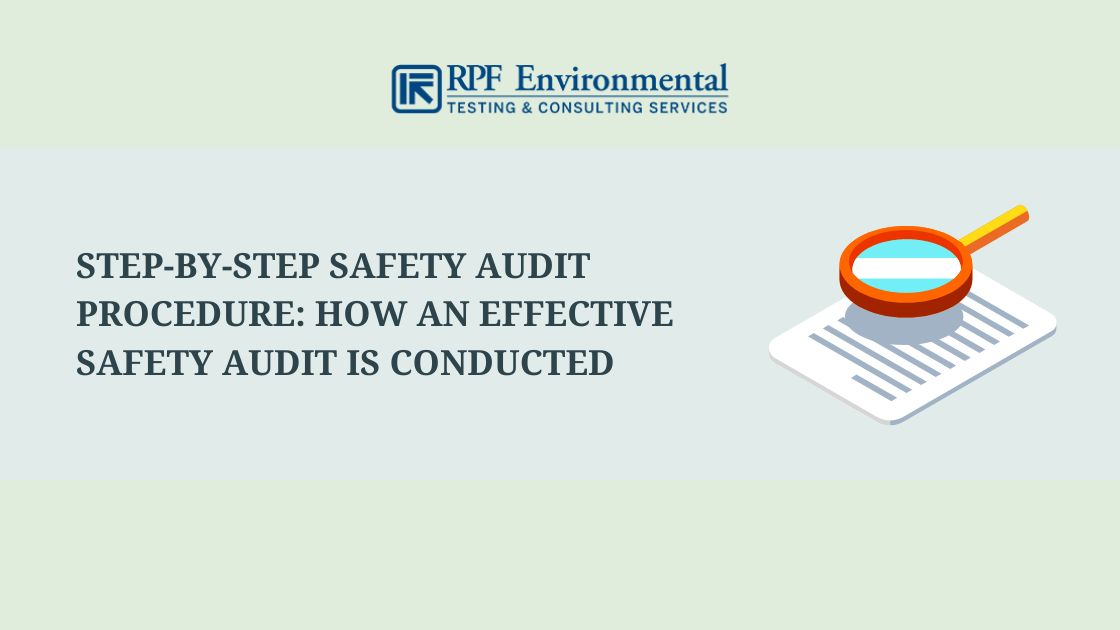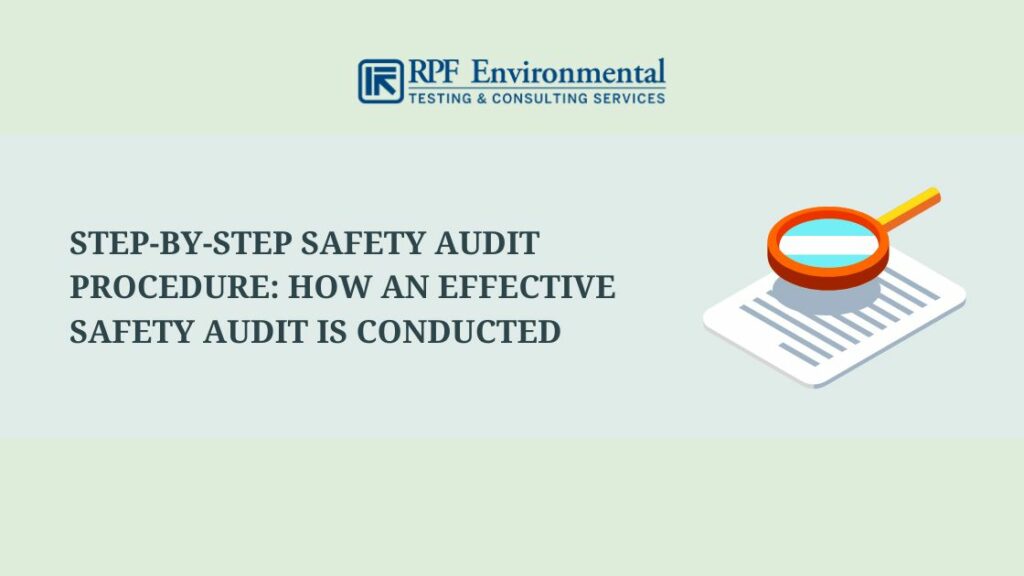 Safety audits involve a comprehensive procedure wherein your business's operations, work environment, equipment, employees, and others are observed. This is to identify the efficacy of your safety program and if it is being implemented accordingly.
Safety audits are done in five basic steps. Below is an overview of the tasks done in each step:
Step 1. Planning & Preparing the Audit
Selecting who will conduct the audit (internal audit team or third-party auditor)
Meeting with the auditor and planning the scope, timeline, objectives, and other important details about the audit
Informing affected supervisors and managers to prepare the needed documents and records before the audit starts
Reviewing applicable company policies as well as local, state, and federal regulations
Gathering necessary materials for the audit like the audit checklist, regulatory documents, inspection reports, and others
Reviewing previous audit reports and corrective action recommendations
Step 2. Conducting the Audit
Although the procedure is mostly done electronically, physical visits are also necessary. The auditors will investigate the company's procedures, programs, workplace, and people and compare written procedures with actual operations.
Safety issues, potential hazards, regulatory violations, and other gaps will be identified. These are done by:
Inspecting the workplace specifically proper lighting, equipment placement, warning signs regarding hazardous materials, written machine operation directions, etc.
Observing how supervisors and employees work to determine if they are following the best safety practices
Interviewing supervisors and workers on their processes (e.g. trainings, machine operation, etc.)
Taking pictures and collecting other important evidence
Using a safety audit checklist to write down observations depending on the type of audit being conducted
Top Things That Are Reviewed During Safety Audits: What Is an OSHA Safety Audits Checklist?
Workplace safety audit checklists are used to assist in conducting thorough safety audits. The items in the audit checklist will depend on the complexity and purpose of the audit. But, they often include regulations and best practices that are applicable to the company's health and safety operations.
Examples of items that may be observed in safety audit checklists include the following:
Raw materials
Repair & inspection processes
Machinery and tools
Elevators and stairs
Hoists and slings
Personal protective equipment
Materials handling
Storage
Management leadership
Worker participation in safety programs
Organization procedures
Administrative procedures
Housekeeping practices
Hazard identification, assessment, and communication procedures
Emergency response procedures
Safety training efforts
Lockout/tagout procedures
Fire and electrical hazards
Electrical issues
Driver and vehicle regulations
Hazard signages
Step 3. Audit Reporting
After data collection, the findings are evaluated and conclusions are made about the adherence of the processes to safety procedures.
A detailed and concise audit report usually includes the following:
What areas are audited, who conducted the audit, list of individuals interviewed, audit date, and others
Positive and negative findings including what processes are working and not working
Priority and severity of the identified safety issues presented in graphs, charts, and other forms
Recommendations for the improvements needed in the safety program to correct weaknesses and gaps
Corrective actions to be done and listed based on their priority
Individuals responsible for performing corrective actions
Moreover, useful audit reports include records of completed actions for future inspections.
NOTE: There are safety auditors who are also consultants, like RPF Environmental, that specialize in environmental health and safety. Thus, they can provide you with effective remediation solutions that best suit your needs.
Step 4. Implementing Corrective and Preventive Actions Including Remediation
After the safety audit, remediation may follow if issues have been identified. This can be done by the company itself or a separate organization especially if professional remediation is required when hazardous materials have been discovered at the site.
Supervisors and managers should be part of the corrective action development. They should set priorities based on the severity and urgency of the issues as well as completion and follow-up dates. The corrective actions done should also be recorded in the audit report.
After developing the necessary corrective actions, they should be implemented to prevent future risks from getting worse.
Other Important Things to Know About Safety Audits & Remediation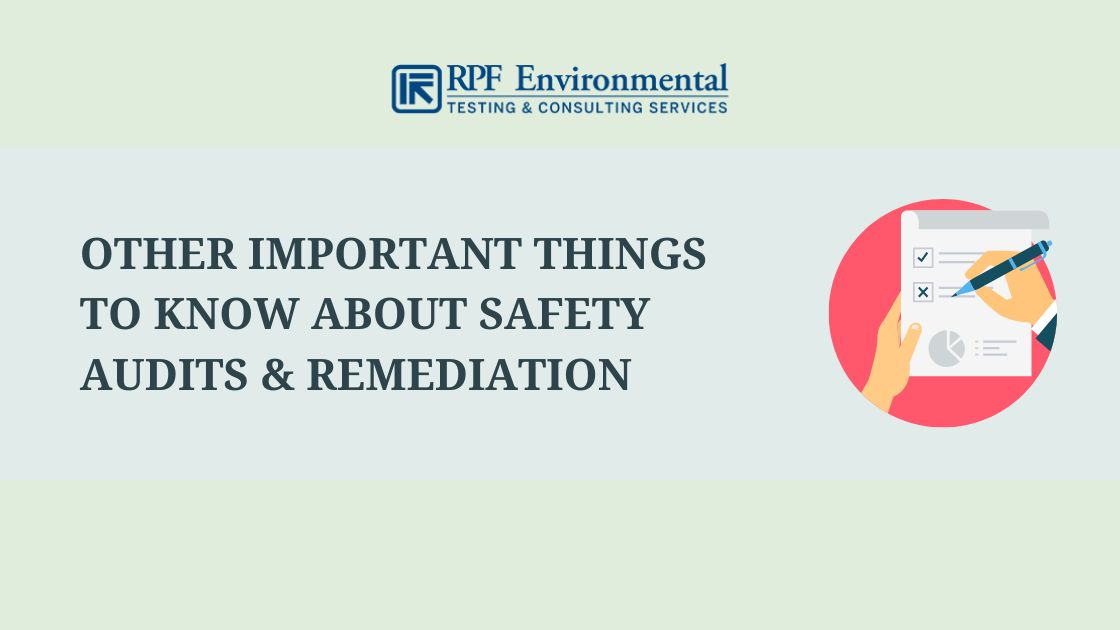 What Is OSHA 29 CFR 1910?
OSHA 29 CFR 1910 is a collection of regulations referred to as the Occupational Safety and Health Standards of OSHA. It is divided into 20 subparts and covers various industrial operations including:
Hazardous Materials
Personal Protective Equipment
Fire Protection
Compressed Gas & Compressed Air Equipment
Materials Handling & Storage
Machinery and Machine Guarding
Hand and Portable Powered Tools & Other Hand-Held Equipment
Welding, Cutting, & Brazing
Toxic &Hazardous Substances
By following the standards specific to your facility and ensuring workplace safety, you avoid costly penalties and fines.
How Often Should You Conduct Safety Audits for Your Business?
It is recommended to conduct safety audits frequently. You can perform safety audits on different departments or aspects of your business throughout the year and then perform a comprehensive safety audit annually. Larger organizations can perform safety audits every 3-6 months.
In addition, the frequency of safety audits will depend on the following factors:
Injuries and accidents
Equipment failures
Property damages
Development of new potential hazards
External factors requiring safety audits like orders from regulatory bodies
Significant changes in your business like in the workplace, equipment, operations, and workforce
Changes in regulations may also require a safety audit.
Safety Audits vs. Safety Inspections: Differences & Similarities
Safety audits and safety inspections are often used interchangeably but they are not the same. Although both are crucial in maintaining workplace safety, safety audits are more in-depth compared to safety inspections.
Below are the key differences and similarities between the two:
Differences
| | Safety Audit | Safety Inspection |
| --- | --- | --- |
| Coverage & Purpose | – Focuses on evaluating the company's safety programs, operations, and processes to determine their effectiveness and ensure that they meet company policies and applicable regulatory standards | – Focuses on detecting potential dangers such as risky employee behaviors, improperly labeled machinery, insufficient machine safeguards, and others that can lead to workplace accidents |
| Auditor/Inspector | – Often requires unbiased third-party consultants or professionals who can conduct the audit objectively and are knowledgeable about the best safety practices and regulations | – Requires an internal team who is familiar with the specifics of the workplace and can be conducted by non-specialists or trained EHS experts depending on the job requirements |
| Frequency | – Less common than safety inspections and can be done annually | – Should be done more frequently to identify and correct hazards as soon as possible |
Similarities
Below are some of the similarities between safety audits and safety inspections:
Both have the same objectives – improving workplace safety by reducing hazards and ensuring compliance with industry standards
Both can use checklists that include best practices and applicable laws and regulations
Things to Know About OSHA Inspections
When Are OSHA Safety Inspections Done?
Below are the situations that trigger OSHA inspections according to their order of priority:
Imminent danger situations
Severe injuries & illnesses
Worker Complaints
Referrals
Targeted inspections
Follow-up inspections
How Are OSHA Inspections Done?
OSHA inspections are done in five general steps:
Step 1. Preparation
Researching the worksite's inspection history
Reviewing processes and operations
Reviewing applicable standards
Measuring potential hazards
Step 2. Presentation of Credentials
Presentation of the OSHA compliance officer's credentials
Step 3. Opening Conference
This step involves the following:
Describing the inspection scope and walkaround procedures
Employee interviews
Employee representation
Selecting an employee representative to accompany the compliance officer
Step 4. Walkaround
Walking through areas covered by the inspection
Inspecting potential hazards
Reviewing worksite illness and injury records
Identifying apparent violations that you can correct immediately
Step 5. Closing Conference
The compliance officer will discuss the following
Inspection findings
Recommendations regarding actions following the inspection
Consultation services
Employee rights
Tips to Pass an OSHA Inspection
Preparing yourself for an OSHA inspection will help identify and address issues proactively to prevent potential violations. Some of the best practices you can follow are:
Conducting periodic internal safety audits to identify safety hazards and deal with them immediately
Preparing records of all the training courses completed, insurance, external audits, worker compensation files, etc.
Having a centralized platform for effective data storage to allow for easy access
Keeping your safety records updated
Appointing a representative from your company who knows your facility well
Being transparent and answering questions honestly (OSHA will keep any trade secrets confidential)
Best Work Practices When Conducting a Safety Audit
Create a safety audit schedule on specific areas throughout the year and a full-scale audit at the end so you can identify workplace hazards and correct them immediately
Conduct audits when you can observe work operations normally and when there are minimal distractions
Involve all employees regardless of their level to increase workplace safety awareness
Make safety audits an official component of your safety program
Use safety audit templates and customize them based on your needs to guide you and make sure that you cover everything
Make sure to document the process properly and communicate the results to the employees including the needed corrective actions
Digitize your safety audits to make the process easier and faster as well as ensure accuracy
Train your employees properly on how to identify and deal with safety issues
RPF Environmental offers affordable health and safety training programs including training courses for HAZWOPER, lockout/tagout, confined space entry, blood pathogens, and others. These trainings can help you implement safety programs more effectively.
10 Top OSHA Safety Violations: Most Frequently Cited Standards
According to OSHA, below are the top most commonly cited standards for all industries:
General Industry
2. Ladders
3. Scaffolding
Construction Industry
3. Control of Hazardous Energy (Lockout/Tagout)
4. Machinery & Machine Guarding
What Are the Penalties for OSHA Violations?
Below are the minimum and maximum OSHA penalties as of the time of writing:
Maximum Penalty for All Types of Violation: $15,625 per violation
Minimum Penalty:
Serious: $1,116 per violation
Other-Than-Serious: $0 per violation
Willful or Repeated: $11,162 per violation
Also Read:
FAQs
What is meant by an OSHA safety audit?
A safety audit is a comprehensive evaluation of an organization's safety programs, policies, and procedures to ensure regulatory compliance and avoid penalties. It also helps in determining whether the safety program is being followed by the employees and if it is effective. It can uncover gaps and areas that need improvement so they can be corrected to reduce risks in the workplace.
What is the meaning of audit remediation?
Audit remediation is done after a safety audit is completed where detailed remediation plans are created to correct observed safety issues like noncompliance issues. Corrective and preventive actions can be done by the company itself or through professional remediation for more serious issues.
What are the three types of safety audits?
The three types of safety audits are compliance audits, program audits, and management system audits. Compliance audits review your compliance with safety regulations including OSHA's standards. Program audits test the effectiveness of your safety program. Management system audits are overall audits that combine program and compliance audits.
What should a safety audit include?
An effective safety audit includes a comprehensive assessment of your operations, equipment, workplace, employees, and other relevant areas. It involves a thorough planning process, interviews with your workers and supervisors, identifying safety issues and gaps in your system, evidence collection, audit reporting, and remediation.
Conclusion
OSHA safety audits are important not only in reducing workplace hazards but also in protecting your company's reputation, avoiding hefty penalties, and reducing your expenses. Thus, you need to conduct them regularly by hiring a professional and experienced safety auditor.
RPF Environmental has certified safety professionals who are experts in conducting safety audits including Phase I and Phase II environmental site assessments. We serve areas in the New England region including Maine, Massachusetts, New Hampshire, and beyond. Contact us now!