If you're a property owner, purchaser, or lender and are here to understand Phase 1 Environmental Site Assessments (Phase 1 ESA) more, you've come to the right place! This blog will provide you with the important details you need to know about a Phase One ESA report including its scope, how and when it is done, how it will benefit your business, and more.

Phase I Environmental Site Assessment: What is It?
There are three phases of environmental site assessments and Phase 1 is the introductory phase. It involves the identification of Recognized Environmental Conditions (RECs). REC means the presence or potential presence of hazardous substances or petroleum products in, on, or at the property as defined by ASTM.
Phase I ESA is usually done before closing commercial or industrial real estate transactions. This is to evaluate the possibility of contamination and environmental risks that could affect the property's value along with cleanup liabilities.
Who Conducts Phase I Environmental Site Assessments?
Only trained environmental professionals should perform a Phase I Environmental Site Assessment. ASTM standards, CERCLA's (Comprehensive Environmental Response, Compensation, and Liability Act) All Appropriate Inquiry (AAI) rules, and other local requirements should be followed.
Expert environmental consultants, like RPF Environmental, are experienced in the required standards and regulations for Phase I ESA including ASTM and AAI. Thus, we can guarantee due diligence when it comes to environmental assessments.
ESA Phase I Coverage: What Does a Phase 1 Environmental Report Consist Of?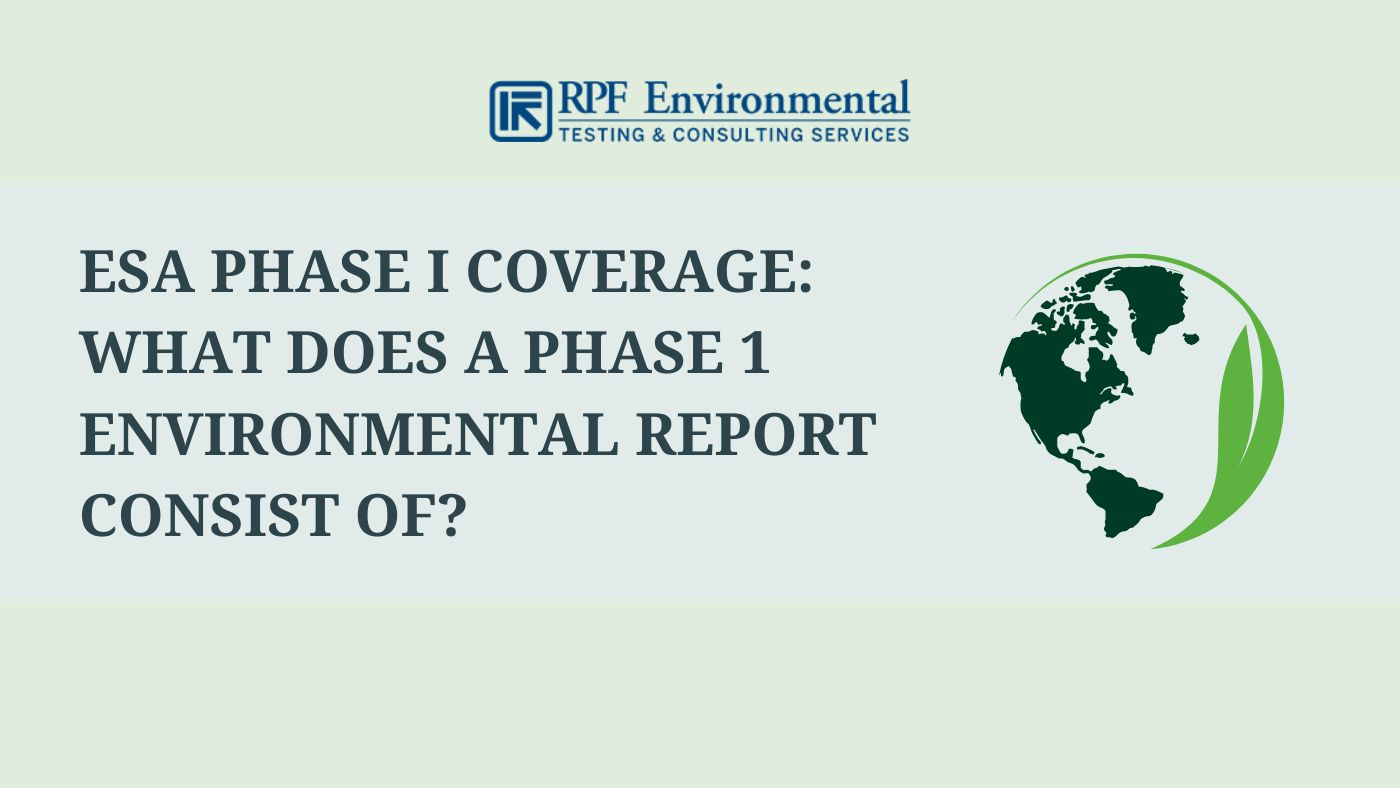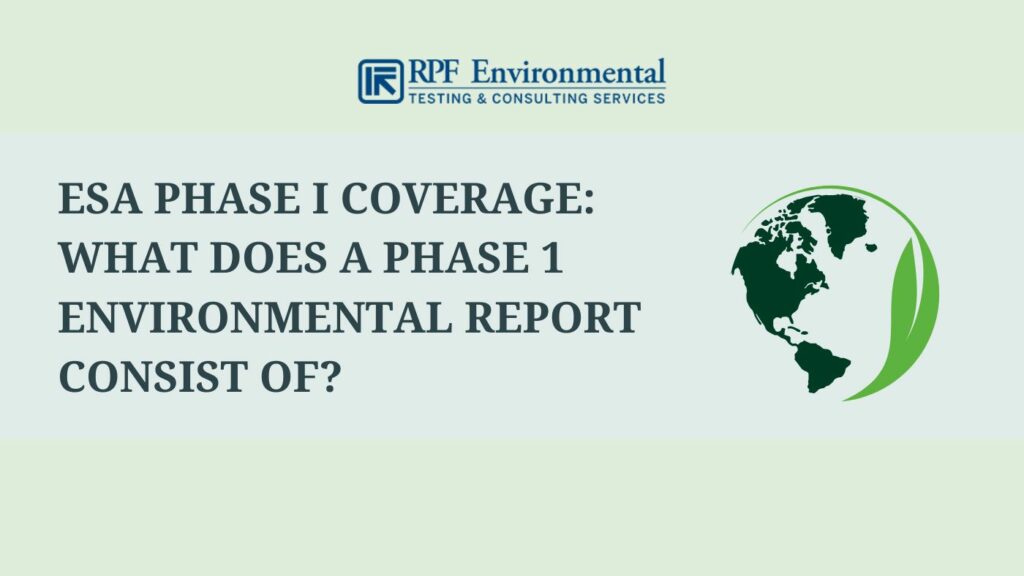 Phase I ESA reports aim to assess historical and current property uses including adjoining properties to determine the presence of potential threats to the environment or human health. This is done through the examination of historical records, interviews, and visual site inspection. (More on these later.)
However, take note that although ASTM has set standards for environmental assessments, other parties may have additional requirements like:
The U.S. Department of Housing and Urban Development (HUD)
Banks
Lenders
What Does Phase 1 Environmental Study Not Include?
Collection, evaluation, and other kinds of lab analysis for samples are not included in Phase 1 ESA such as:
Soil and water testing
Radon
Wetlands
Radiological hazards
Ecological resources
Cultural and historical resources
Endangered Species
Phase 1 Environmental Site Assessment Checklist: How is a Phase I ESA Done?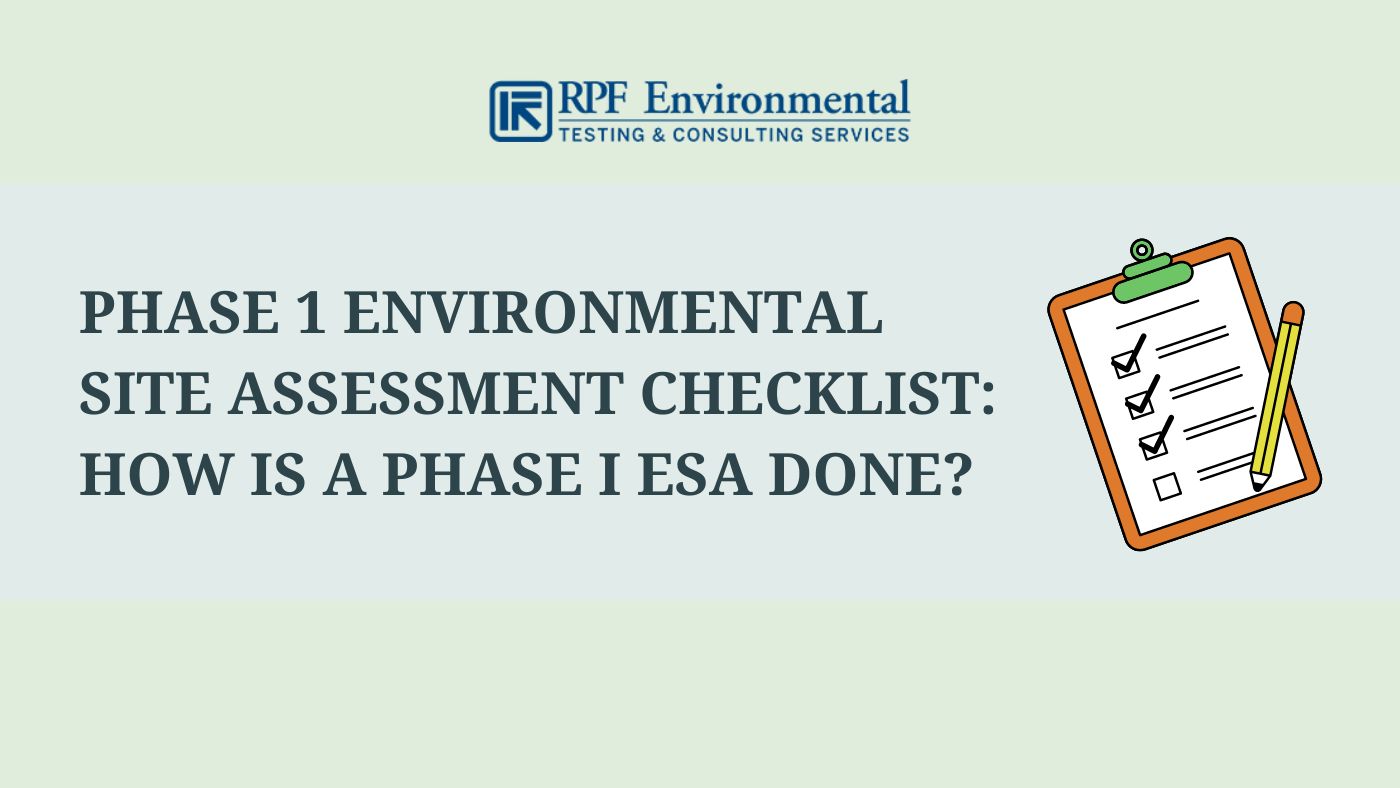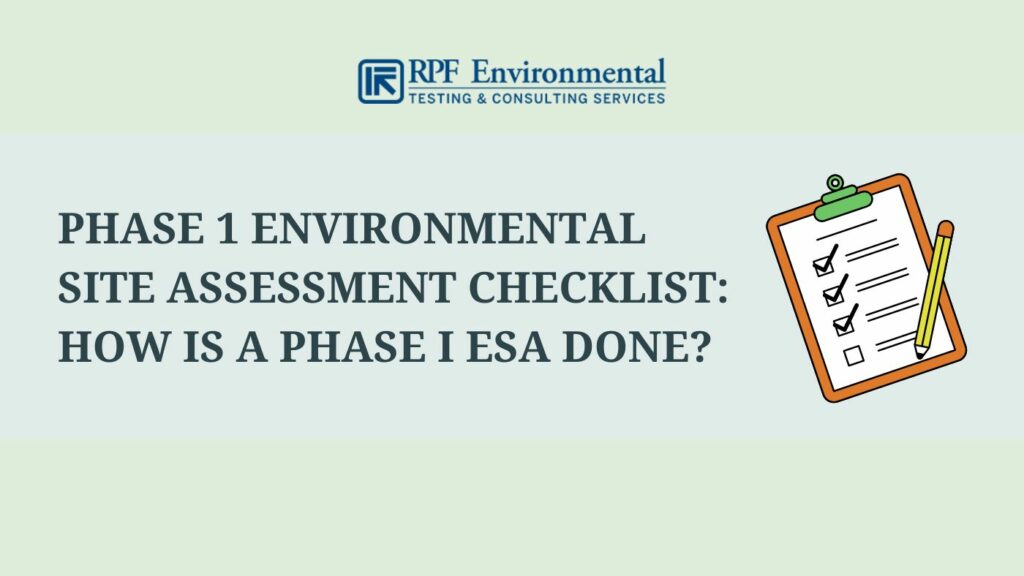 Phase 1 ESA consists of four major components:
1. Site Visit
Objective: To gather data that would suggest the presence of RECs through visual inspection of the site including adjacent properties that may be causing contamination.
This step includes the following:
Inspecting the interior and exterior of the property including nearby properties
Identifying storage containers and tanks
Examining drainage systems, lagoons, ponds, and pits
Evaluating the vegetation for possible signs of contamination
Site reconnaissance also involves observing past and current conditions as well as uses of the property and nearby ones. The environmental specialist may also take pictures and conduct measurements.
2. Review of Databases & Historical Records
Objective: To perform an extensive review of records and databases about the property to identify its current and previous uses that could result in contaminations.
This process includes reviewing:
Federal, state, tribal, and local databases to identify aboveground storage tanks (ASTs), underground storage tanks (USTs), storage and disposal of hazardous substances (e.g. petroleum products), and others
State and local agency records like environmental agencies and health, fire, and building departments
Property tax files, building permits, and land titles to determine past business owners
Geological surveys and maps (e.g. topographic, fire insurance, oil, and gas maps) to determine the site's characteristics
Historical uses through aerial photographs, historical city directories, land use records, and others
3. Interviews
Objective: To gather additional information by conducting interviews with organizations and individuals familiar with the site and surrounding properties.
Individuals who may be interviewed include:
Health, fire, and water departments
Current and past owners
Occupants
Property operators
Local government officials
Neighbors
4. Report
The last step would be to compile a report documenting the findings with conclusions and recommendations for further investigations in case RECs have been identified.
RPF Environmental has certified experts who can perform thorough and complete Phase 1 ESA. We provide tailored services to real estate professionals and other clients who are concerned about contamination and health risks that might affect their property. Book an appointment now!
Conducting Phase I Environmental Site Assessments: When, Where, and Who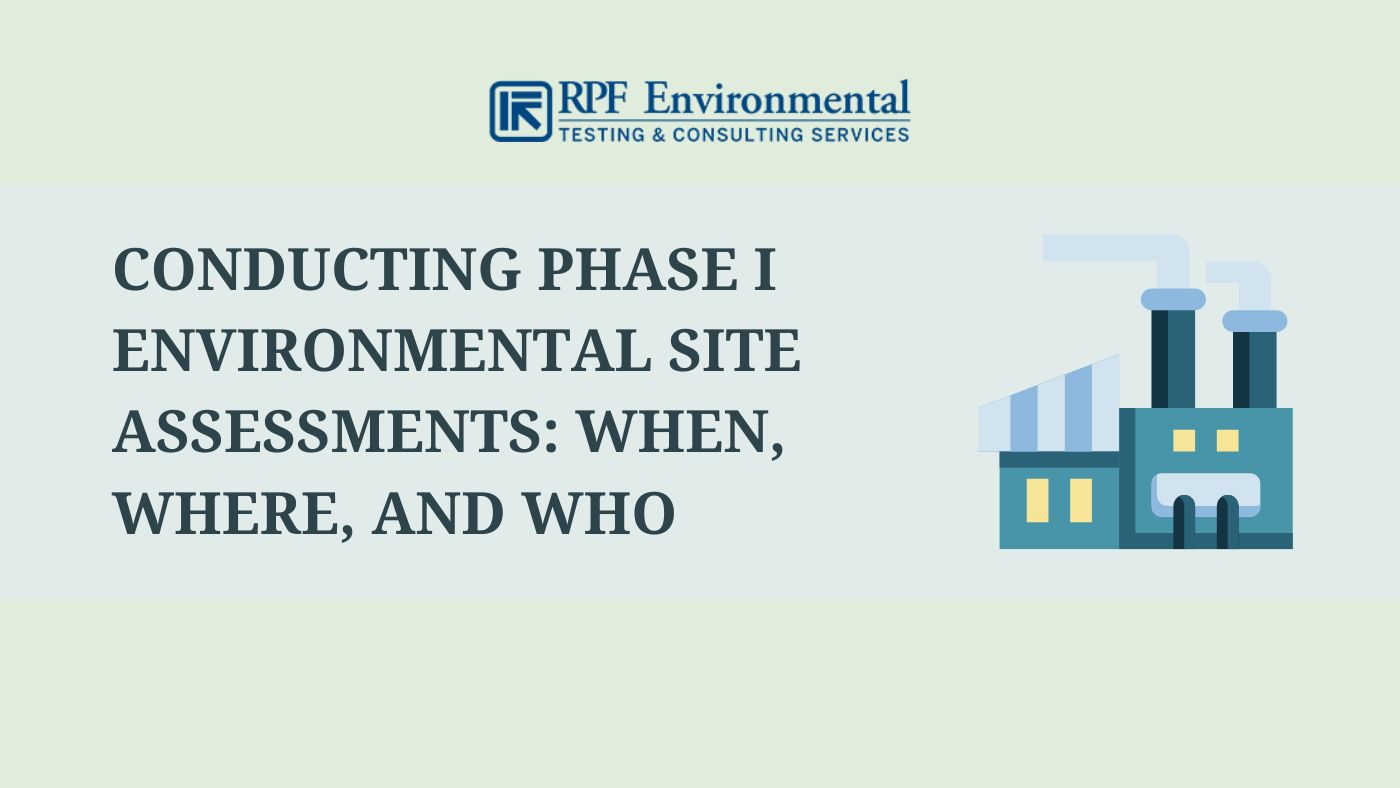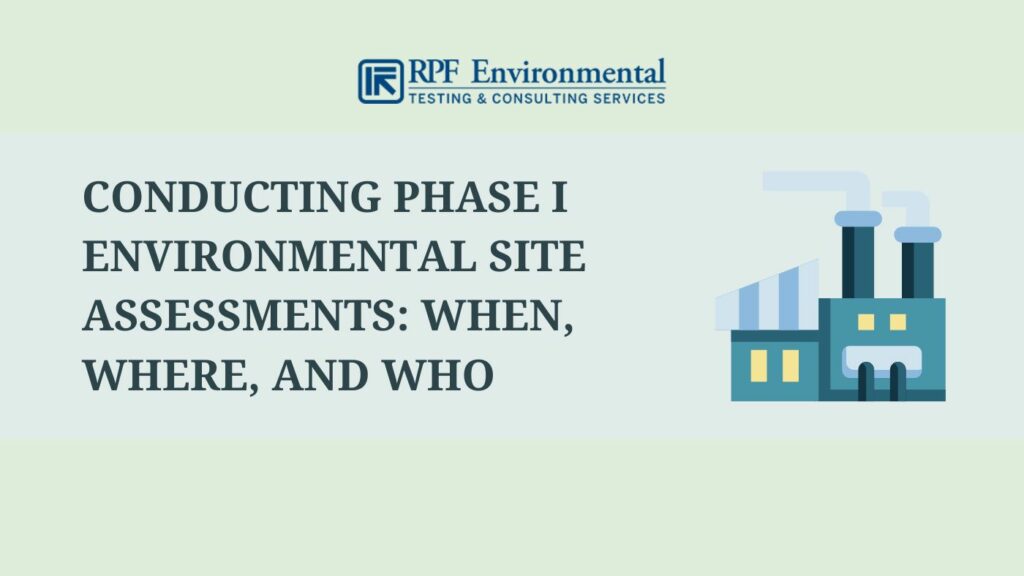 Phase 1 site assessments can be requested voluntarily by individuals who want to evaluate the environmental condition of a commercial or industrial property.
When Is a Phase I ESA Done?
Below are the common reasons why a Phase 1 ESA might be conducted:
If the property has actual or is suspected to have hazardous substances due to past or current activities including those in surrounding properties
If you are purchasing a property and want assurance about its condition
To satisfy the requirements for the innocent landowner (ILO) defense
When financing properties where banks or lenders would require a Phase 1 site assessment to get a more reliable property value
Where is a Phase 1 Site Assessment Conducted?
Phase 1 ESAs can be conducted on any type of property including:
Industrial, commercial, and agricultural properties
Multi-family residential properties
Vacant land
Gas stations
Dry cleaners
Auto repair shops
Refineries, etc.
Who Needs a Phase One ESA?
Individuals who might benefit from a Phase 1 environmental site assessment include:
Property owners and buyers
Potential tenants
Lenders and borrowers
Property managers
Contractors
Why Is ESA Phase 1 Important?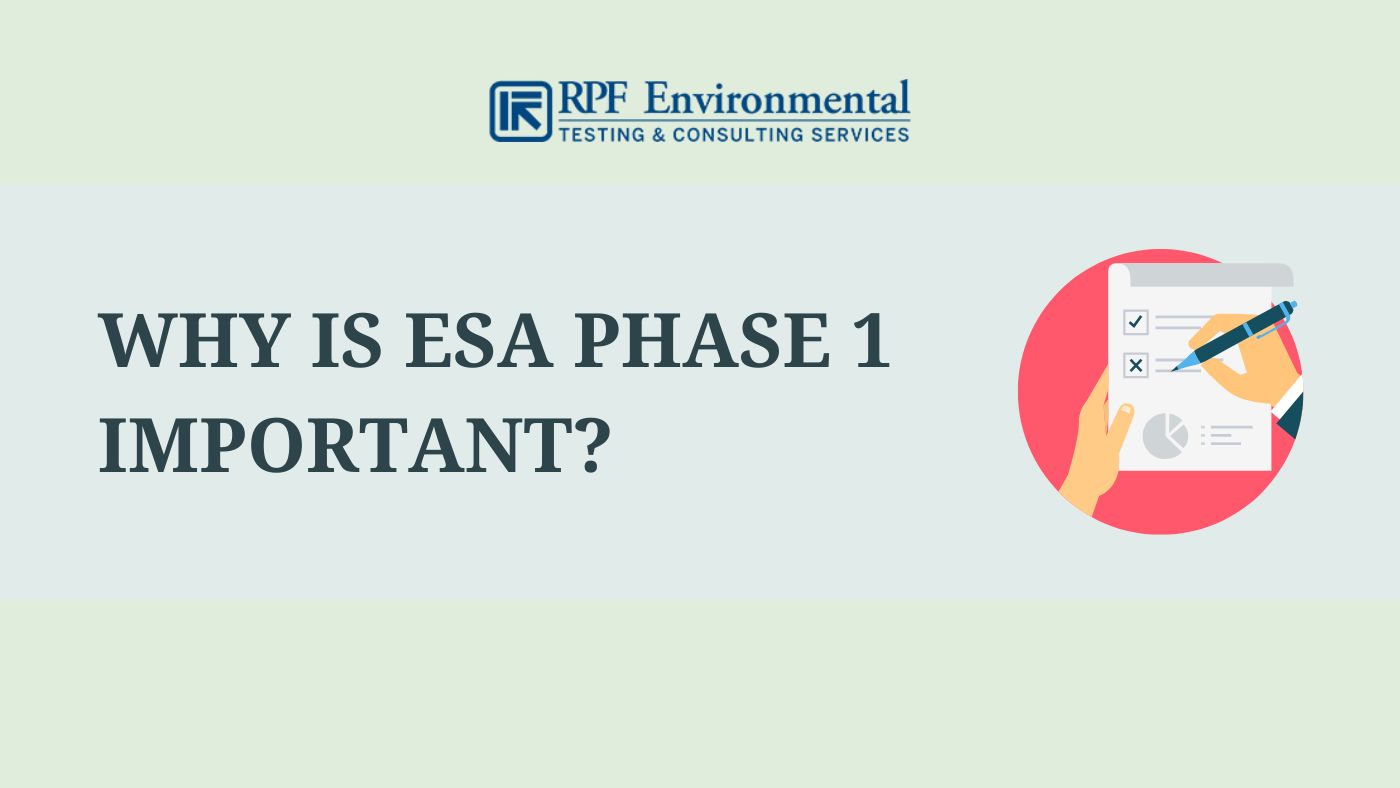 Federal and state regulations don't require Phase I assessments. But if you want to save yourself from costly legal issues in the future, we recommend conducting it. Lenders and banks also usually require it for real estate transactions to protect loans.
Among the two most important reasons why you should perform a Phase 1 ESA are:
#1 To Protect Yourself from Future Liabilities
There are a lot of risks when you're starting a business. These include dealing with hazardous contamination in your newly acquired property and liability problems regarding costly cleanups. Performing environmental site assessments before closing the deal helps in minimizing these risks and protects the lender or buyer from future liabilities.
In addition, you can only qualify for Landowner Liability Protections (LLPs) through a Phase I ESA by complying with the requirements for CERCLA's AAI rule. LLPs protect landowners from responsibilities regarding specific injuries or damages on their property.
#2 To Protect Property Value
Phase 1 site assessments can identify RECs that could impact the condition of the site which could affect the value of the property. This is done by investigating past uses. For instance, high-risk applications such as gas stations and other industrial applications will significantly impact the environment of the property even years after the business was vacated.
What's the Cost of Phase 1 Site Assessments?
This can considerably vary depending on various factors such as the location of the property and the complexity of its history. For instance, former industrial sites might be more expensive due to potential soil and water contamination from hazardous substances like lead and asbestos.
Reliable companies usually offer prices ranging from $1,500 to $6,000+. If you are offered less than $1,500, you should be wary. Because if the specialist you hired fails to conduct a Phase 1 ESA properly, you might face more costly legal issues once other institutions have confirmed the presence of RECs.
How Long Does a Phase 1 Site Assessment Take?
Reviewing records and historical data as well as interviews may consume a lot of time, especially for properties with a complex history. But, Phase I ESA usually takes 2 to 4 weeks or more. This process requires sufficient time to ensure a reliable assessment.
What's the Difference Between Phase 1 and Phase 2 ESA?
Phase 1 only assesses the possibility of contamination in the site through visual observation and reviewing regulatory records and historical use. On the other hand, Phase 2 involves soil and water sampling with scientific tests to assess the extent of the contamination. This also determines remediation needs for the elimination of the contamination.
Do I Need a Phase 1 ESA? Or Can I Skip Right to Phase 2?
No, you can't perform a Phase II environmental site assessment without conducting a Phase 1 ESA. The results of Phase I ESA (i.e. RECs have been found in the property) will determine whether further investigations via Phase II ESA are needed.
What's Next After Phase 1 ESA is Completed?
Depending on the findings in the Phase I assessment, the involved parties may choose to proceed with a more extensive investigation of the site via Phase II assessment. But a Phase 2 ESA must be done once the presence of RECs in the site has been confirmed. In addition, some lenders and agencies may also request additional compliance reports.
Also Read:
FAQs
What is the purpose of a Phase 1 Environmental Site Assessment?
The key objectives of a Phase I ESA are due diligence and protection against costly liabilities including cleanup. They are usually done for property financing purposes and to minimize risks of putting up a commercial business.
Conclusion
Phase I Environmental Site Assessments are important when buying or selling commercial and industrial properties. Aside from protecting landowners and other parties from costly legal issues, they also protect the value of the property to guarantee that you're making the right investments.
RPF Environmental has certified experts to conduct Phase I environmental assessments as well as EH&S trainings. We provide professional environmental and testing services in Massachusetts, Maine, New Hampshire, and other New England areas. Contact us now!