Companies often need to use complex technology and practices to process tons of data and execute their operations. But how can you guarantee that your business or organization's management systems are effective and your operations are being implemented efficiently?
This is where system audits come in to evaluate your organization's workflows to determine areas of improvement, reduce/eliminate errors, and ensure compliance with industry standards. This also helps in building customer trust to guarantee the success of your business.

RPF Environmental offers environmental testing and consulting services as well as EH&S trainings to help businesses with regulatory compliance like EH&S, OSHA, and EPA compliance. We serve areas in Maine, Massachusetts, New Hampshire, and beyond. Contact us now!
Definition: What is a System Audit?
According to ISO 19011:2018, an audit is defined as:
"systematic, independent and documented process for obtaining objective evidence and evaluating it objectively to determine the extent to which the audit criteria are fulfilled"
Objective evidence consists of relevant and verifiable information such as records and statements of fact that can be gathered through observations, measurements, or testing. These data are compared against an audit criteria which is a set of requirements that may include:
Procedures
Policies
Work instructions
Contractual obligations
Legal requirements, etc.
Simply put, a system audit involves the evaluation of an organization's practices, procedures, controls, and management systems. This is to determine their compliance with regulatory requirements and other policies set by the organization. Thus, allowing areas of nonconformance to be identified which will help in improving the company's operations and services.
Management systems may include compliance management systems or ISO management systems. Specific examples are Occupational Health and Safety (OH&S) Management Systems and Environmental Management Systems (EMS). Also, regulatory standards for management systems include ISO 9001:2015, ISO 45001:2018, ISO 14001:2015, and ISO 50001:2018.
Purpose of System Audit Checks
A system audit aims to:
Ensure the reliability of the management systems and practices
Ensure the relevance of the organization's objectives and whether they are achieving them
Validate whether operations and systems comply with regulatory requirements and company policies
Identify risks and vulnerabilities to facilitate the creation of appropriate action plans to maintain and improve the efficiency of the organization's operations and/or services
Scope of System Audits
The scope of a system audit refers to the boundaries and extent of the audit which will vary depending on what audit is being done. Audits generally consist of details about what locations, functions, organizational units, activities, and processes will be audited.
Also, the scope will be based on factors like:
The complexity, nature, and risks of the processes being audited and analyzed
The impact of potential nonconformities on the organization
Types of System Audits: First-Party, Second-Party, and Third-Party Audits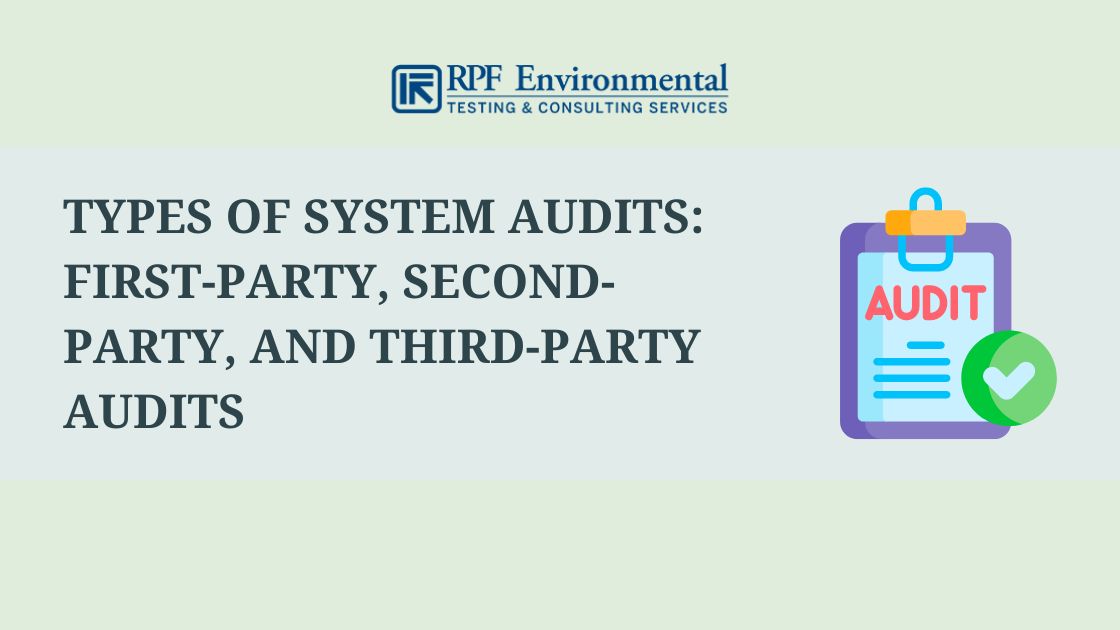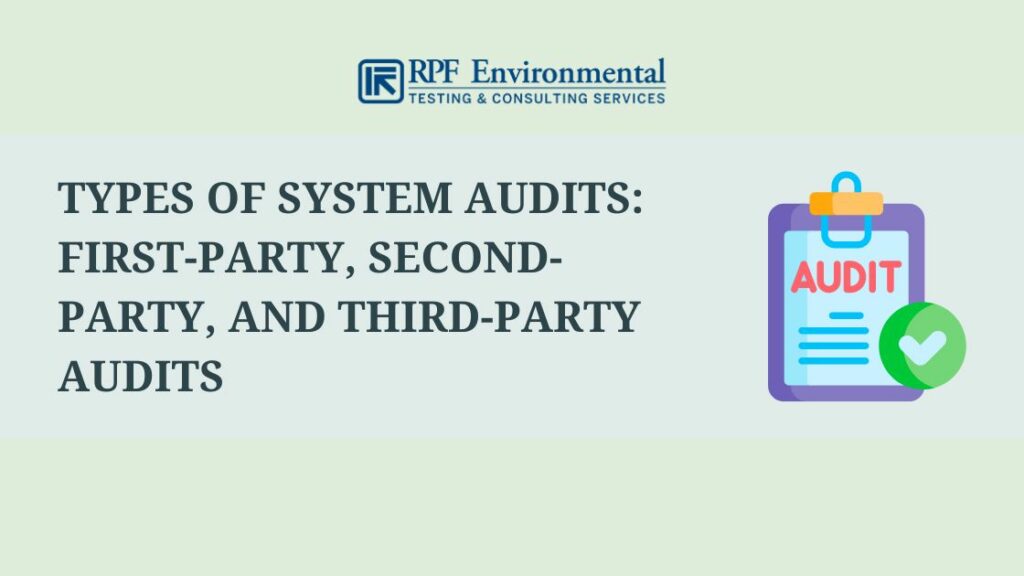 System audits can be classified based on the relationships among the participants. They can either be internal, external, or independent/extrinsic audits:
First-Party Audit (Internal Audit)
First-party audits are performed by stakeholders within the organization. They are done by auditors employed by the organization to determine if their procedures are functioning properly and achieving the company's objectives.
Second-Party Audit (External Audit)
Second-party audits are done by outside parties like independent organizations where the audit is subject to a contract's rules. It can also be done by a customer to a supplier. These audits are more formal compared to internal audits because the findings may influence the buying decision of the customer.
Third-Party Audit (Extrinsic/Independent Audit)
Third-party audits are conducted by accredited independent organizations that have nothing to do with the customer or the supplier/business. These audits can result in penalties, fines, certifications, recognitions, awards, and/or license approvals among others which are issued by the independent organization.
Third-party audits are usually done by high-risk companies like businesses dealing with medical and electrical devices, toys, and gas appliances to meet compliance requirements. (Customers may require their suppliers to conform to ISO standards and other regulations.)
Benefits & Importance of System Audits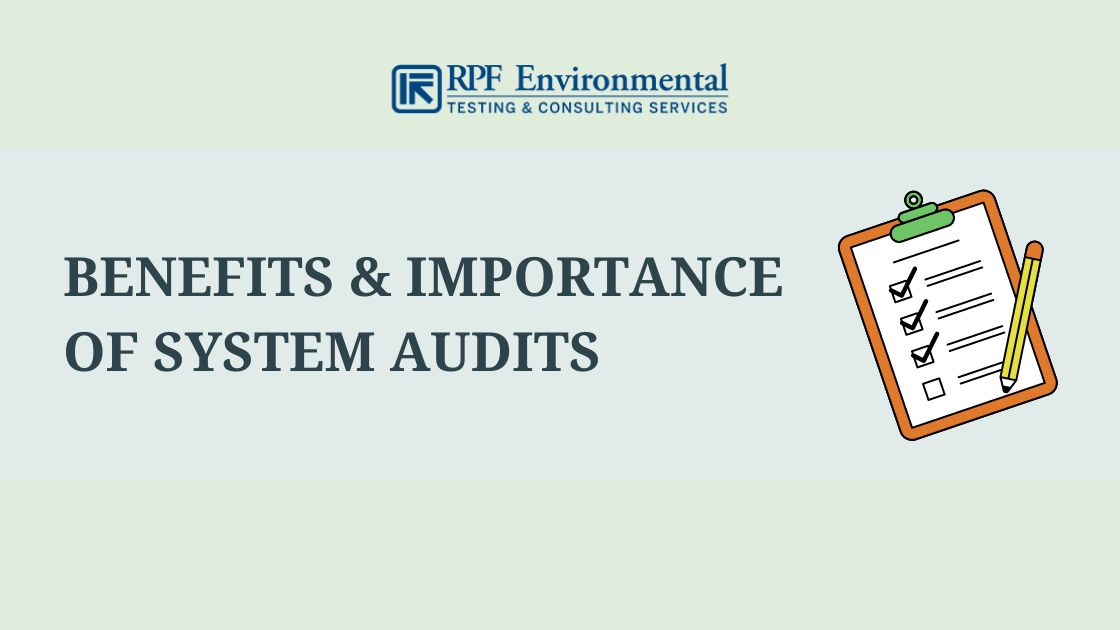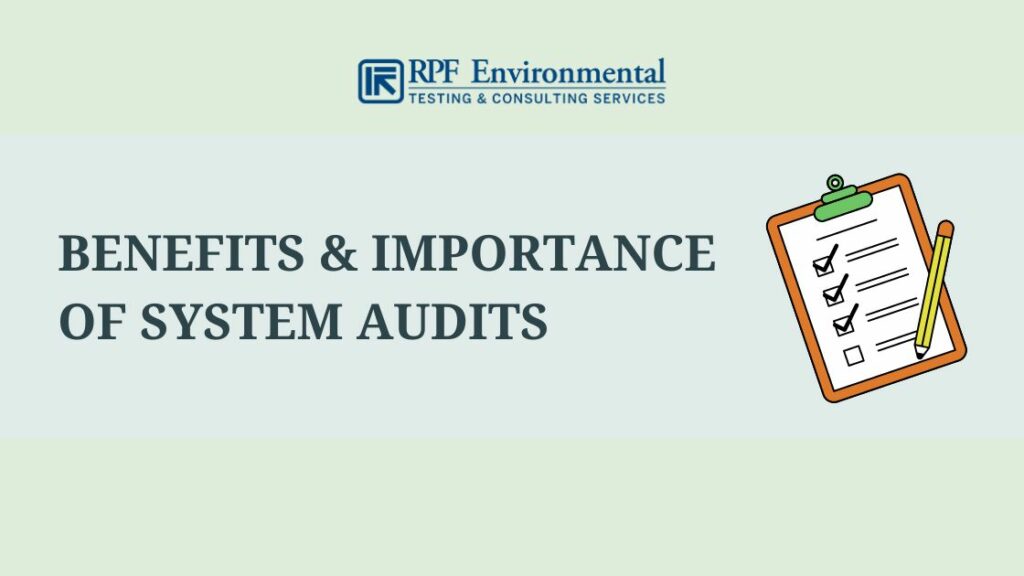 A system audit helps businesses ensure their success by creating long-term and effective strategies after a thorough evaluation of their operational systems' performance.
1. Risk Management
System audits play a crucial role in risk management, especially in corporate governance. They ensure compliance with ISO standards which are well-known for providing guidelines regarding effective risk management.
2. Increased Safety & Efficiency
System audits help identify areas of improvement and devise appropriate solutions and strategies to make the implementation of processes safer and more efficient.
3. Preventing Costly Issues
Auditing also evaluates quality control processes and identifies potential issues that could affect your company's products or services negatively. Thus, allowing you to reduce and correct these issues quickly and in an effective manner to prevent costly mistakes.
4. Building Customer Trust
Finding solutions to improve your processes through a system audit will help in:
Improving the quality of your products/services
Speeding up turnaround times
Enhancing customer experience
Also, conducting a third-party audit and acquiring compliance certifications will help build customer trust. This will prove that your operations, products, and services comply with rigorous industry standards (e.g ISO standards) which assures your customers of your company's credibility.
System Audits Process: How Are They Conducted?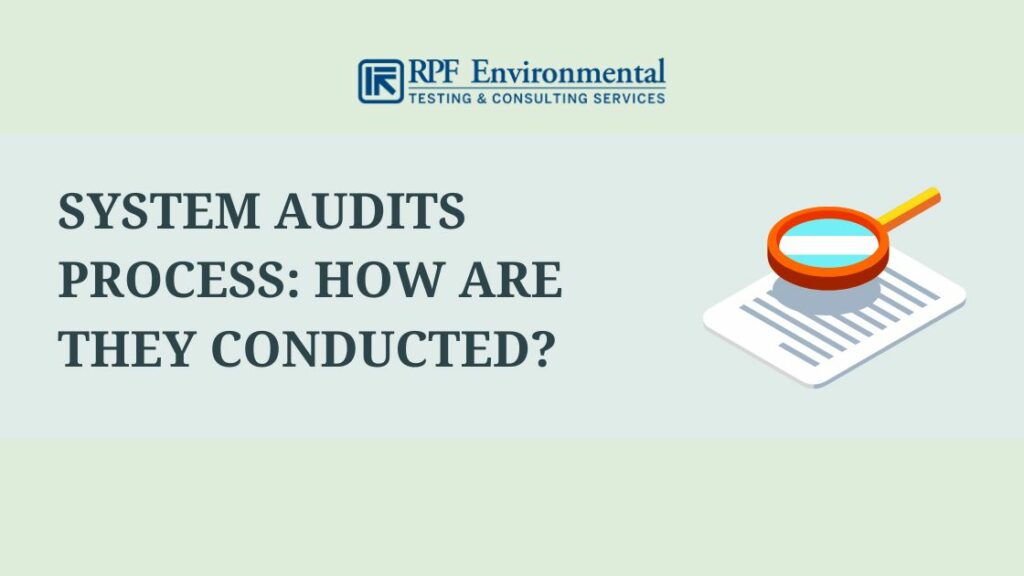 System audits, along with other types of audits, are done in four basic steps:
Step 1. Planning & Preparing the Audit
You need to decide what type of system audit you will be conducting. Aside from determining the specific processes or systems you want to audit, decide whether you want to do an internal, external, or independent audit.
Your system audit plan will usually include the following:
Parties involved in the process
The objectives of your audit and how it will be done
The audit scope (specific areas to be evaluated and the extent of the evaluation)
Preparations that your employees need to do for the audit
Details of the system audit schedule including the start and expected completion dates, schedule of audit per department, and meeting schedules
Tips:
If your organization is handling sensitive data and are managing a large company, conduct an external audit. Internal audits will suffice for most companies and are less expensive.
If you will be conducting an internal audit, you might want to consider doing it annually and conducting an external or independent audit every few years.
The auditor might need to communicate with different personnel in your company to understand your workflows, so better not to schedule the audit on busy days.
Step 2. Conducting the Audit
Executing the audit (called fieldwork) is where data will be gathered and consists of various activities including:
Understanding the systems and processes of the company
Verifying that system controls work
Identifying compliant and non-compliant systems
Meetings and communicating with the auditee for clarifications
Also, the entire scope agreed upon during the planning process should be covered in the audit.
Step 3. Audit Reporting
Once the audit is done, the documentation, findings, and recommendations will be synthesized into a final audit report. It should provide clear, accurate, and factual data that can effectively assist in providing solutions to crucial organizational issues.
The report should include the following:
Outline of the audit objectives
Details of the methodologies used
Any discrepancies and vulnerabilities along with objective evidence
Summary of the items evaluated and which ones need and don't need improvement, corrective action, new solutions, etc.
Conclusions regarding the compliance of the organization's systems and processes with regulatory and company standards
Recommendations regarding mitigation of risks that can't be completely eliminated
Tip: You can use the final report as a future reference for your next audits.
Step 4. Follow-Up & Closure
"The audit is completed when all the planned audit activities have been carried out, or otherwise agreed with the audit client." – ISO 19001
The last steps are follow-ups and closure of the audit. Scheduling follow-ups with the involved parties will ensure that the corrections made were successfully implemented. Once all activities for the audit have been executed, the system audit is completed.
Tip: Implementing a single audit for an integrated management system can save you more time and money compared to doing audits on every system separately.
Internal Audits: Best System Auditing Practices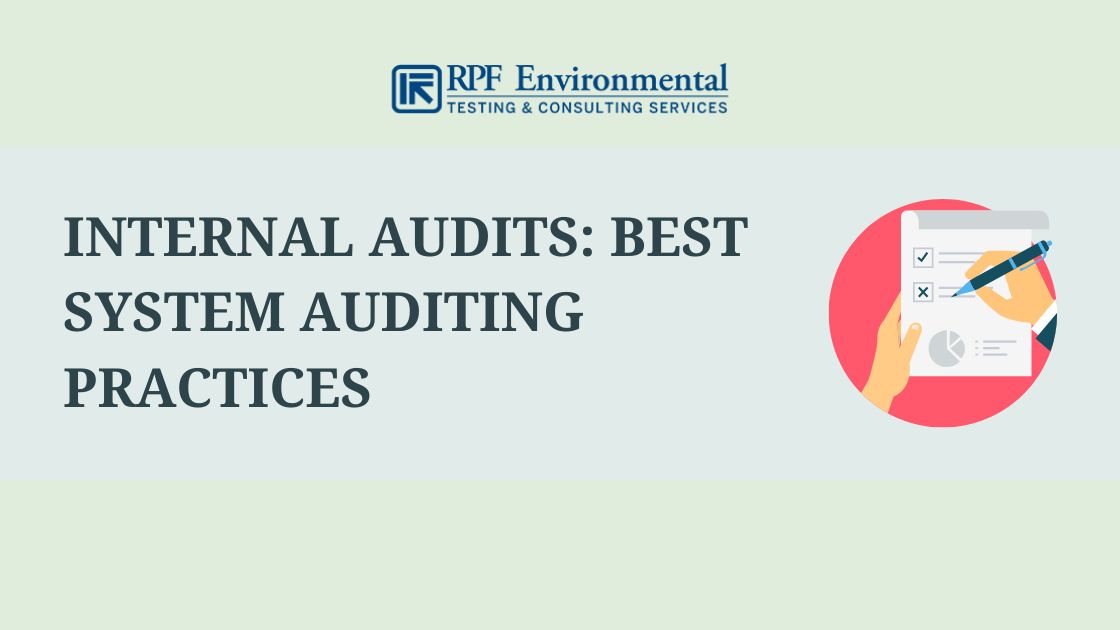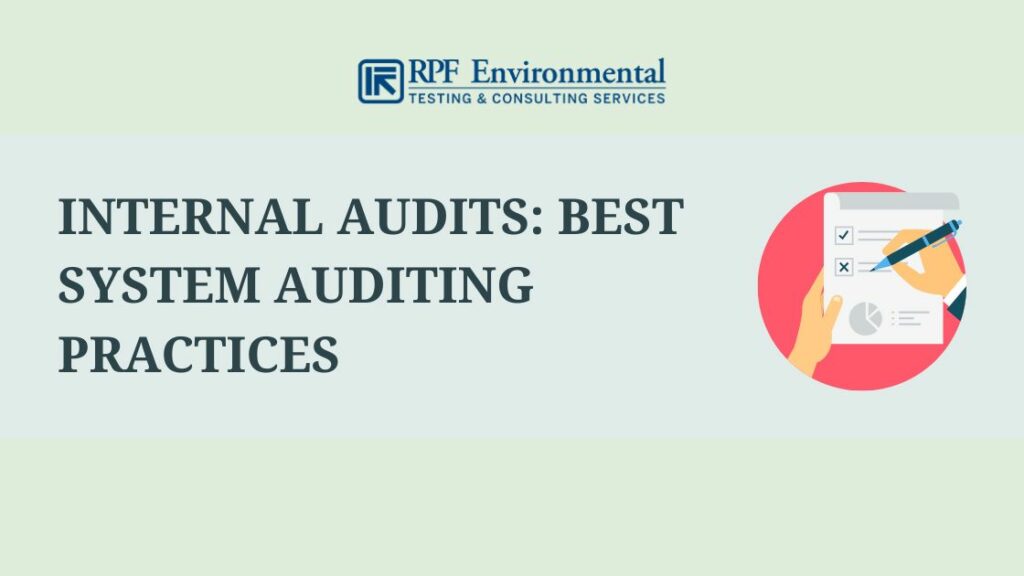 If you are doing an internal audit for your company, below are some expert tips you can follow to ensure a successful audit:
Plan your audit thoroughly. Effective preparation is important when doing an internal audit to make sure that you will meet your deadlines and that the needed data to execute the audit are available. (You need to be clear about the scope and what data and systems you need to access.)
Organize a core audit team. Executing the audit process effectively will be easier if you have a core team.
Frequent communication with the involved individuals should be done so they'll know they're a part of the process. Make sure they understand the objectives and keep them updated on the findings and outcomes.
Identify key risks and perform a preliminary risk assessment.
Collate the report as you do the audit fieldwork. This makes sure that you won't miss crucial details.
Consider streamlining your internal audits. You might want to use a software-based approach to automate your workflows and speed up your audit process. This also minimizes human errors.
EHS Auditing: Compliance Audit vs. System Audit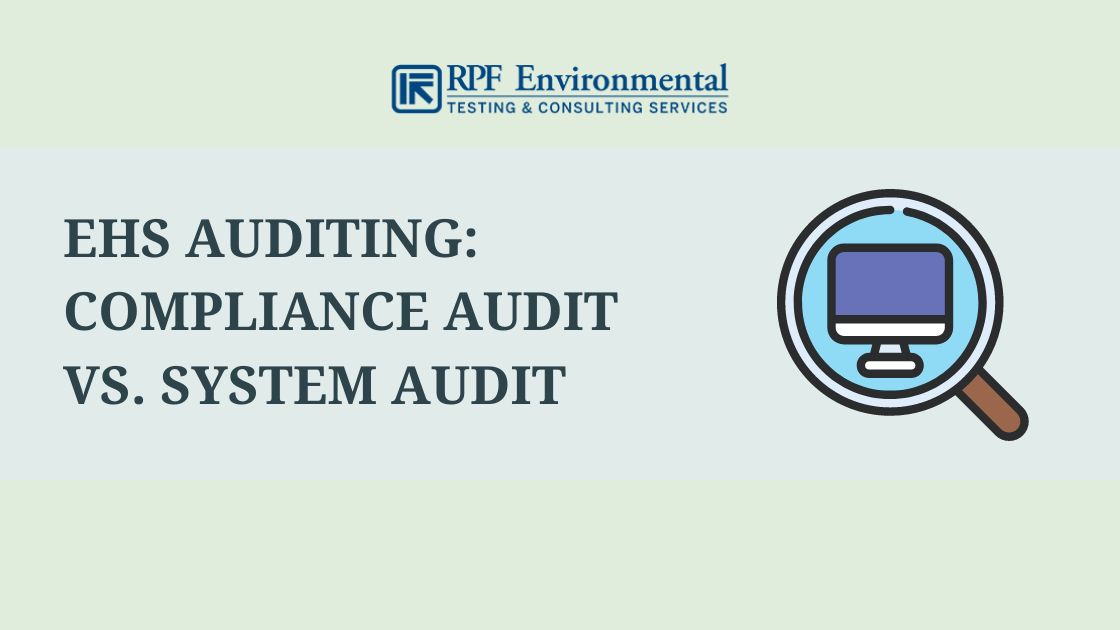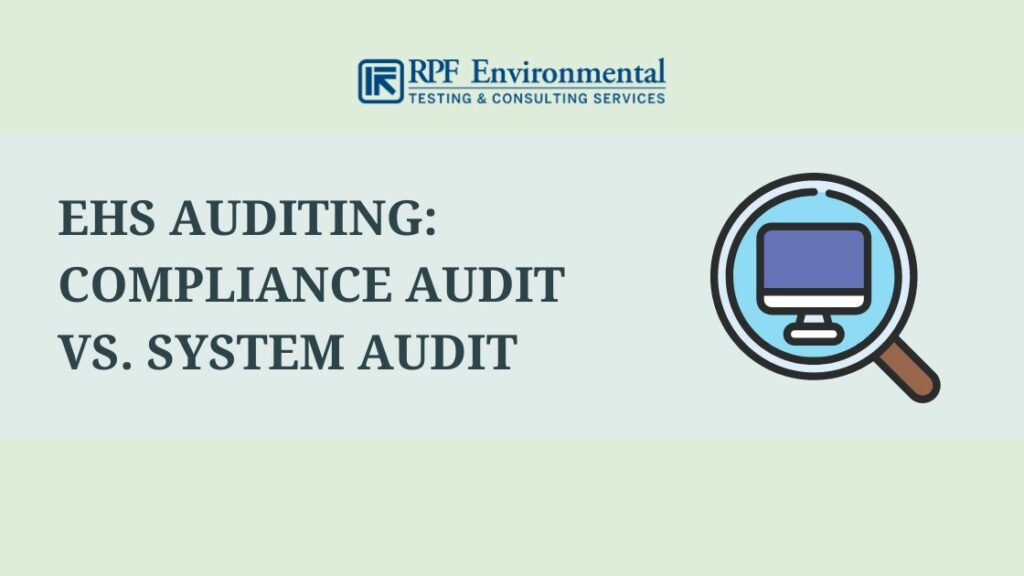 When it comes to Environmental Health & Safety (EHS) audits, there are other types of audits that can be conducted aside from system audits. These include compliance audits. Below is a table that differentiates these two:
System Audits
Compliance Audits
– Focused on identifying both compliance and non-compliance areas
– Also verifies compliance of management systems with standards that are not necessarily regulatory requirements (e.g company policies
– The audit may be done on the entire organization or on certain areas like specific functions, processes, or production steps
– Findings are used to improve the company's operations and services to meet customer needs
– Tend to focus on identifying non-compliance areas as well as in correcting and preventing potential nonconformities based on the findings
– Verifies compliance with local, federal, and/or state regulatory requirements by focusing on specific regulations, media (hazardous materials, air, water, etc.), or a combination of different topics
– Non-compliance findings may result in legal issues and penalties
You might also be interested in our other EH&S articles below:
FAQs
What are the 3 types of audits?
The three types of audits are system audits, product audits, and process audits. System audits are conducted on management systems. Product audits examine particular services or products such as software, hardware, or processed materials for conformance with various requirements. Process audits evaluate methods or operations against predetermined standards or instructions for conformance.
What is an example of a system audit?
Examples of system audits include:
1. IT system audit – Also known as information technology or information systems audit
2. Quality management system audit – Evaluates quality management programs
3. Environmental system audit – Evaluates environmental management systems
4. Food safety system audit – Evaluates food safety management systems
5. Safety system audit – Evaluates safety management systems

In addition, examples of the audits done include auditing design and manufacturing processes and observing the interactions between these processes.
Conclusion
System audits are crucial in ensuring that your organization's management systems and operations conform to industry standards and your company's policies. They help you improve your processes for maximum efficiency and guarantee that you meet customer demands.
RPF Environmental consists of certified experts in the industry who can assist you with EPA, OSHA, and EH&S compliance as well as EH&S trainings. We serve areas in the New England region and beyond. Book an appointment now!