If you want to ensure your business's regulatory compliance, improve your environmental impact, and maintain a good reputation, you should conduct an environmental compliance audit. Evaluating your company's environmental compliance can help you prevent costly liabilities and determine areas of improvement to ensure your business's success.
Keep reading to know more about what environmental compliance auditing is, how it is conducted, its benefits, and more!

RPF Environmental offers professional environmental consulting and testing services including EPA and OSHA compliance consulting for businesses and organizations in the New England region. Contact us now to get affordable and reliable services tailored to your needs!
What Is An Environmental Compliance Audit?
An environmental compliance audit aims to evaluate and assess an organization's environmental performance and practices. This is to make sure that the organization's operations are complying with applicable laws and regulations such as ISO 14001. It is also used to pinpoint compliance issues and management system implementation gaps. Thus, making it possible to identify required corrective actions and assist in proactive management initiatives.
Among the three main types of environmental audits, environmental compliance audits are the most common ones and are usually the most comprehensive and expensive audits.
NOTE: Non-compliance with environmental regulations can lead to costly consequences like legal issues and penalties and can even destroy your company's reputation.
Who Conducts Environmental Compliance Audits?
External environmental auditors that have no personal interest in the audit's outcome conduct environmental compliance audits. They should be well-versed in environmental management laws and systems and equipped with the right knowledge to conduct these audits.
Environmental auditors are responsible for assessing the organization's environmental procedures and policies. When the results are unsatisfactory, they will also prepare protocols to improve the implementation of environmental standards.
Also Read: Understanding the Basics of System Audits: Objectives, Process, & Importance
3 Main Types of Environmental Audits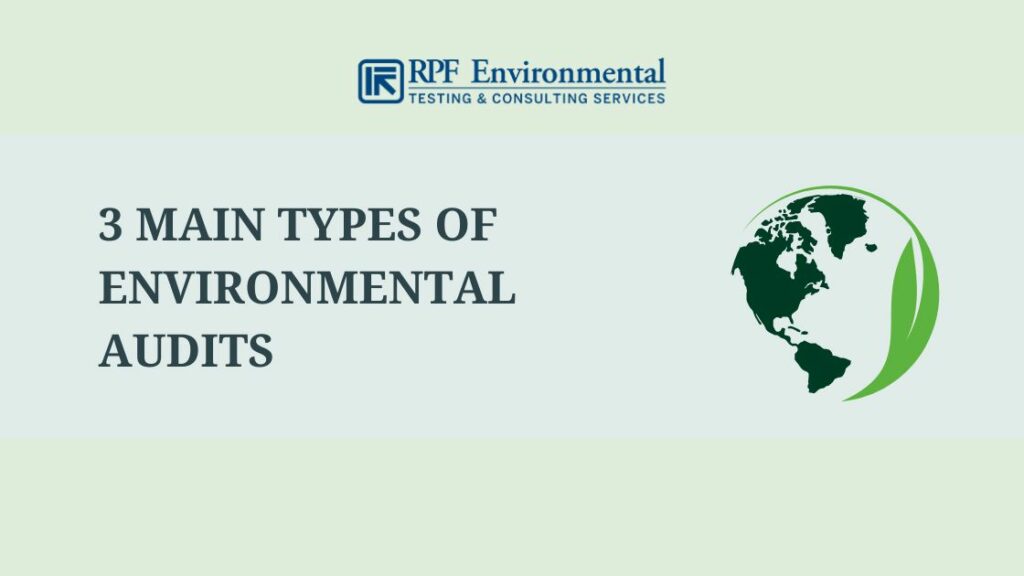 Environmental compliance audits are just one of the three major types of environmental audits:
1. Environmental Compliance Audits (External Audits)
As mentioned, environmental compliance audits (also called external audits) aim to identify non-compliance areas and prevent nonconformities that may result in penalties.
2. Environmental Management Audits (Internal Audits)
This is the second most common type of environmental audit that is conducted by the organization itself. It aims to assess if the organization is meeting its own environmental objectives and performance expectations.
Environmental management audits are done more frequently than environmental compliance audits to constantly improve the organization's services and operations.
3. Functional Environmental Audits
These audits are focused on measuring the impacts of specific activities such as wastewater management, air quality monitoring, hazardous waste identification, and others.
Environmental Compliance Audit Checklist: What Is Covered in Environmental Compliance Audits?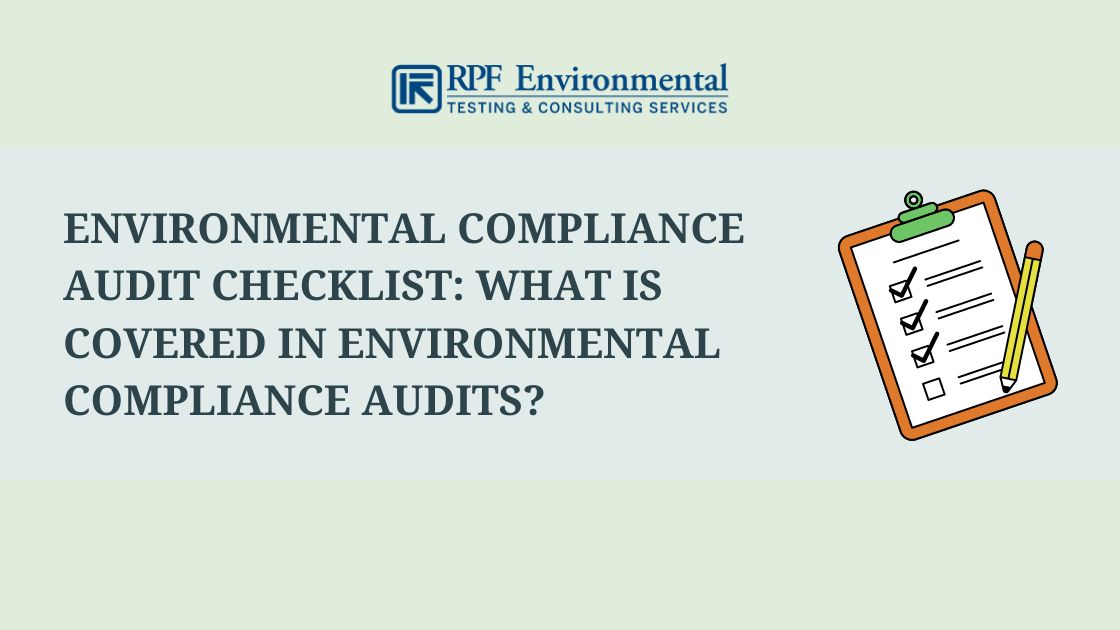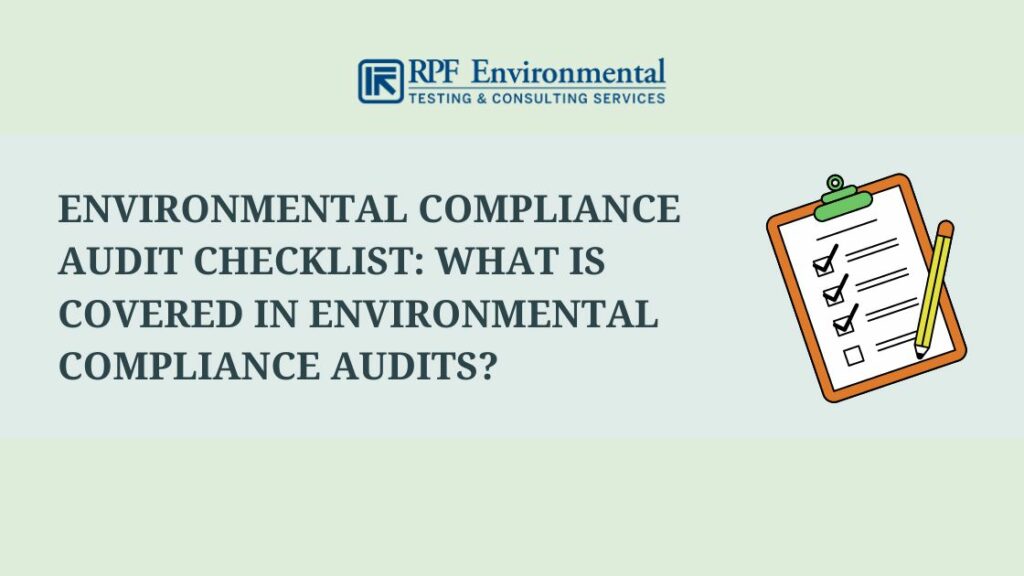 Below are the things that are usually covered in environmental compliance auditing:
Ensuring Compliance with Applicable Environmental Laws
Environmental compliance auditing involves ensuring compliance with the environmental laws and regulations that apply to the organization. Regulatory compliance checklists can include the following regulations:
Inspection of Environmental Aspects or Potential Sources of Impact
The following will be inspected during the audit:
Air emissions
Soil and groundwater contamination
Surface and stormwater contamination
Chemical use and storage
Generation of noise that can impact natural structures or personnel
Generation and/or release of radiation
The use and generation of biohazards and nanosubstances
Generation, storage, transport, and disposal of industrial and hazardous waste including radioactive waste
Discharge of any material to wastewater systems
Impact on archeological and wildlife areas
Discharge or disposal of water/sludge
Generation of construction, demolition, and renovation by-products
Activities for minimizing waste generation (e.g. reuse and recycling)
Conservation of natural resources
Detailing the Controls to be Implemented
Controls for reducing potential environmental impacts based on the observed sources will be provided. These include proposed mitigations such as spill prevention and air emission controls.
Description of Waste Disposal Methods & Waste Management Plans
The types of waste and other details like the amount generated will be included along with waste disposal methods. Plans for waste minimization (hazardous waste, radiological waste, or designated waste) will also be assessed including how demolition and construction debris will be recycled.
Identifying Sustainable Practices Being Implemented
Sustainable practices include the following:
Conservation and efficiency measures for energy, fuel, and water use
Purchasing environmentally friendly products (e.g. non-toxic materials, recycled content, energy-efficient products, etc.)
Compliance With the ISO 14001 Standards
In addition, environmental compliance audits also follow the ISO 14001 standards that include the following key elements:
1. Environmental Policy
The organization should outline an environmental policy and determine its objectives and targets based on the policy.
2. Planning
The organization should design effective plans for implementing its Environment Management System (EMS).
3. Implementation & Operation
The implementation of the plans in the previous step includes incorporating adjustments and building new processes that adapt to changing requirements. This procedure also involves defining, documenting, and communicating the process for training purposes.
4. Checking & Corrective Action
This is the process of observing the effectiveness of the EMS after implementation and making necessary corrections and optimizations to ensure that KPIs are hit.
Management Review
Lastly, the effectiveness, adequacy, and suitability of the EMS are evaluated to make sure that everything is functioning as they are expected.
Environmental Compliance Audit Process: How is Environmental Compliance Auditing Conducted?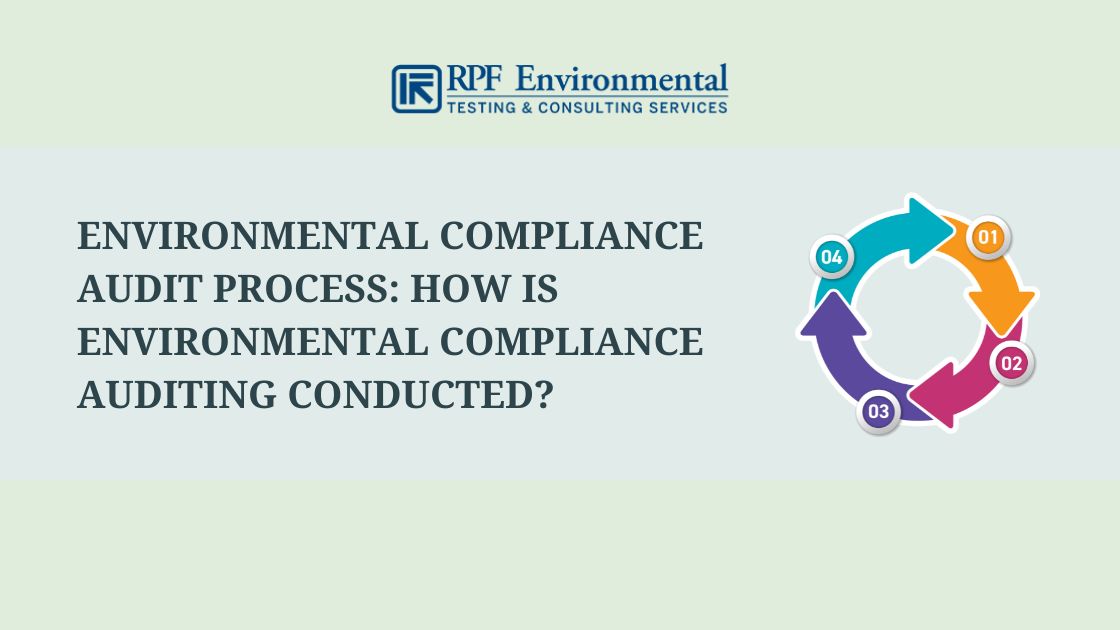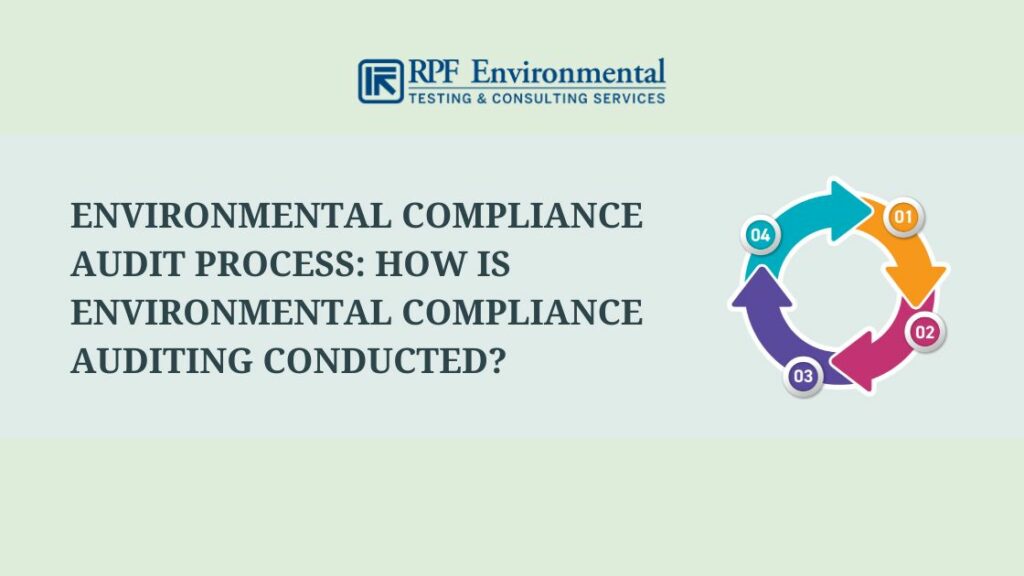 The process can be simplified into three steps:
Step 1. Pre-Audit: Audit Planning
Creating the audit team
Outlining the audit schedule
Planning the audit's scope and objectives
Establishing roles and responsibilities
Safety considerations like required PPE
Outlining applicable compliance requirements (local, federal, and state regulations)
Step 2. Conducting the Audit
Assessing the organization including its management and equipment
Collecting relevant information by reviewing records, interviewing personnel, and performing a site inspection
Checking the legal compliance and completeness of documents
Evaluating the overall performance of the organization including the compliance of the operations
Uncovering compliance gaps
Identifying areas of improvement
Step 3. Post-Audit
Preparing the audit report and reporting the findings
Listing down confirmed areas or concern
Indicating the laws and regulations followed by the company including non-compliant areas
Designating the business's status as non-compliant, partially compliant, or fully compliant
Developing corrective actions for issues that have been found
How Long Do Environmental Compliance Audits Take?
Depending on the audit's scale, the completion time of environmental compliance audits can range from a few weeks to months.
How Often Must Environmental Compliance Audits Be Performed?
According to EPA, compliance audits should be performed at least once every three years to ensure the adequacy and compliance of established procedures and practices.
Required Documents for Environmental Auditing
Below are the basic documents that you should have prepared before the audit starts:
Existing maps and floor plans
Inspection reports
Environmental permits (e.g. wastewater treatment, air emissions, etc.)
Environmental compliance certificates
Training records and certificates of employees
List of chemicals and raw materials used
Environmental plans, management practices, Standard Operating Procedures (SOPs), emergency response programs, etc.
5 Benefits of Environmental Compliance Auditing: Why is Environmental Compliance Audit Important for Your Business?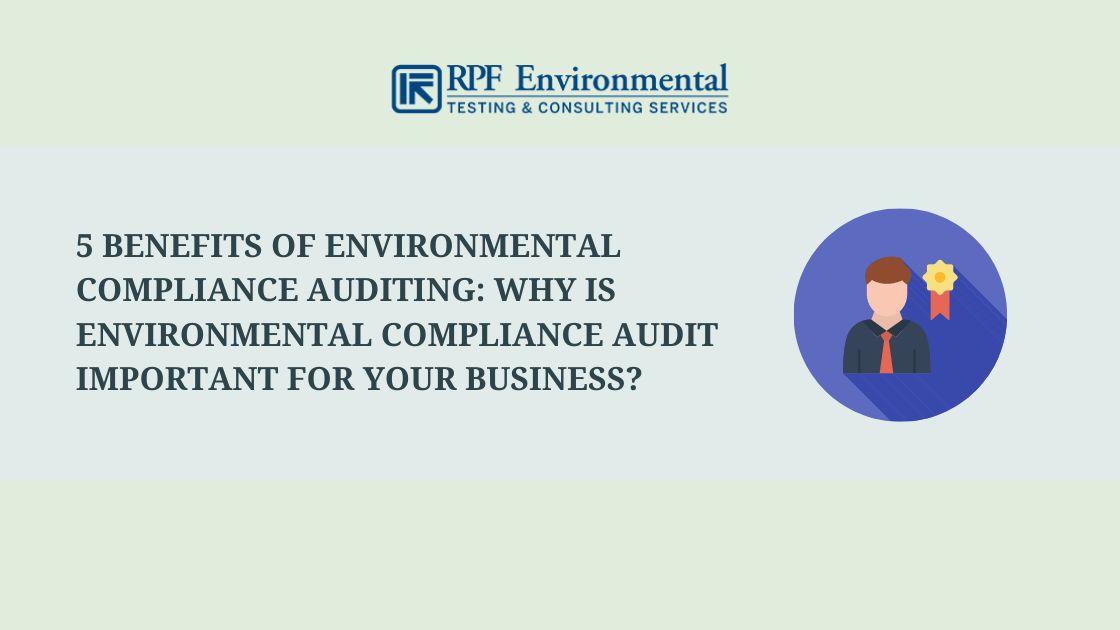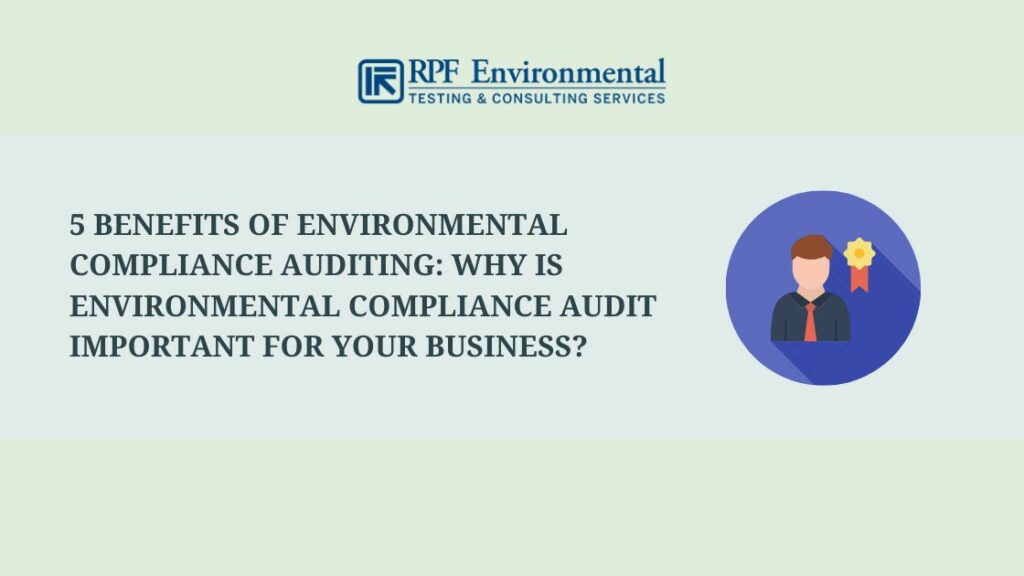 Companies involved in businesses that can potentially harm the environment should conduct environmental compliance audits for the following reasons:
1. For Compliance
Environmental audits are powerful tools for evaluating your organization's current compliance level. Ensuring that you comply with local, state, and national laws helps you stay updated with environmental standards that apply to your business. The report can also be used for future audits to measure your progress.
2. To Identify Areas of Improvement
The findings of environmental compliance audits will help you devise strategic changes addressing the roots of the identified issues. It can also assess the effectiveness of your training programs and provide recommendations for future training. Constantly measuring your environmental performance can guide you in planning corrective actions that can reduce operating costs and improve your performance.
3. To Avoid Costly Consequences
Identifying non-compliance issues helps your company avoid potential liabilities, fines, and costly corrective actions. It also helps avoid operational issues and improve financial performance.
4. To Improve Sustainability in Your Business
Environmental audits ensure that your operations are sustainable by reducing your company's environmental impact.
5. To Maintain Your Business's Reputation
Performing an environmental compliance audit shows the public that you are environmentally responsible which can help you build your reputation. It creates new marketing opportunities by attracting customers, especially environmentally conscious ones.
Also Read:
You can also combine environmental compliance audits with environmental site assessments (ESAs), especially if you are buying an existing commercial property:
FAQs
What is compliance environmental audit?
An environmental compliance audit assesses the environmental performance and practices of an organization or company to ensure its compliance with applicable laws and regulations. It identifies non-compliance areas and provides corrective actions for improving the organization's operations.
What are examples of environmental compliance?
Examples include companies involved with potentially hazardous materials that are regulated by a government agency like EPA. Environmental compliance means ensuring that the company adheres to the regulations regarding the proper handling of hazardous materials (HAZMATs) to prevent harm to the environment and/or employees. This includes having the necessary permits before handling HAZMATs.
What are the three types of environmental audits?
The three types of environmental audits are:

1. Environmental Compliance Audit (External Audit) – Identifies non-compliance areas to prevent non-conformities and legal issues. 
2. Environmental Management Audit (Internal Audit) – Conducted by the company/organization itself to verify if they are meeting their own environmental objectives and policies.
3. Functional Environmental Audit – Focuses on a certain activity and its impacts such as wastewater management.
Conclusion
Environmental compliance audits aim to minimize the negative impacts of your company's operations on the environment by ensuring that you adhere to environmental laws and regulations. To avoid costly legal issues due to potential nonconformities, we strongly recommend conducting one.
RPF Environmental's affordable services include expert OSHA and EPA compliance consulting as well as environmental site assessments (Phase I and Phase II) in Maine, Massachusetts, New Hampshire, and beyond the US. Contact us now for more information!