Training Schedules & Registration
Environmental Testing & Consulting Services
RPF Environmental, Inc. is a firm that specializes in environmental health and safety. Since 1991, we have been serving clients all across the nation from our offices in Across Industries Across the Country. We have the expertise and experience necessary to train your staff so that they are better positioned to help ensure your compliance with the myriad of state and federal regulations. Enroll in our accredited programs to receive training from industry leaders and experts.
*Please note that payment in full is due with registration form.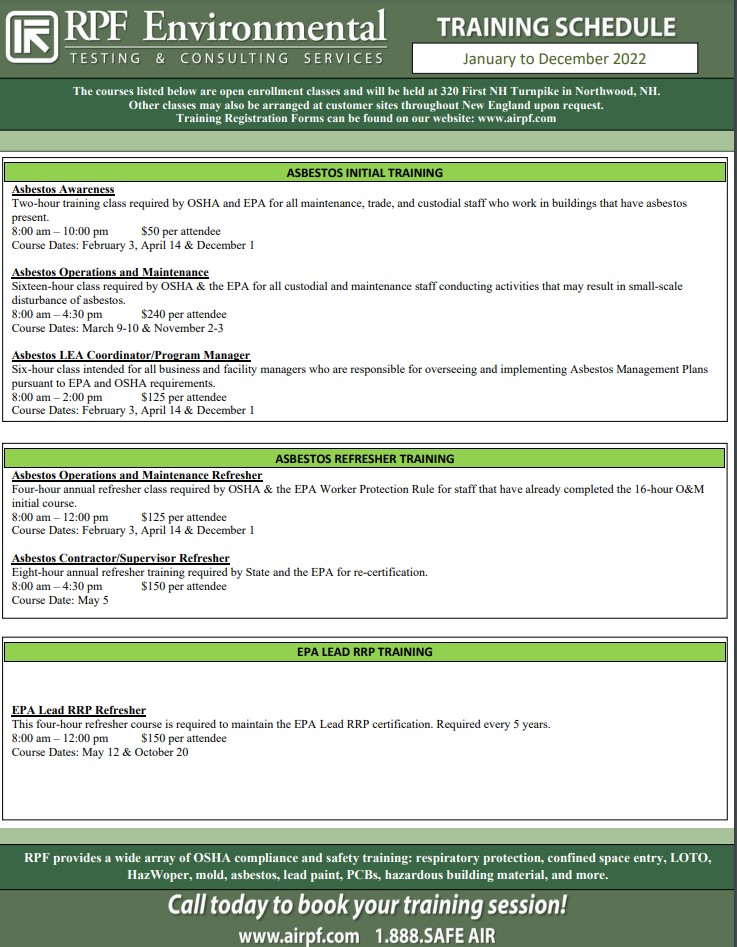 Request Your Consultation
We'll Work With You to Develop a Personalized & Cost-Effective Strategy
What makes our training sessions unique?
Our accredited and approved training sessions combine our professional knowledge of regulations and policies with the overall needs of our clients.
RPF Environmental training services allow our clients to minimize burdensome protocol without infringing on regulatory compliance or compromising the integrity of their projects, staff safety, and health.
Our training programs are tailored to facility managers, building maintenance and custodial staff, real estate development, and general construction environments.
We can facilitate customized training programs.
RPF Environmental is a state-licensed provider and our training programs are accredited through the Consortium of New England States (CONES) and U.S. EPA, as applicable, and we also offer EPA approved Lead RRP courses and RRP Refresher courses.
*Please note that payment in full is due with registration form.
"We have worked with RPF Environmental for several years now. They are a great company to work with, very knowledgeable, helpful, professional and friendly."

- Heather Nichols – Kahr Arms

"RPF is a great company to work with, highly knowledgeable, great to work with and accommodating."

- Jennifer Gilbert- St. Charles School

"They are a great company and have provided prompt and professional services."

- Bill Botting- SAU 60; Fall Mountain School District
Looking for More Information?
Visit Our Video Center

Learn more by watching our informative videos and see how RPF Environmental can help you and your business.

Watch Now

Stay Updated

Check out our helpful blog posts for industry news, tips, and updates from RPF!

View All Posts

Markets & Industries

Learn more about the markets and industries we service, then book your consultation today!

Learn More
Enroll in our accredited training sessions today – Call
(888) 293-0619

.
Space is limited and it is recommended that you register at least 7 days in advance of the start date. Reserve your spot today by printing and mailing the form along with your payment to RPF Environmental. You may also fax your registration to 603-942-5300, or email to safeair@airpf.com.
*Please note that payment in full is due with registration form.
Please CLICK HERE to view our 2022 training schedule.
Unless otherwise indicated, full-day classes are held 8:00am – 4:30pm. Our hardcopy registration form may be printed and returned with a check or through the mail.
Why Work With RPF Environmental?
EPA Accredited Asbestos & Lead Safe Renovator Trainer

Access to leading experts in your specific field to enhance your solutions

Cost-effective and creative alternatives for flexible strategies

Dedicated client services that emphasize close communication

Meet all regulatory standards & maintain focus on project goals

Fastest turnarounds available for time-sensitive projects