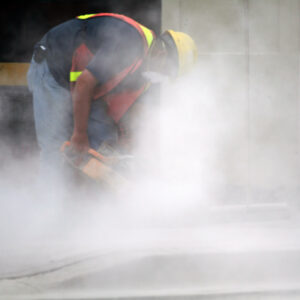 Do you have a worksite where workers may be exposed to crystalline silica? Crystalline silica is a micro-mineral that is found in various construction sites where materials such as mortar, stone, sand, brick, and concrete can be found. Whenever a worker crushes, cuts, drills, or grinds these materials they create micro-particles in the air that can be extremely harmful to the workers in that environment. Each year over 2 million workers are exposed to dangerous silica, putting them at risk for various diseases.
Diseases include:
Silicosis
Lung Cancer
Emphysema
Bronchitis
It is because of these dangers the United States Department of Labor, Occupational Safety and Health Administration (OSHA), has enacted standardized safety guidelines to protect workers in these dangerous environments. These guidelines include two options that can limit employee exposure to harmful crystalline silica. Each of which has to do with tools being used and/or the amount of time someone is assigned to operate machinery that could produce micro-particles. In addition, employers can choose to measure the air quality in relation to harmful forms of crystalline silica emissions.
---
Call us now for reliable silica exposure assessment services to help protect your employees and ensure your compliance with OSHA regulations.
---