Whether you are buying an old house or want to make sure that you and your family are safe from the harmful effects of toxic lead exposure, this guide will help you.
Lead, especially lead-based paint, is common in houses built before 1978. It is a dangerous chemical that can cause serious health complications with young children, the elderly, and immunocompromised individuals being the most at risk.
So if you have an old home or are planning to buy one, testing for lead-based paint and other sources of lead such as lead-contaminated water and soil is important. You should also test for lead if you are planning to renovate or remodel your home because these can release lead dust and expose your family.
Key Takeaways
Have your home tested for lead if it was built before 1978, the paint is deteriorating, you are planning to remodel your home, or you are experiencing lead poisoning symptoms.
Children below 6 years old are most at risk of lead exposure which can cause irreversible damage to their mental and physical development.
Lead inspection costs can range from $200 to $400+. The cost of lead abatement is not included.
Combining lead inspection and risk assessment will guarantee reliable results that will be helpful in creating the best solution to make your home lead-free.

It is highly recommended to hire a certified lead inspector and risk assessor, such as RPF Environmental, to test your home for lead to ensure accurate results. We serve the New England region including Massachusetts, New Hampshire, Maine, and beyond. Contact us now!
What Is Lead Inspection and Risk Assessment?
Lead Inspection
Lead inspections involve a surface-by-surface examination to determine if lead-based paint is present in your home as well as identify sources of exposure.
Lead Risk Assessment
This involves investigating the site to determine not only the presence and sources of lead but also the severity, type, and specific locations of lead hazards. These include soil and dust aside from paint. Assessors will also provide suggestions on how to remediate the problem to help in devising an effective solution to control the problem.
Why Is Lead Testing Important?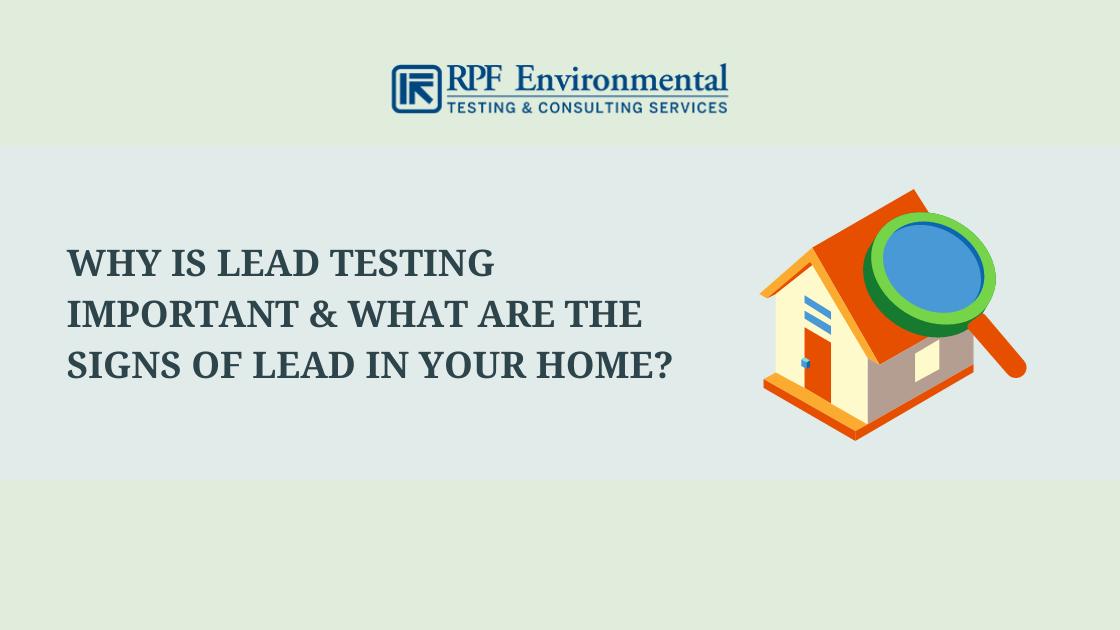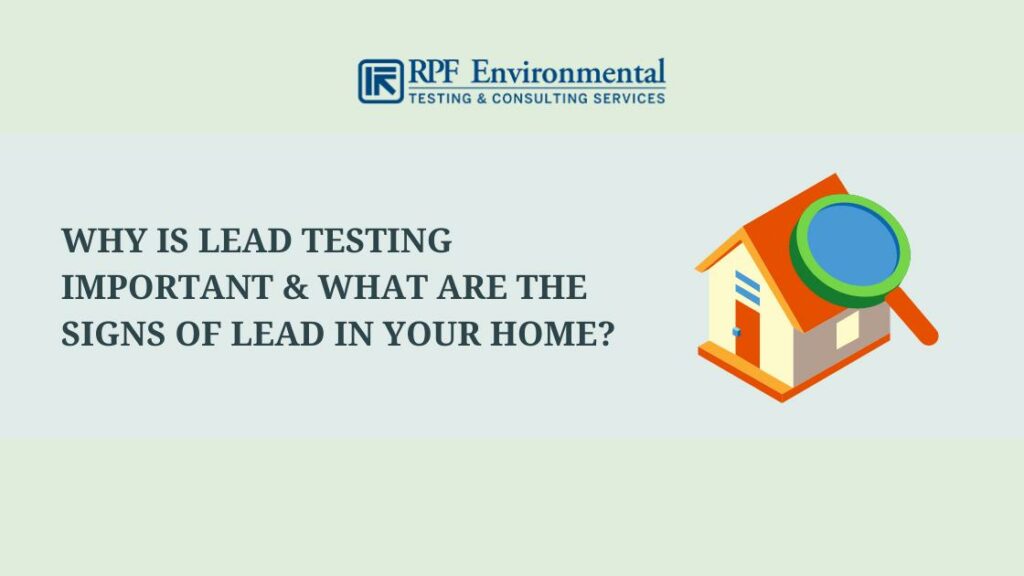 Lead is a toxic substance that was popularly used in paints to speed up drying and for increased durability before it was banned for consumer use in the United States in 1978. Though it is no longer used, it is still present in millions of homes and are often covered with layers of new paint.
According to the EPA, below are the percentages of homes that contain lead-based paint:
Before 1940: 87%
1940-1959: 69%
1960-1977: 24%
Dangers of Lead
Lead exposure is dangerous, especially to children below 6 years of age. Children can accidentally ingest lead on surfaces they can reach such as doors, windows, stairs, porches, railings, and banisters. Deteriorating lead-based paint can also produce dust that can be inhaled.
"No safe level of lead exposure has been identified for children, making them particularly vulnerable and underscoring that anything you can do to reduce exposures can improve life outcomes."

– EPA Lead (Pb) Research
Exposure to lead can lead to irreversible damage to the mental and physical development of children.
According to the CDC, below are the well-documented adverse effects of lead on children:
Brain & nervous system damage
Slowed growth & development
Hearing & speech problems
Learning & behavior problems
In addition, lead is also harmful to pregnant women. It can cause:
Stillbirth
Miscarriage
Low birth weight
Premature birth
Signs of Lead in Your Home: When Should You Have Your Home Inspected for Lead?
Test for lead in your home if:
Your home was built prior to 1978
You are buying or renting an old house
You are experiencing symptoms of lead poisoning
You will be repainting, remodeling, renovating, or do any activity that will disturb the paint and cause it to generate paint chips and dust
The paint is deteriorating, chalky, cracked, or has multiple layers of paint
You want to make sure that your home is lead-free
How Do You Test for Lead?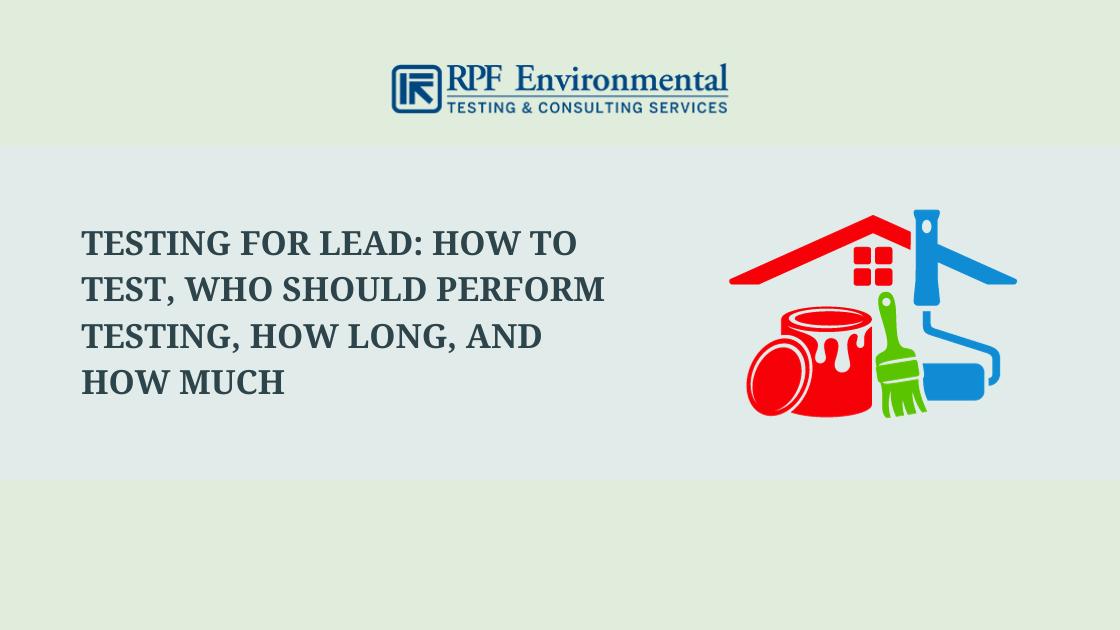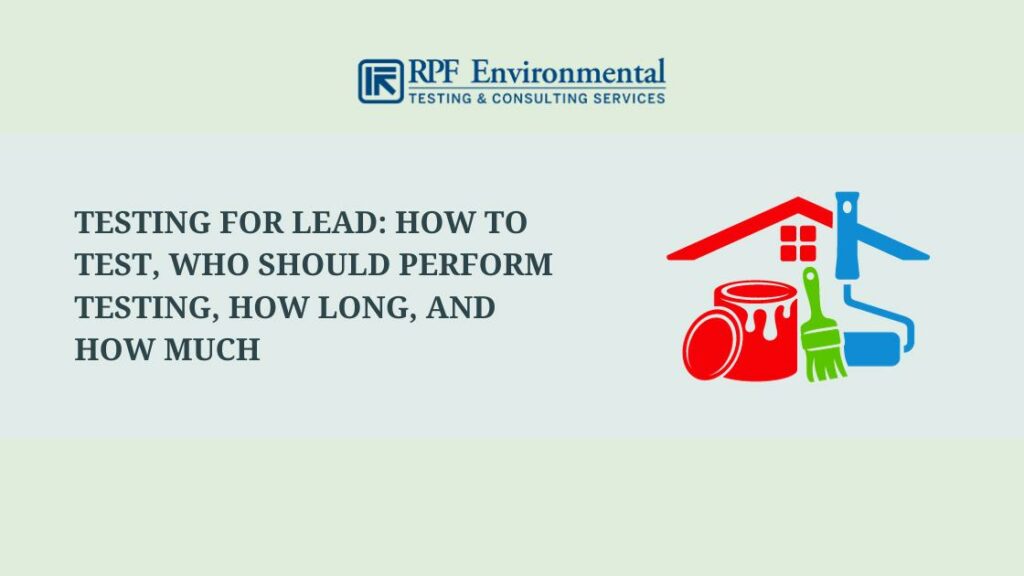 You can use lead test kits to gather samples and send them to a certified laboratory. However, this option can lead to exposure if done incorrectly by an untrained individual. You might accidentally disturb the material and cause lead dust to become airborne and spread throughout your home.
Hiring a certified lead inspector or assessor to investigate your home for lead not only ensures your family's safety but also the accuracy of the results to determine the right actions. Professionals use specialized tools to test for lead and take precautionary measures to minimize disturbance and avoid further exposure.
Also Read: Lead Paint in Homes & Commercial Buildings: Effective Identification, Remediation, and Dangers
Who Should Perform Lead Inspection and Risk Assessment?
"Lead-based paint inspectors must be certified by EPA or the EPA authorized program in the jurisdiction(s) in which they provide lead-based paint inspection services."

– EPA, Must lead-based paint inspectors be certified?
Only certified professionals can legally perform lead inspection and risk assessment. They can determine which specific areas in your home are safe for renovation, repainting, or repair and can help you identify hazards as well as how to properly address them.
How Long Does a Lead Inspection Take?
Home lead inspections usually take between 2 to 4 hours to complete depending on the size of your home and the number of samples that will be taken.
Home Lead Inspection Cost
The cost of lead inspections averages around $300 and can range from $200 to $400+ but can reach up to $700. It is highly dependent on the number of rooms to be tested and the total area of your home. This range includes both interior and exterior inspections including other surfaces that may contain paint such as your doors, walls, and windows.
NOTE: You will need to pay additional costs for lead abatement if the inspection has determined that abatement is needed. The cost can range from $1,000 to $5,000+ and can reach up to $10,000+.
What to Do if Lead Has Been Found in Your Home After Inspection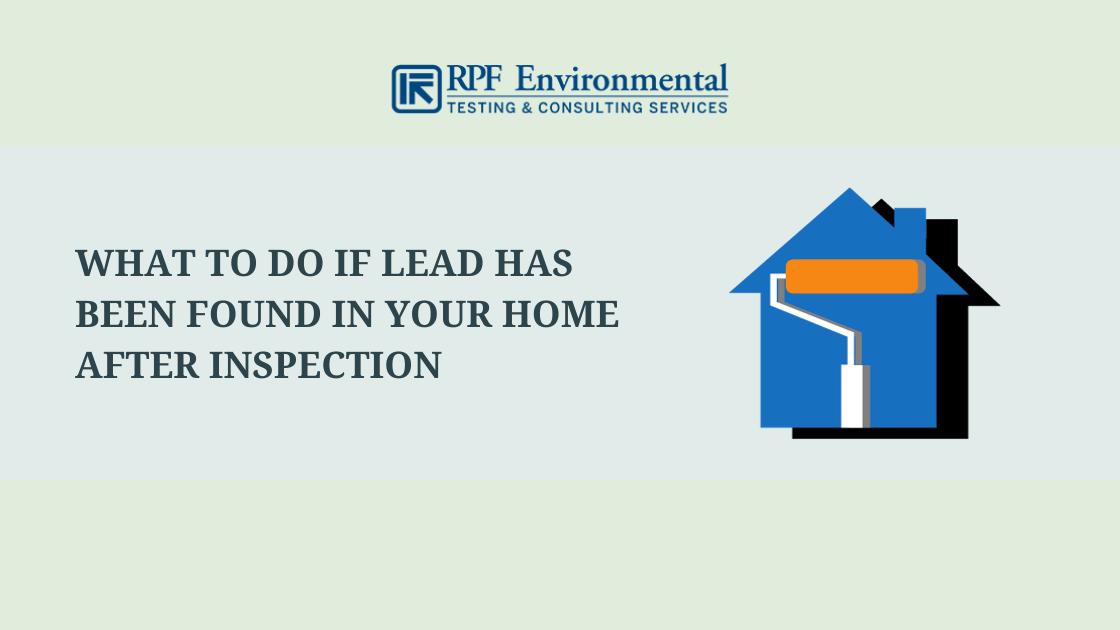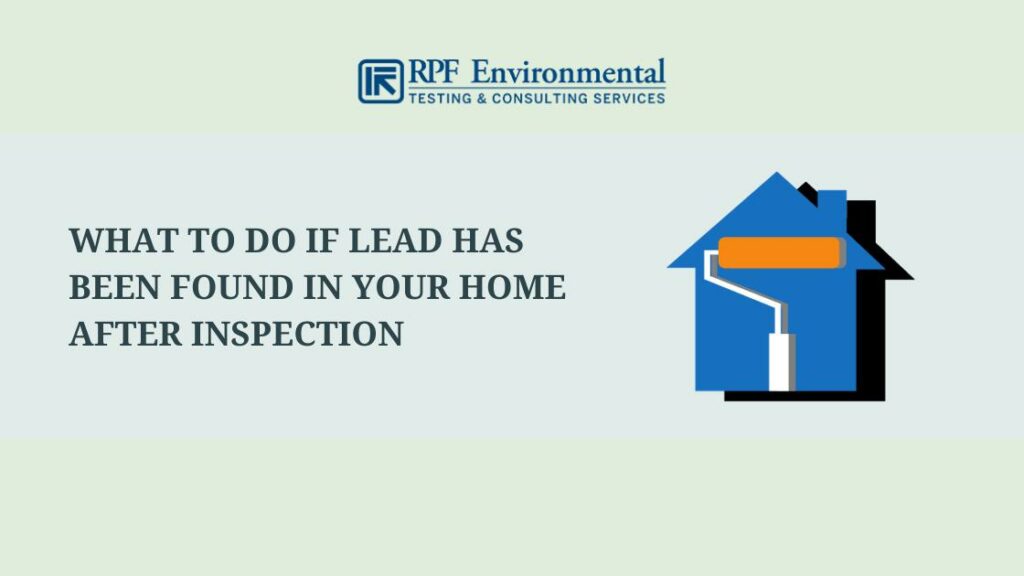 Certified lead risk assessors, like RPF Environmental, can help you determine the best of course of action in case the presence of lead has been confirmed in your home. If it has been decided that abatement is needed, we highly recommend hiring a professional lead abatement contractor. They are trained and certified to conduct lead abatements legally and safely to limit lead exposure.
When Is Lead Abatement Needed?
"If you are planning an RRP project in a pre-1978 home, EPA recommends homeowners hire a lead-safe certified contractor who is certified and trained in lead-safe work practices."

– EPA, Lead-Safe Renovations for DIYers
Aside from lead abatement being recommended by your risk assessor, it is also needed if you are planning to perform any activity that will disturb the material and release dust into the air. These activities include renovation, repair, and painting (RRP). There are strict guidelines that need to be followed by professionals when performing lead abatements.
So instead of doing it yourself and risking your family from getting exposed to high levels of lead, hire trained professionals who have the right equipment and tools to complete the job safely.
Pro Tip: Always let a licensed lead-based paint inspector or risk assessor perform clearance testing after the lead abatement process is completed. This ensures that no lead is left and that your home is safe for reoccupation or remodeling.
Other Important Things to Know About Lead in Your Home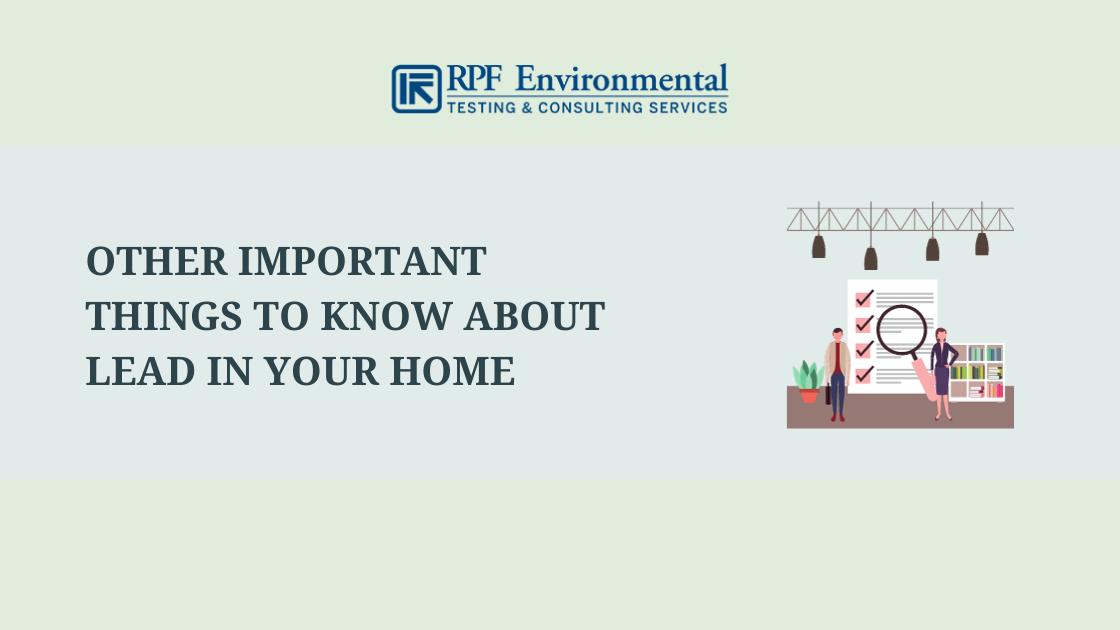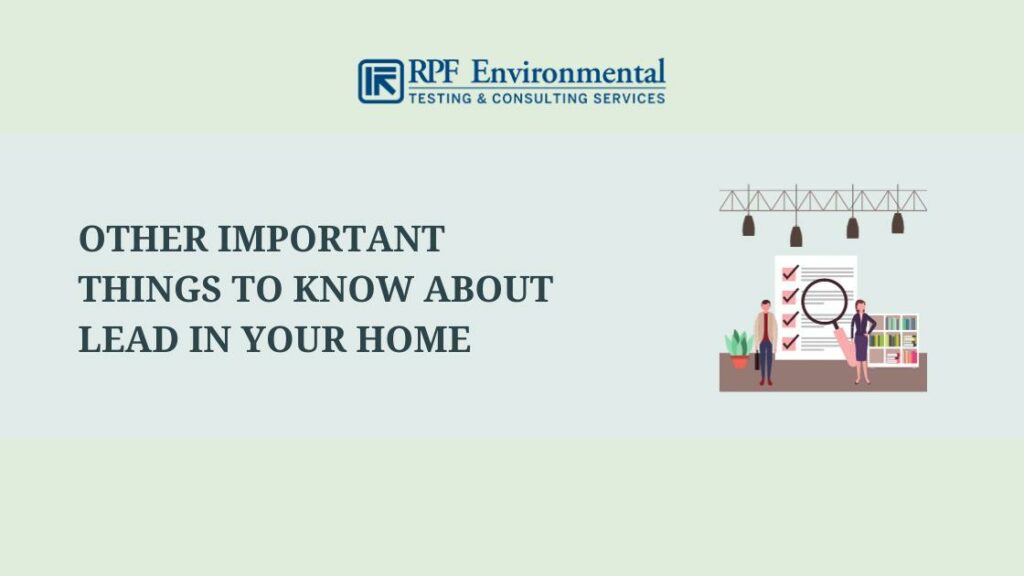 Can You Just Paint Over Lead Paint?
Yes, you can apply new paint over lead paint. This is called encapsulation and is a remediation technique that is less expensive and safer compared to removal because there is a lower risk of releasing toxic dust into the air.
However, you need to use a special encapsulant and follow EPA's lead-safe guidelines for DIYers to avoid creating dangerous lead dust. Applying regular store-bought paint over lead paint won't get rid of potential hazards. Better yet, hire a certified lead abatement company to do the job.
How to Make Your Home Lead-Safe
Below are some of the recommendations from EPA on how to make your home lead-safe:
Have your home inspected for lead especially if it was built before 1978 or if you suspect that it contains lead-based paint.
Regularly check for deteriorating, chipping, or peeling paint including other painted surfaces that get lots of wear (e.g. doors and windows).
Remove paint dust or chips using a damp paper towel, wipe with a clean one after, and discard it.
Wipe flat surfaces (e.g. window sills) with a damp paper towel and mop your floors with a damp mop weekly.
Also Read:
FAQs
How can I check my lead level at home?
To test for lead levels in your home, you need to hire a certified lead inspector or risk assessor who is trained and experienced to complete the task safely. Professionals use special equipment to guarantee accurate results.
Do all houses built before 1978 have lead?
Not all houses built before 1978 contain lead. But if it was built before 1978 and the older your home is, the more likely it contains lead-based paint.
How accurate are home lead tests?
Consumer lead test kits can only detect surface lead and will produce unreliable results when the lead paint has been painted over. According to CPSC:

"None of the kits consistently detected lead in products if the lead was covered with a non-leaded coating. Based on the study consumers should not use lead test kits to evaluate consumer products for potential lead hazards." – CPSC Staff Study: Home Lead Test Kits Unreliable
Is it safe to live in a house built before 1978?
If you want to make sure that your home is lead-free, better have it tested for lead through a licensed lead inspector/risk assessor before occupying it. Houses built before 1978 are more likely to contain lead-based paint.
Conclusion
The best way to make sure that your home or new house is safe from lead is to hire a certified lead inspector or risk assessor. They can determine the extent of the contamination and can give professional recommendations on what to do in case lead has been found in your home.
RPF Environmental offers professional lead testing, including lead-based paint testing, and risk assessment at cost-effective rates in the New England region. We have licensed professionals who have years of experience to help you. Contact us now!