Operating forklifts improperly including inadequate worker training can lead to fatalities and costly business liabilities. Thus, it is important to follow safety procedures and comply with OSHA's forklift regulations to maintain an accident-free workplace.
In this article, we'll list down the common forklift risks and dangers along with the best practices on how to avoid forklift accidents and decrease injuries. These include providing worker training and certification to forklift operators, improving workplace layout, proper forklift operation, loading, and equipment maintenance.
Key Takeaways:
Common forklift hazards include load instability, overloading, inadequate training, pedestrian collisions, and mechanical failure.
Prevent forklift accidents by following OSHA's PTI regulations.
Ensure that operators receive proper training and certification.
Ensure that loads are balanced and stacked properly.
Avoid driving fast and slow down around blind spots.
Use spotters, warning devices, mirrors, guardrails, and lighting to improve visibility.
Follow the equipment manual when operating and making adjustments to the forklifts.

Contact RPF Environmental for customized and certified forklift training programs taught by seasoned professionals. We also provide OSHA consulting services to help you avoid forklift violations. We serve businesses in Maine, Massachusetts, New Hampshire, and beyond New England.
Follow OSHA Forklift Rules & Regulations to Avoid Forklift Accidents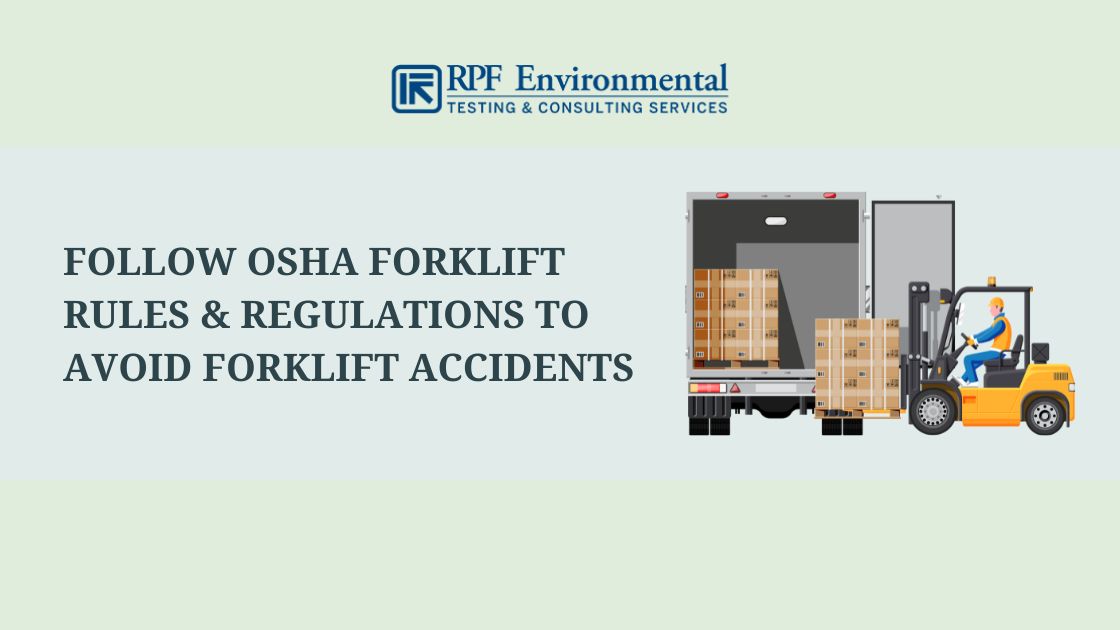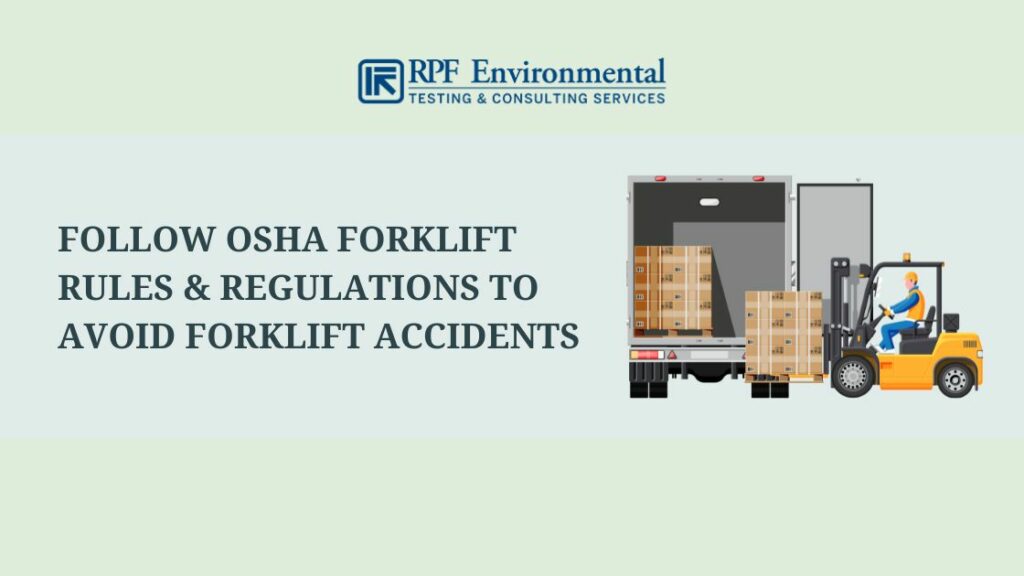 OSHA's forklift regulations can be found in 29 CFR 1910.178 – Powered industrial trucks. The regulations aim to reduce workplace injuries and deaths caused by inadequate operator training and cover all industries. These include the construction and maritime industries that use powered industrial trucks (PIT).
The key things you need to know about the forklift standard include the following:
Individuals below 18 years old and those over 18 with no proper training and certification should not operate a forklift.
Employers are responsible for providing the right training (truck and workplace-specific) to forklift operators.
Forklift operators must receive training from qualified trainers as stated under 29 CFR 1910.178(l)(2)(iii).
The PIT training must include formal instruction, practical training, and performance evaluation.
Operators must take a refresher training that includes training effectiveness evaluation when: (1) They are not operating the forklift safely; (2) They have been involved in accidents or near-miss incidents; (3) They are going to operate a different type of forklift; (4) There are changes in workplace conditions
Evaluate operator performances at least once every three years.
You shall not alter the original position of the forklift parts, eliminate any parts, or add extra parts that the manufacturer did not provide.
Forklifts shall be reviewed and examined at least daily before using them and shall not be used if found to be unsafe.
Powered forklifts that are defective, unsafe, or need repair shall not be used until they can be operated safely.
Handle only safely arranged or stable loads and loads within the equipment's rated capacity.
Only use approved forklifts in hazardous locations.
In addition, you can check Table N-1 in the PIT standard for a summary of the use of industrial trucks in various locations. You can also find detailed requirements on forklift operations, traveling and loading requirements, equipment maintenance, safety guards, and others in the standard.
Forklift Safety Tips: 5 Forklift Risks/Dangers & Best Practices on How to Reduce Workplace Injuries & Accidents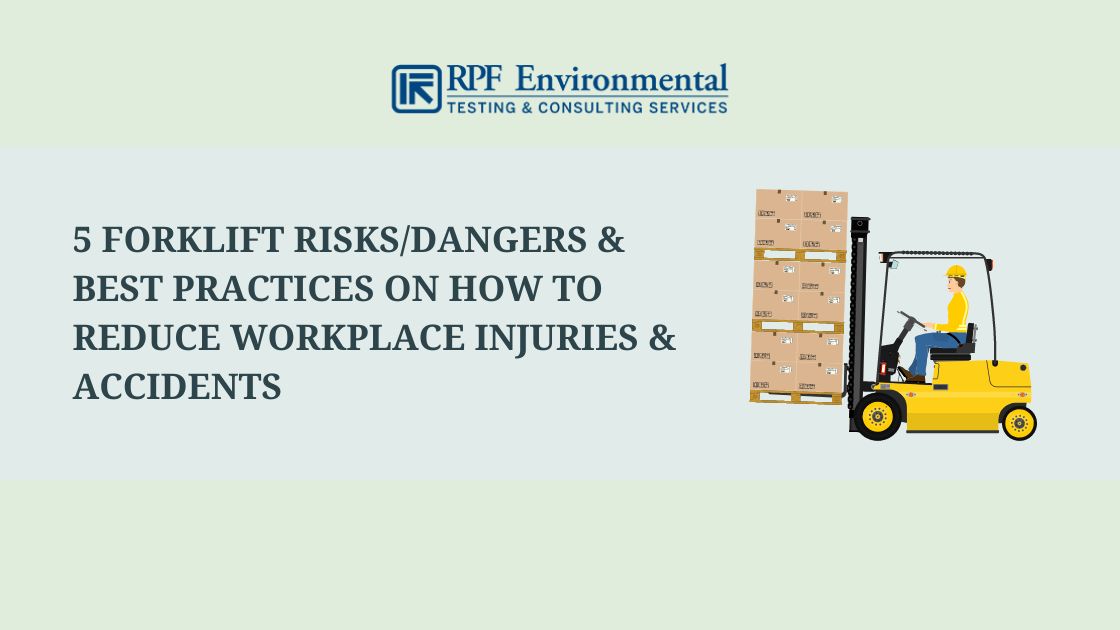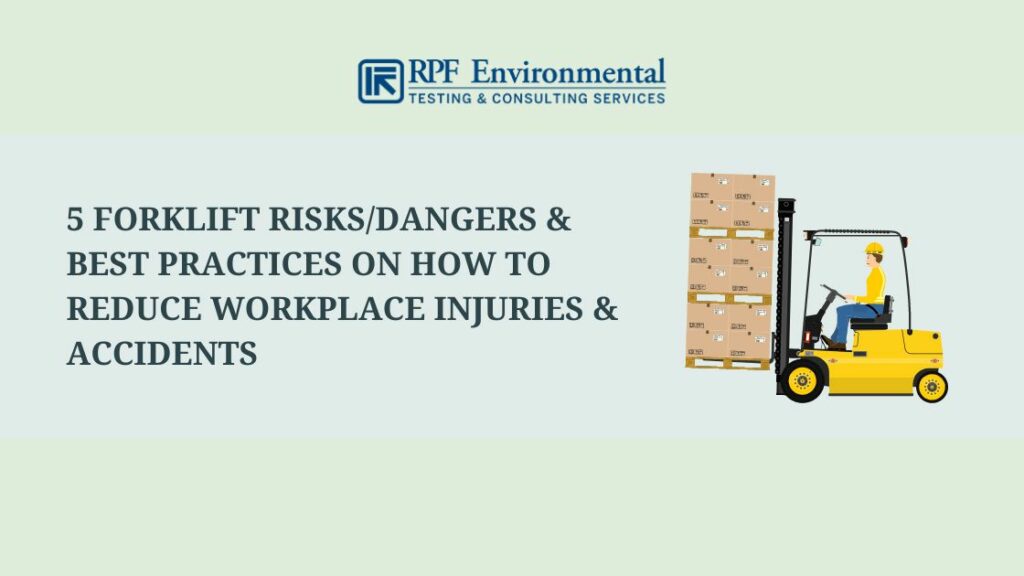 Below are the common forklift dangers and mistakes, their causes, and tips on how you can avoid them including the best practices required by OSHA:
#1 Unauthorized Operation & Lack of Employee Training
"The employer shall ensure that each powered industrial truck operator is competent to operate a powered industrial truck safely, as demonstrated by the successful completion of the training and evaluation."

– Powered industrial trucks, 1910.178(l)(1)(i)
Unauthorized operation of forklifts by improperly trained and inexperienced workers is among the common causes of forklift-related injuries and fatalities. This is why only workers who have received proper training and have the right certifications must be allowed to operate forklifts.
Operators should first take a certification course based on the (1) type of truck they will operate and (2) the workplace conditions. With proper training, operators will know how to operate and load the truck properly as well as maintain stability which is crucial in decreasing forklift accidents.
What You Should Do
Operators must take an approved certification course that complies with the requirements in the PIT standard which includes truck and workplace-related topics:
Correct operation and truck controls
Visibility and loading
Load composition, stability, manipulation, stacking, and unstacking
Vehicle capacity and stability
Maintenance requirements
Equipment limitations
Workplace conditions
Pedestrian traffic
Hazardous locations and conditions
Sloped surfaces and ramps affecting forklift stability
NOTE: Violation of the PTI regulations including failure in providing employee training can result in up to $150,000+ penalty.
#2 Loads Falling
Loads fall when they are not properly secured and are off-centered or due to overloading which can also cause tipovers. When this happens, pedestrians can also be endangered. Thus, knowing the basics of loading including the right loading and stacking procedures through PIT training can help prevent this problem. Considering stability when loading is also important.
Causes of Falling Loads
Unbalanced/uneven/unsecured loads
Moving/lifting too fast
Loose/damaged loads
Exceeding load capacities
How to Prevent Falling Loads
Don't move too fast to prevent loads from tipping and falling
Center the loads on the forks
The heaviest part of loads that can't be centered should be distributed near the forklift's front wheels
Carefully tilt the mast backward to increase stability
Tilt the mast backward just enough to keep loads stable when tiering or stacking
When tiering, start with the heaviest loads first
Avoid moving loads while traveling to prevent the forklift from losing control
Always read the forklift's data card and do not exceed its rated capacity
Label pallets with their weight
Only carry damaged loads if they are properly secured through banding or wrapping
Ensure that the forks are leveled when loading
Loads should be lifted 10 cm (4 in) above the lower stack
When lowering loads, move the truck 20-30 cm (8-12 in) away from the stack.
Find more load handling tips in OSHA's PIT eTool.
#3 Pedestrian Collisions
Pedestrian collisions are often caused by the forklift operator's limited view where the operator and pedestrian can't see each other clearly.
Causes of Pedestrian Collisions
Blocked vision and limited visibility
Communication failure between the operator and the pedestrian
Distracted operator
Unsafe working conditions
Insufficient signage in the workplace
How to Prevent Pedestrian Collisions
Maintain full visibility
Pay attention to intersections and walkways
Slow down and sound the horn around blind spots, corners, and other obstructed areas to alert pedestrians and other workers
Put barriers, floor tapes, and signs at forklift zones (markings should be durable and highly visible)
Designate paths for pedestrians and forklifts
Operators should rest throughout the workday
Provide training to employees working in the warehouse regarding safety protocols
"Where general lighting is less than 2 lumens per square foot, auxiliary directional lighting shall be provided on the truck."

– Powered industrial trucks, 1910.178(h)(2)
More Tips for Improving Visibility & Prevent Pedestrian Collisions
Keep your view clear and look in the direction of travel
Drive slowly with lowered load
Use spotters, mirrors, guardrails, warning devices, and other aids
Use headlights at night especially in poorly lit areas
#4 Forklift Rollover and Tip-Over Accidents
Among the common causes of forklift turnovers and tip-over accidents are heavy and unbalanced loads which can be very dangerous. Since the forklift's front and sides are open, drivers not wearing seatbelts can be ejected from the forklift and crushed by the forklift. People nearby may also be seriously harmed and crushed by the load.
Causes of Forklift Rollover & Tip-Over Accidents
Turning too quickly
Unbalanced loads that decrease forklift stability
Heavy loads held high
Exceeding the forklift's rated capacity
Uneven surfaces
Turns on inclines
Driving over edges
How to Prevent Forklift Rollover and Tip-Over Accidents
Stay within the forklift's stability triangle
Ensure loads are completely stable and secured
Operate the forklift according to the manufacturer's instructions
Maintain a safe speed limit and slow down around corners and in slippery conditions
Keep loads low at 4-6 inches from the ground
Don't exceed the equipment's weight capacity
Pay attention to uneven surfaces
Ensure that loads are even
Maintain a safe distance from ramp edges and other platforms
#5 Mechanical Failures
"Industrial trucks shall be examined before being placed in service, and shall not be placed in service if the examination shows any condition adversely affecting the safety of the vehicle."

– Powered industrial trucks, 1910.178(q)(7)
Another common mistake that can lead to serious forklift accidents is failing to inspect a forklift before use. Performing comprehensive inspections with the help of a checklist helps ensure that a forklift can operate properly. OSHA provided sample daily checklists for forklifts, but take note that each forklift type is unique and you can modify the checklist accordingly.
Forklift manufacturers also have daily checklists that are specific to the type of forklift. You can modify the checklists based on the equipment's specifications, owner's manual, and manufacturer recommendations. In case any problem has been detected, qualified mechanics should correct them.
Common Causes of Mechanical Failures
Leaking valves/hoses
Damaged tires
Worn-out breaks
How to Prevent Mechanical Failures
Do not operate unsafe forklifts
Conduct inspections before shifts
Conduct routine maintenance
Follow manufacturer recommendations when repairing and maintaining forklifts
Keep forklifts clean
Sample Checks to be Done Before Shifts
Below are some of the sample engine on and engine off checks from OSHA's checklist that you should inspect prior to each shift:
Engine Off Checks
Oil leaks
Tires
Forks
Load backrest
Cables
Stops
Mast Chains
Hydraulic Hoses
Overhead and finger guards
Propane tank damage
Safety warnings
Battery
Engine belts
Radiator coolant level
Transmission fluid level
Engine oil level
Hydraulic fluid level
Seat belt
Hood latch
Brake fluid level
Engine On Checks
Accelerator
Service & parking brakes
Steering operation
Drive & tilt controls
Hoist & lowering control
Attachment control
Horn
Lights
Gauges
More Forklift Safety Tips!
Use the appropriate forklift
Wear seatbelts to avoid being thrown from forklifts in case of tip-over accidents
Consider your warehouse layout when buying the right forklift
Operators should wear PPE, hard hats, sturdy gloves, safety glasses, puncture-proof shoes, and bright clothing
Invest in anti-vibration seat cushions
Install back-up handles
Pedestrians, operators, and other employees should stay away from raised loads
Only allow multiple riders if the forklift is designed for it
Only use forklifts for their intended purpose (avoid racing and other forms of misuse)
Understand the hierarchy of controls to address hazards and maximize forklift safety
Other Key Things You Need to Know About Forklift Accidents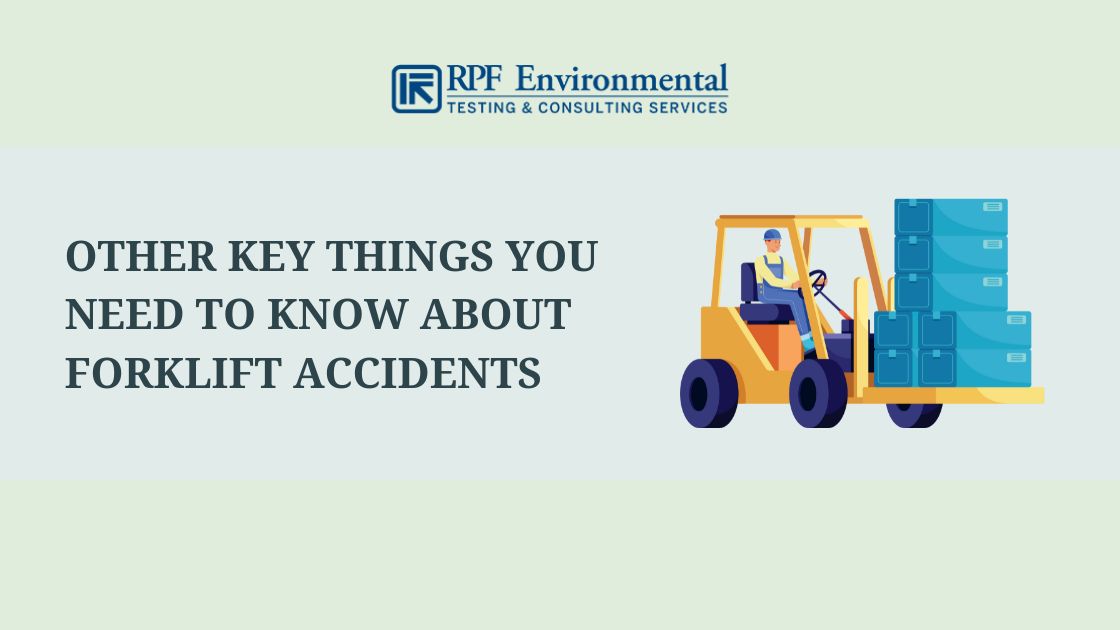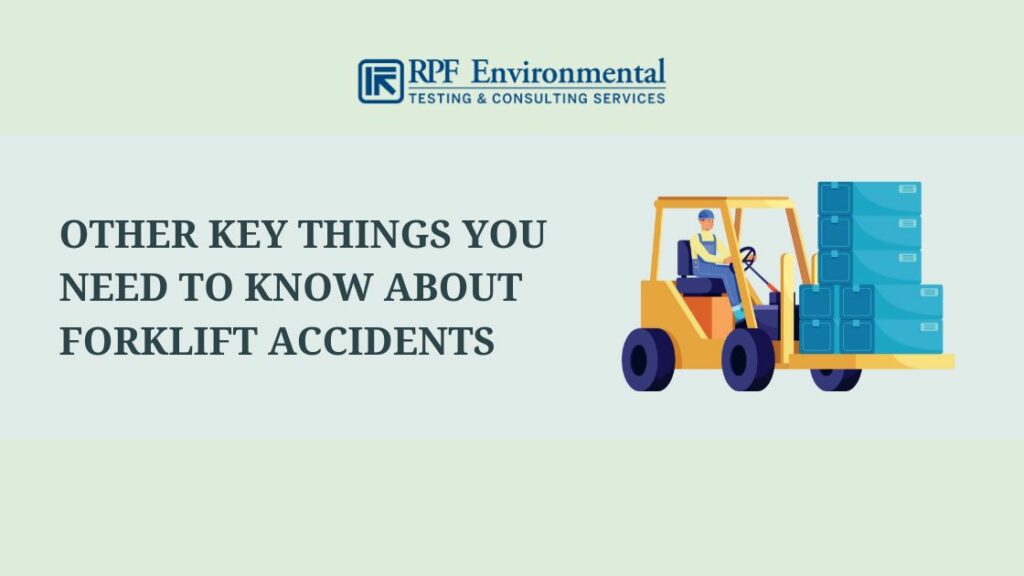 What to Know About Forklift Accident Statistics
OSHA's recent forklift-related statistics estimated that there are around 35,000 serious injuries and 62,000 non-serious injuries each year.
In addition, below are forklift statistics from the National Safety Council (NSC):
Forklifts caused 70 work-related deaths in 2021
Forklifts caused 7,290 nonfatal injuries in 2020
Impact of Forklift Accidents on Your Business
Forklift accidents can lead to costly violations and liabilities that can affect your company's reputation which, in turn, can lead to loss of customers. You will need to pay worker compensations, medical expenses, new employee hiring costs, and others aside from regulatory fines due to noncompliance. Injured workers can cause decreased productivity and you'll end up losing more money.
If you want to prevent these costly expenses, train your workers properly.
Also Read:
FAQs
How do you stay safe while using a forklift?
The best way for operators, pedestrians, and other workers to stay safe around forklifts is to follow OSHA's forklift standards regarding the proper operation of forklifts. The standards include providing the right operator training and certification, proper loading, and equipment inspections.
What are the main causes of injuries when using forklifts?
Some of the common causes of forklift injuries are lack of operator training, unbalanced and unsecured loads, overloading, poor visibility, and mechanical failures.
What is the OSHA standard for forklifts?
You can find the OSHA standard for forklifts (powered industrial trucks) in 29 CFR 1910.178. The standard includes forklift operation, training, forklift maintenance and inspection, and loading requirements.
What is mandatory PPE for forklift operators?
Employers should determine the right PPE that operators should use depending on the forklift type and workplace. But, the most important ones are hard hats, safety boots, high-visibility reflective vests, safety gloves, and safety glasses.
Conclusion
Providing proper training and certification to operators and pedestrians alike is crucial in decreasing the likelihood of injuries while using a forklift. Inadequate training is the root cause of other forklift accidents such as falling loads, pedestrian collisions, forklift rollover and tipover accidents, and mechanical failures.
RPF Environmental offers various certified employee training programs along with OSHA compliance consulting to help you promote forklift safety in your workplace. Contact us now so our licensed professionals can assist you.