Asbestos was used in many building materials including plaster walls up to the 1980s due to its fire-retardant and insulation properties. But what does asbestos look like in walls? Visual identification alone won't be enough to identify asbestos-containing materials. But, there are a few signs you can look out for that may indicate that your walls contain asbestos which we will discuss here.

What Is Asbestos Plaster?
Asbestos plaster is a building material manufactured with asbestos for increased durability and thermal insulation. It starts as a pasty mixture made from water and various minerals and then turns solid once it dries. Aside from its thermic properties, it also has light soundproofing characteristics and an aesthetic finish that makes interior walls look more appealing.
When Was Asbestos Used in Plaster Walls?
Asbestos plaster walls were used in both interior and exterior walls as early as the 1920s up to the 1970s. So if the house was built or renovated before 1980, the risks of it having asbestos walls are very high. Renovated old homes in the 1980s up to the 1990s may also be dangerous because asbestos-containing materials may have been disturbed during the process. This will put your family at risk of asbestos exposure.
How to Know If There Is Asbestos in Your Walls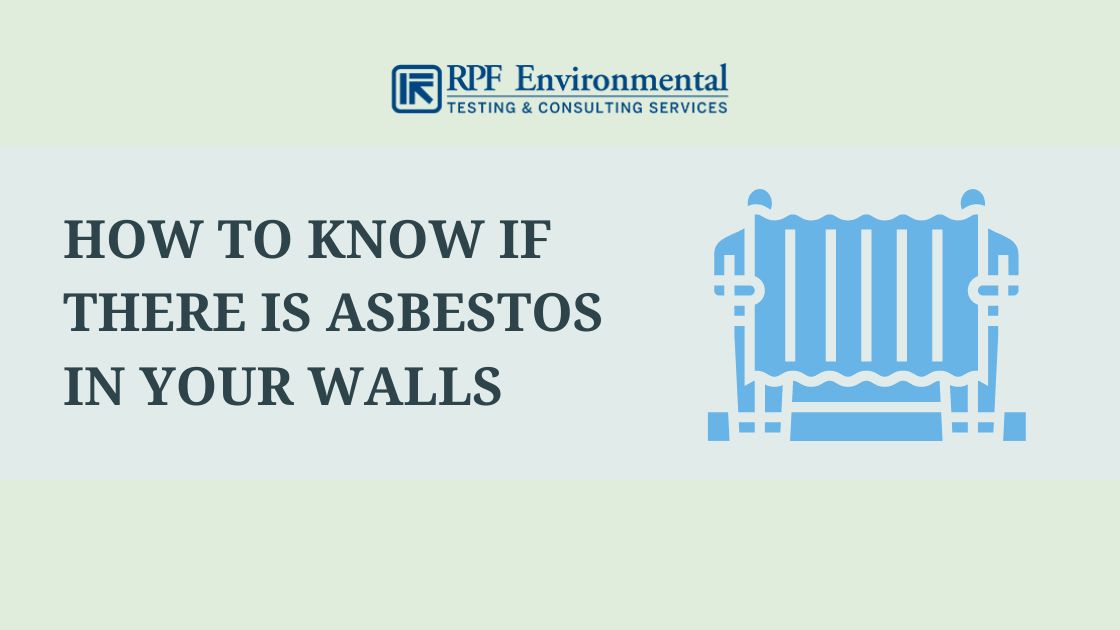 The only way to know if your walls contain asbestos or not is through a professional inspection. But, there are few indications of the potential presence of asbestos walls like having fire-rated walls and popcorn ceilings in old homes.
1. "Fire-Rated" Walls
Among the reasons asbestos was used in walls was because of its fire resistance. So if the walls are labeled "fire-rated" and the house was built before the 1980s, the walls are more likely to contain asbestos.
2. Asbestos-Contaminated Plaster Wall Brands
See if you can access records of the building's construction and renovation works to find the brands of materials used. Some of the popular brands that manufactured asbestos-contaminated plaster walls are:
| Manufacturer | Brand | Year |
| --- | --- | --- |
| United States Gypsum | Acoustical | 1920-1975 |
| National Gypsum | Gold Bond | 1935-1975 |
| Georgia Pacific | Acoustical, Patching | 1950-1977 |
| Synkoloid | Synko | 1950-1976 |
Other manufacturers of asbestos-contaminated wall materials that you should be aware of are:
Bondex International
Bestwall Gypsum
Certainteed
Flintkote
Hamilton Materials
Kaiser Gypsum
Keene
Kelly-Moore Paints
W.R. Grace
3. Popcorn Ceilings
Having popcorn ceilings or textured plaster ceilings may also indicate the presence of asbestos. Most textured ceilings popularly used in the 1950s to the 1970s contain asbestos. These materials are friable and disturbance can easily cause the asbestos fibers to become airborne.
4. Professional Asbestos Testing
If you think that you have asbestos walls, hire a licensed and trained professional for accurate asbestos identification. Once the presence of asbestos has been confirmed by the inspector, we recommend hiring a certified asbestos abatement company for the safe removal of the walls including other asbestos-containing materials.
Note: You can use testing kits to collect samples yourself for laboratory testing, but you should leave the process to a trained professional to avoid mistakes.
Also Read: Do Home Inspections Check for Asbestos?
Other Types of Asbestos-Containing Walls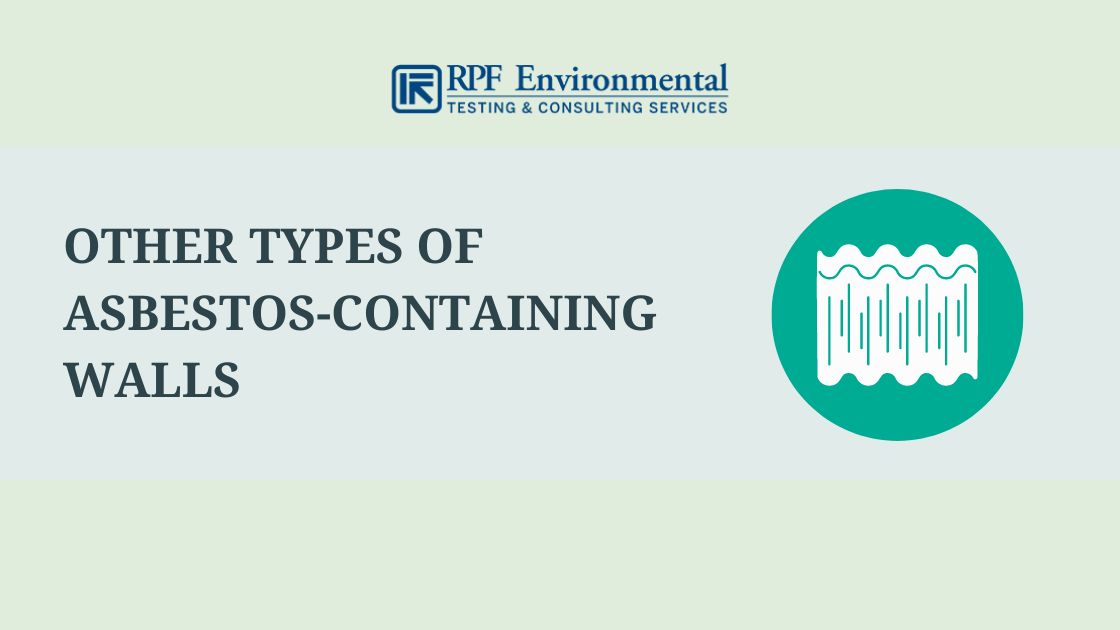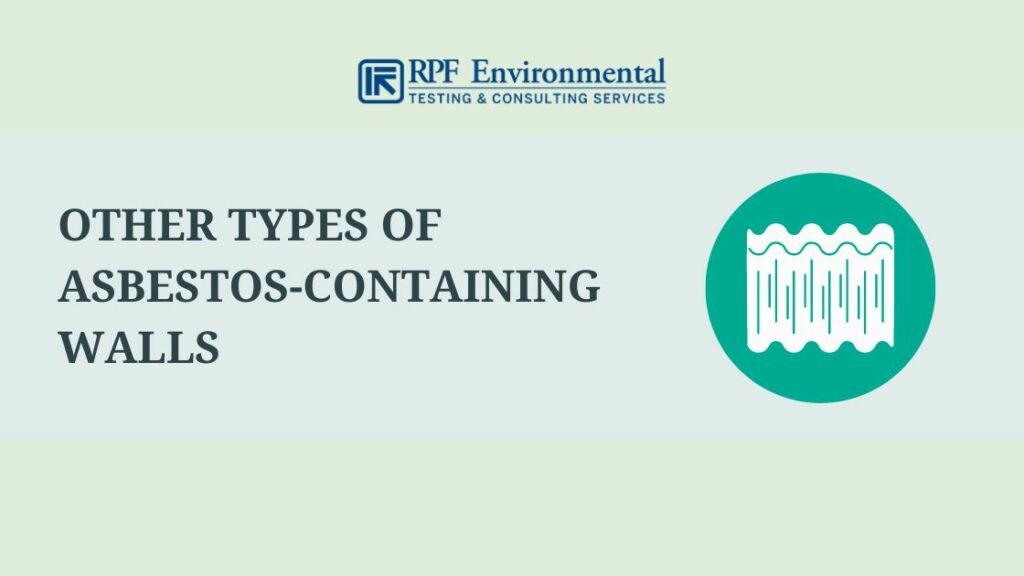 Aside from asbestos plaster walls, having cement walls, drywall, and insulation boards in old homes can also indicate the presence of asbestos in your home:
Asbestos Concrete Walls
Before the 1980s, many concrete walls were made using cement mixtures containing high concentrations of asbestos, especially in commercial buildings with fire-rated walls. Asbestos was used to make the walls stronger and lighter as well as to reduce cracking.
Asbestos in Drywall
Also referred to as sheetrock or gypsum wallboard, drywall products prior to the 1980s were also mixed with asbestos. Drywall is made of a gypsum layer covered with thick backer paper on both sides and was used in walls and ceilings in residential and commercial buildings. The common drywall sheet sizes were:
Sizes: 4 x 8, 4 x 9, and 4 x 12 feet
Thickness: 1⁄2 and 5⁄8 inch
Moreover, almost all joint compounds and tapes aside from drywall sheets before the 1980s also used asbestos additives.
Asbestos Insulating Board (AIB)
AIBs are large asbestos boards that were mainly used in ceiling tiles and partition walls. They are common in rectangular and square panels and look like polystyrene or general insulation boarding. Without professional testing, distinguishing between AIB and modern alternatives can be hard, especially if they have been painted over.
Health Risks Of Asbestos In Plaster & Other Asbestos Walls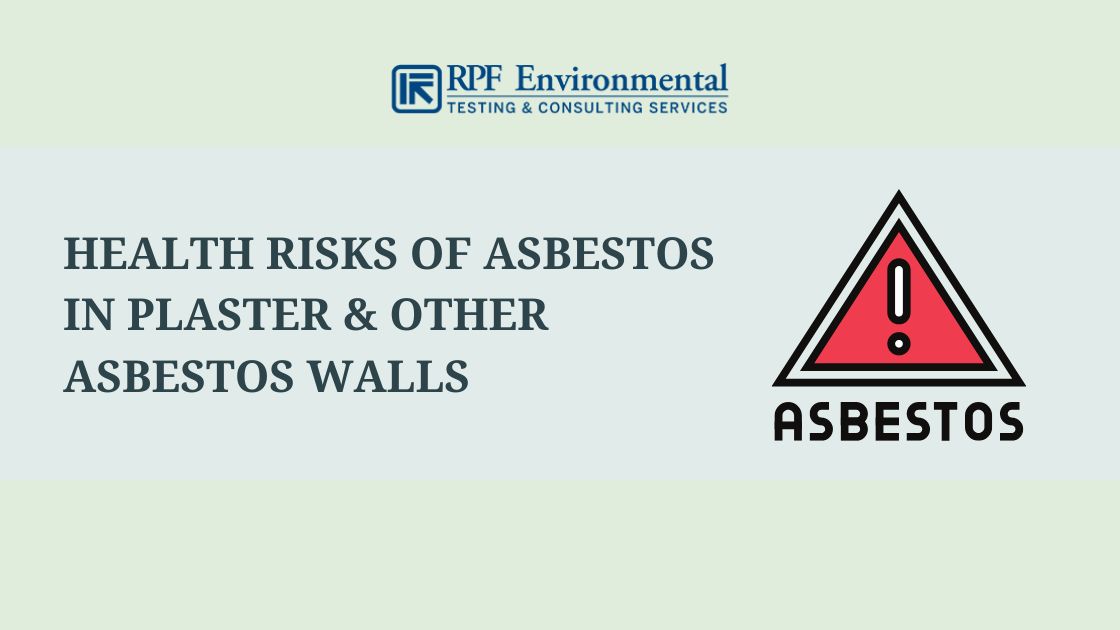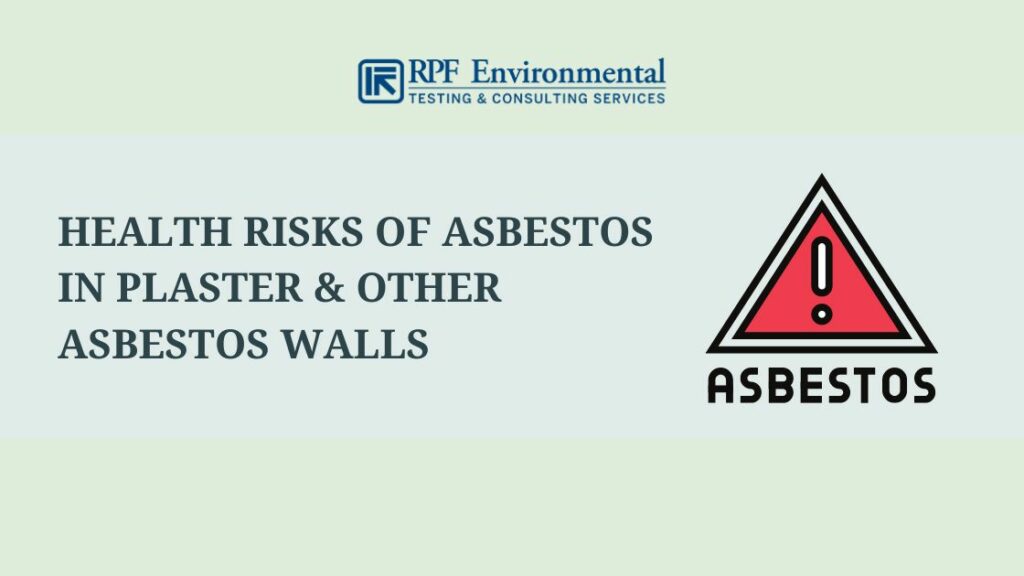 Asbestos walls don't pose a threat unless they start to break down and are disturbed which will release tiny asbestos fibers into the air. Inhaling the fibers can lead to severe health complications like mesothelioma which is a deadly type of cancer and asbestosis – a chronic lung disease caused by prolonged exposure to asbestos.
How Exposure to Asbestos Walls Occurs
Exposure happens when the asbestos walls are:
Breaking down and crumbling
Cut or drilled through
Moved or removed
Once the airborne asbestos fibers are inhaled, they will travel deep into your lungs where they will cause continual damage and lead to deadly cancer diseases.
Who is At-Risk of Exposure to Asbestos Plaster Walls?
Individuals who are most at risk of asbestos exposure from contaminated walls include the following:
People who worked with mixing plaster when asbestos was still being used
Construction workers who applied plaster walls
Renovation and demolition workers
Occupants in the building with asbestos-contaminated materials
Moreover, secondhand exposure can also happen because asbestos fibers can stick to the garments and shoes of the exposed individuals and can put those around them at risk.
What to Do if You Suspect Exposure to Asbestos
Symptoms of asbestos diseases will only occur around 10 to 50+ years after exposure. So don't wait for symptoms to manifest before you seek medical care if you suspect that you've been exposed to asbestos. Also, asbestos exposure is cumulative and long-term exposure can lead to life-threatening diseases. Thus, we recommend hiring a licensed asbestos abatement company to remove asbestos-contaminated materials completely in the building to prevent further exposure.
How Do You Remove Asbestos Plaster?
Do not remove asbestos-containing materials, including plaster walls, yourself. Leave the task to certified professionals who have the proper training to do the job safely to avoid putting your family or business at risk of exposure. They can also save you from costly liabilities and violations.
Also Read: What Does Asbestos in Flooring Look Like?
FAQs
What percentage of plaster is asbestos?
Interior plaster walls can contain 1-5% chrysotile asbestos. They only need to contain at least 1% asbestos to be considered asbestos-containing materials.
Is there asbestos in horsehair plaster?
Horsehair plaster was used in the 1800s before asbestos became popular as an additive. This means that it is unlikely to contain asbestos. However, cross-contamination may happen which makes horsehair plaster potentially dangerous. Better consult an asbestos inspection professional to ensure safety.
Conclusion
There are signs you can look out for to determine if a building might contain asbestos like having fire-rated walls, cement walls, drywalls, and AIBs. It's even better If you can find detailed records of the building's construction and renovation dates to determine what materials were used. However, these are not easily accessible which leaves professional asbestos testing the only way to accurately identify asbestos-contaminated walls in your home/building.
RPF Environmental offers affordable asbestos testing and inspection services for homeowners and businesses in Maine, Massachusetts, New Hampshire, and beyond. Contact us now!