You want to buy a new house and want to ensure that it is safe from any issues before closing the transaction. So, you are planning to conduct a home inspection first. However, do home inspections check for asbestos? The answer is no.
Identifying asbestos in houses is not within the areas of expertise of home inspectors. They are not trained for it and don't have the required licenses to conduct it. In fact, they are not required to inspect for asbestos and many home inspectors won't perform inspections that they don't specialize in to avoid liabilities. But if they have the proper permits, you can request them to conduct an asbestos test during a home inspection. Also, home inspectors will usually notify you in case they suspect asbestos in your home but are not responsible for testing it.

Asbestos Inspections vs. Home Inspections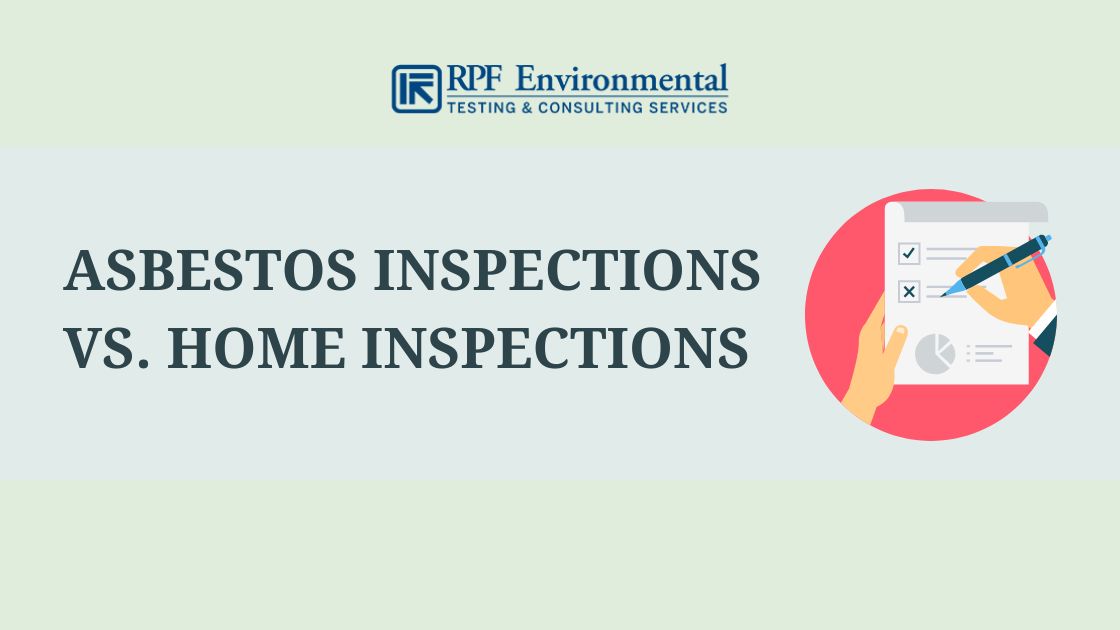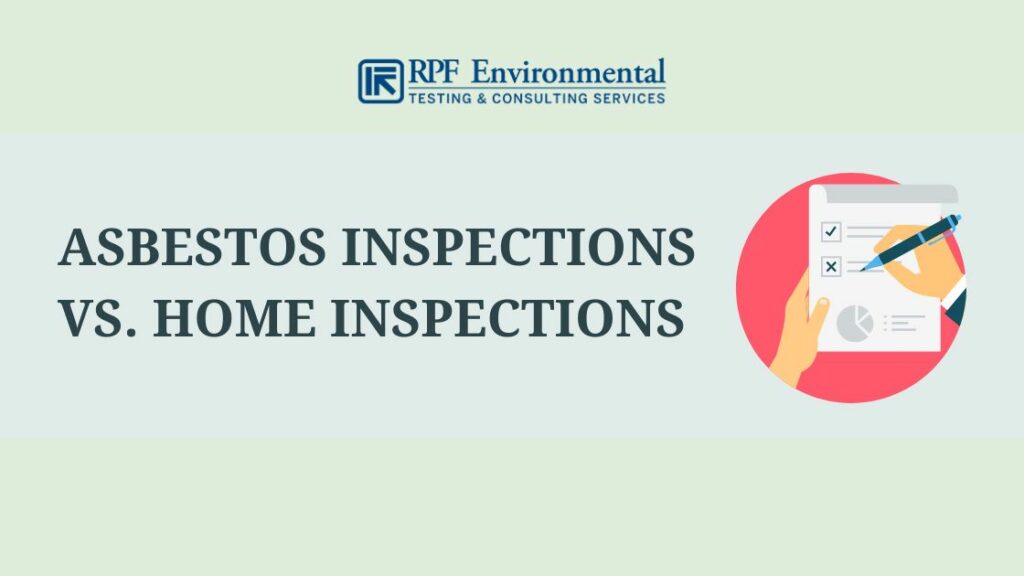 Below is a table differentiating traditional home inspections and asbestos inspections:
Asbestos Testing & Inspections
Home Inspections
– An environmental inspection specifically conducted for due diligence purposes where Asbestos-Containing Materials (ACM) are identified
– Conducted by certified and trained asbestos professionals only
– Involves sample collection and laboratory analysis
– A general home inspection where the inspector checks for any issues in the house's structure including major systems.
– Inspectors with experience with asbestos may be able to identify suspected ACMs but not test them
– Don't have the proper licenses to conduct asbestos inspections
Traditional Home Inspection Process: What is Included & What Areas Are Covered?
Home inspections will check every part of the house to evaluate the house's structure and identify critical components that might lead to costly issues in the future. These include mold damage, water damage, improper electrical wiring, poor insulation, and others.
Below are some of the things covered and checked by home inspections:
HVAC system including air filters and thermostats
Electrical system including wire conditions
Plumbing system including drain and waste lines
Heating elements like fireplaces and wood stoves
Built-in-appliances like built-in microwaves
Basement areas and crawlspaces
Garage structure and door openers
Roof drainage and other issues
Insulation and ventilation in the attic
Outdoor structures like walkways, porches, and decks
How Much Does a Home Inspection for Asbestos Cost?
Residential asbestos testing costs an average of around $500 but the typical range is between ~$220+ to $800+. Low-end costs can be as low as $100+ but comprehensive inspections can reach up to $1,800+.
How Much Do Traditional Home Inspections Cost?
General home inspections can range from $200+ to $500+.
When Is an Asbestos Home Inspection Needed?
If the house was built before the 1980s, you might consider conducting an asbestos inspection. Old houses have a higher possibility of containing asbestos. Also, disturbing asbestos-containing materials will release toxic fibers into the air which will put you and your family at risk of inhaling it without knowing it. So if you are planning to do any repair or renovation activities, better have your home inspected for asbestos first.
Should You Conduct an Asbestos Inspection When Buying a House?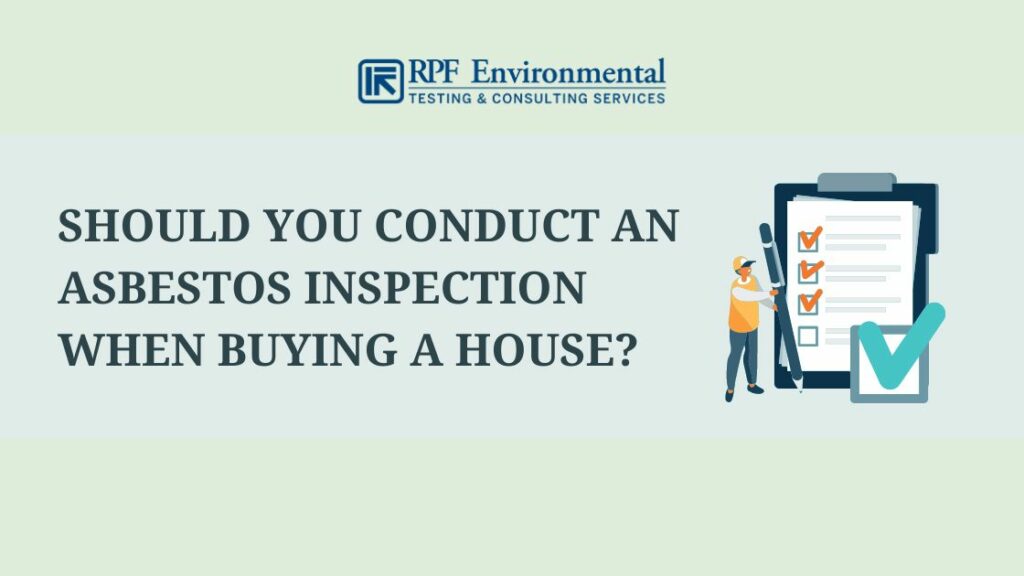 Most states in the U.S. have their own seller's disclosure laws when it comes to real estate transactions. However, the requirements may vary so sellers may or may not be required to disclose the presence of asbestos in the house. So if you want to ensure your family's safety and make the right decision on whether to buy the property or not, you might want to consider conducting an asbestos inspection.
In addition, below are some signs that may indicate the presence of asbestos in the house:
Popcorn ceilings
Old and loose insulation
Old roof
Vinyl tile floors
Damaged walls or floors
Textured paint
If you see any of the above features, better request a home asbestos inspection.
What to Expect & Prepare Prior to Asbestos House Inspections
In asbestos inspections, a licensed inspector will come to the house to collect samples from suspected materials which will be analyzed in a certified laboratory. They will:
Turn off your HVAC system to prevent asbestos fibers from becoming airborne when the materials are disturbed during sample collection
Isolate the area by covering it with plastic sheeting
Collect samples in bulk
Provide recommendations after the analysis
Prepare an asbestos survey report
In addition, the inspector will likely ask you to leave the area during the inspection process to reduce the risks of asbestos exposure.
Who Should You Hire for Asbestos Inspection & Removal in Your House?
Only accredited asbestos inspectors and contractors should perform the survey and removal. Licensed asbestos inspectors can accurately inspect structures and assess their conditions through laboratory testing. They can even advise you regarding the next remediation actions required.
On the other hand, asbestos contractors are trained and well-equipped in handling complex asbestos abatement activities while maximizing safety. They remove or repair asbestos-containing materials. Although asbestos removal by a certified company is only required in commercial properties, hiring a professional to handle asbestos in your home guarantees complete and safe removal.
Moreover, some asbestos companies offer all-in-home asbestos inspection and abatement services. But, hiring an inspection company that is independent of abatement contractors would be better since they have a deeper knowledge and experience in asbestos inspection and surveys. Thus, guaranteeing reliable and accurate results.
What Happens Next if Asbestos is Found After a Home Inspection?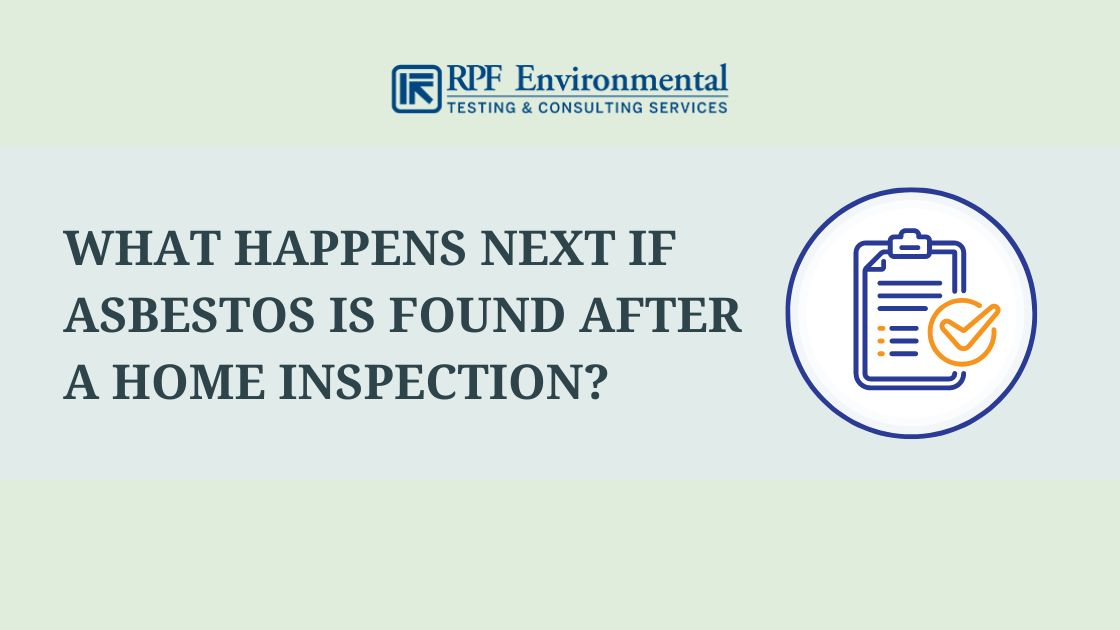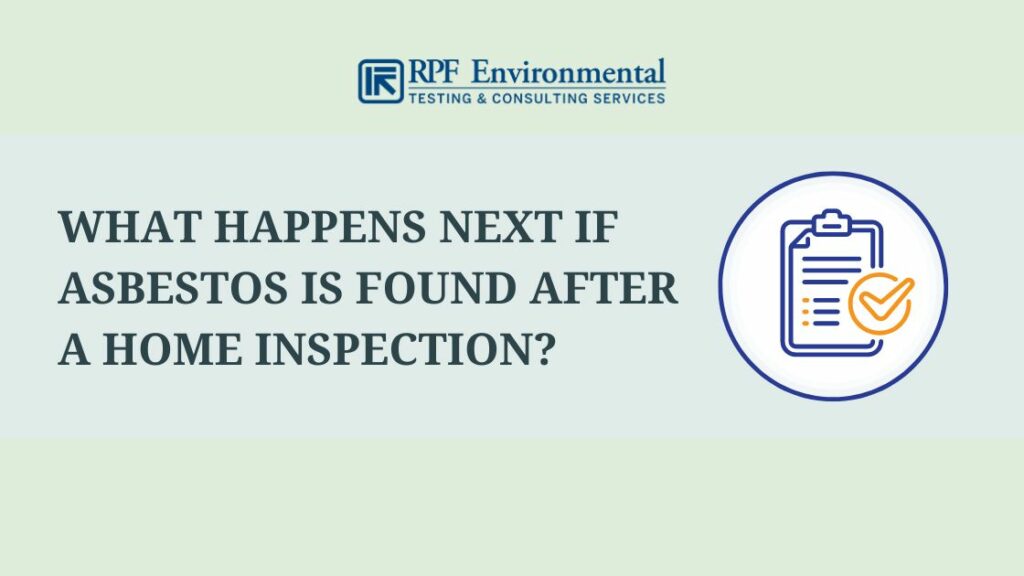 The next actions will depend on the condition of the asbestos-containing products. If they are in good condition, the inspector will recommend that you leave them alone. Undamaged asbestos is not likely to pose a health hazard.
But if the material is deteriorating or damaged or you're planning to do renovations that might disturb the asbestos fibers, containment or removal is needed.
Asbestos Containment
If the damage is not that widespread, encapsulation or containment will suffice. For instance, the area can also be sealed by painting which should be done by a professional.
Asbestos Removal/Abatement
Asbestos removal is a complex process that should be done by a certified removal company to completely eliminate the threat. Asbestos contractors should know how to properly ventilate the area and dispose of contaminated products safely while following applicable laws and regulations.
You should never attempt DIY asbestos removal because you might put your family at risk. Also, take note that traditional home inspectors are not responsible for asbestos removal or repair in your home.
Other Things to Know About Asbestos
What is Asbestos? Is it Banned?
Asbestos was a popular building material before the 1980s due to its flame and heat resistance until its health risks were discovered. But despite this, it is still present in many homes and although EPA started regulating it, the U.S. hasn't fully banned asbestos.
Where Is Asbestos Typically Found in the Home?
According to CPSC and EPA, you may find asbestos on:
Wall and attic insulation with vermiculite
Textured wall paints and ceilings
Vinyl floor tiles
Sheet vinyl backing and adhesives
Roofing & siding shingles
Walls & ceilings
Textured paint
Pipe coating
Insulation materials
What Are the Dangers of Asbestos to Human Health?
Asbestos is highly carcinogenic. Inhaling or ingesting asbestos fibers can lead to various diseases including lung cancer, mesothelioma, and asbestosis.
FAQs
Will Asbestos Affect a Home's Resale Value?
Asbestos can negatively impact the resale value of a house. Buyers may negotiate with sellers to deal with the issue and can lower the home's price.
Is it worth having an asbestos survey when buying a house?
Since the law doesn't always require sellers to disclose the presence of asbestos, conducting an asbestos inspection before closing the deal can help you prevent unforeseen issues in the future. Thus, protecting your family and investment.
How do you tell if your home has asbestos?
Examine wall paints, insulation, ceilings, and tiles for signs of damage and if they are old. However, take note that these don't necessarily mean asbestos is present. Professional asbestos inspection is the only way to confirm the presence of asbestos in your home.
Conclusion
Home inspections do not include asbestos inspection and sellers don't necessarily need to inform buyers regarding asbestos in the property. So if you want to be sure of your investment and ensure your family's safety, better conduct an asbestos inspection before deciding to buy the house.
RPF Environmental offers professional asbestos surveys and testing in our certified laboratory. Our licensed inspectors with years of experience can also provide guidance regarding proper remediation. Book a consultation now!