Some Tips for Preventing Legionnaires' Disease in Your Building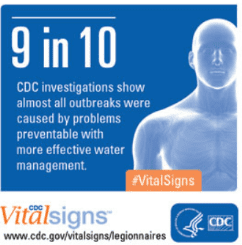 If you read through parts one to three of this four-part blog series, you will be able to guess that your best bet for helping to prevent Legionnaires' disease in your building is to learn about and follow ASHRAE's Standard 188. It is detailed, and it will take more than one read through to absorb it. You can access it online for free and/or buy a copy on www.ashrae.org/standards,if you go to the preview section. Also, the CDC created a helpful toolkit based on ASHRAE's Standard 188, called Developing a Water Management Program to Reduce Legionella Growth & Spread in Buildings, with pointers on how to implement the program.
In general, the high-level steps of Standard 188 are as follows:
Establish a water management program team to develop and implement a water management program according to the standard.
Describe the potable and non-potable water systems and provide schematics.
Analyze the water systems to identify where Legionella may grow and spread.
Decide what control measures are needed to stay within defined control limits, where in the system they need to be, and how to monitor them. Note that there is no safe level of Legionella defined.
Establish what interventions are necessary when control limits are not met.
Make sure the program is effective and running as designed.
Establish documentation and communication procedures.
Monitoring your water system is an important step:
Monitor what is happening outside of your building; construction, water main breaks, and changes in municipal water quality can affect what is happening in your water system, including disinfectant levels.
Keep cold water cold and hot water hot. Water temperature fluctuations can lead to Legionella growth, and it grows best between 95°F and 115°F. Follow anti-scald regulations and consider engineering controls to mix hot and cold water near the delivery mechanism.
Keep an eye on changes in water pressure. The flow of water is important; stagnation can be a contributing factor in biofilm growth where Legionella can prosper. It can also reduce water temperature and overall levels of disinfectant.
Monitor disinfectant levels. Levels can become low through heating, storing, and filtering water. As well, outside factors such as a water main break can allow for unexpected depletion of disinfectants. Your building may need long-term supplemental disinfectants added.
The American Industrial Hygiene Association (AIHA) issued a guideline in 2015, called Recognition, Evaluation, and Control of Legionella in Building Water Systems. It recommends proactively and routinely monitoring your water system by sampling for Legionella. Not only will it reduce the risk of the bacteria's growth and transmission, it will help you find out if your water management program is working as intended. There are specific methods for selecting locations and sampling methods, instructions for handling the materials, personal safety precautions to take, and considerations for interpretation of results. Let an expert handle this for you.
Hopefully, the next time you see an outbreak of Legionnaires' disease in the news, you will be feeling confident that you have taken responsibility for preventing it in your own building. Be sure to look us up at RPF Environmental; we have over 25 years of testing experience and of helping customers develop environmental health and safety plans for many hazards, including Legionella. We offer baseline, proactive and outbreak Legionella testing, as well as assistance with developing building water system management plans. This includes environmental assessments to determine where Legionella may grow and spread and recommendations for baseline and proactive testing.
RPF Environmental can offer you both an outstanding team and reliable, cost-effective testing results, but what really sets us apart from the competition is our service. We believe that each project deserves the same amount of attention and focus as though it were our only one, and we will find the unique, best-fit solution to your needs. We will analyze your situation from multiple angles and determine the best way to handle your Legionnaires' disease prevention needs.