What should you do to determine the best PPE for the job when working in hazardous environments?
Choosing PPE based on the conditions in the work environment and hazards present in the workplace along with compliance requirements are among the first steps in selecting the right PPE. Some may only need minimal protective measures but some may demand more sophisticated PPE.
Appropriate PPE selection will not only ensure employees will get the required level of protection they need but also saves you on unnecessary costs due to improper PPE selection. So when selecting PPE, consider the following 6 factors to to guide you.
Key Takeaways
Safety Data Sheets (SDS) contain helpful information in choosing PPE.
Perform a hazard or risk assessment and select PPE that is appropriate for the identified hazards.
Consider your industry and applicable PPE laws and regulations.
Comfort and fit are important in ensuring that workers will wear the PPE.
Worker involvement in choosing PPE helps in addressing all hazards and in selecting the most suitable PPE that meets their needs.

#1. SDS (Safety Data Sheets)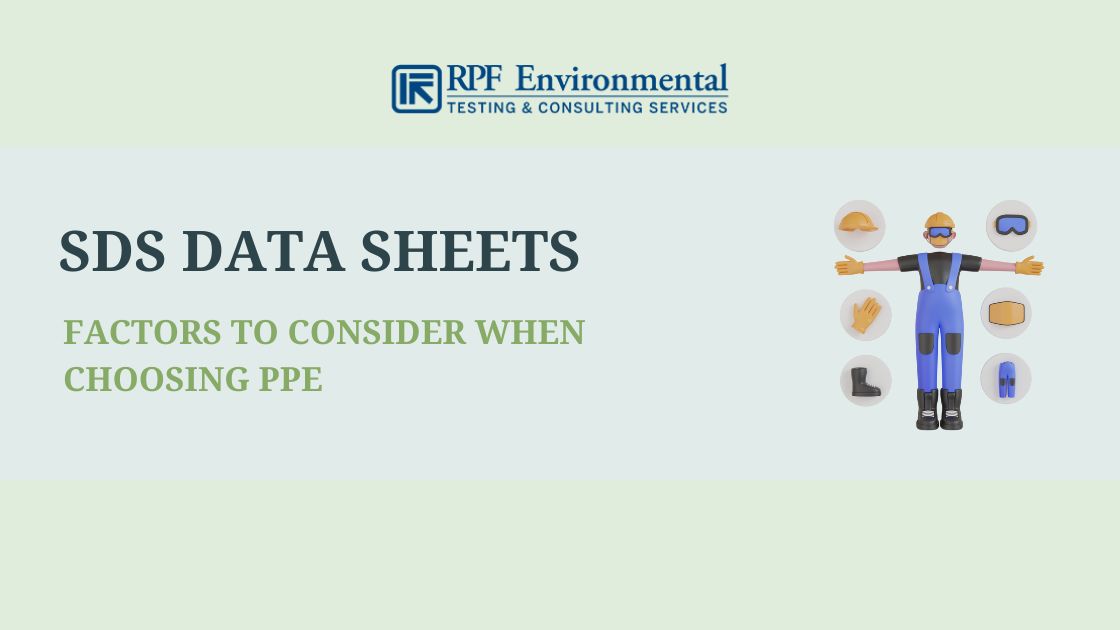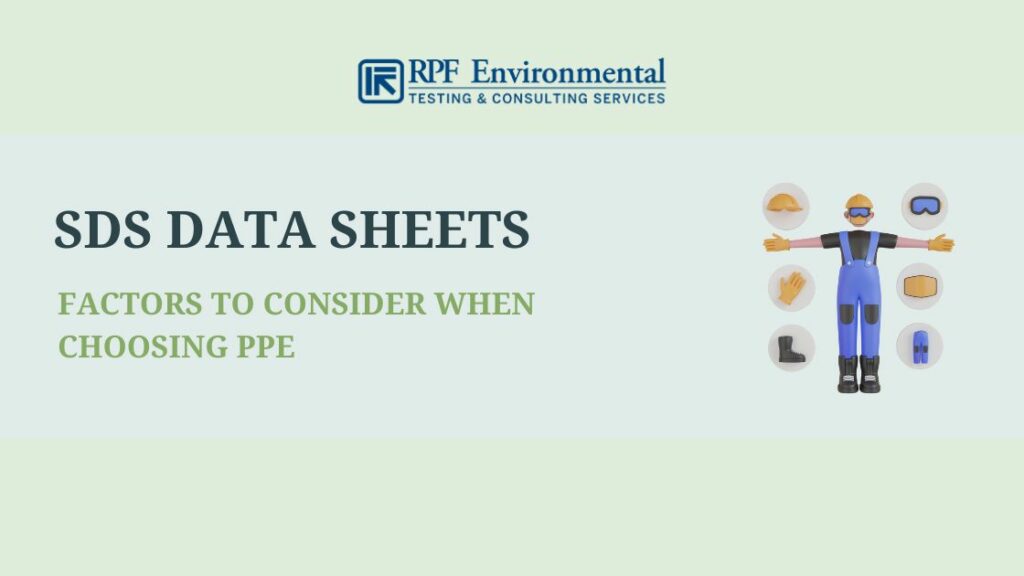 Safety Data Sheets include helpful information including the following in helping decide which PPE is suitable based on the type of hazards present in the workplace:
Chemical properties
Environmental health, physical, and health hazards
Protective measures
Safety precautions for handling, transporting, and storing chemical
In addition, two sections of the SDS contain appropriate response recommendations including personal protective measures in case of spills or leaks and PPE recommendations for chemical handling:
Section 6: Accidental Release Measures
Section 6 includes responses for small and large spills that significantly impact hazards as well as cleanup and containment practices to prevent/minimize exposure. Aside from these, it may also include recommendations for protective equipment to prevent clothing, eyes, and skin contamination.
Section 8: Exposure Controls/Personal Protection
Section 8 includes exposure limits, personal protective measures, and engineering controls to minimize employee exposure. It contains recommendations for the appropriate types of face, eye, skin, and/or respiratory protection suitable for the type of hazards and potential exposures. It also includes special PPE requirements, respirators, and protective clothing such as the glove material.
NOTE: PPE recommendations from the SDS may not necessarily apply to your workplace. You still need to consider other conditions in the work area including specific tasks being performed that may affect worker exposure risks. It may depend on how you are using the product, how much is being used, and how often it is used.
#2. Hazard or Risk Assessment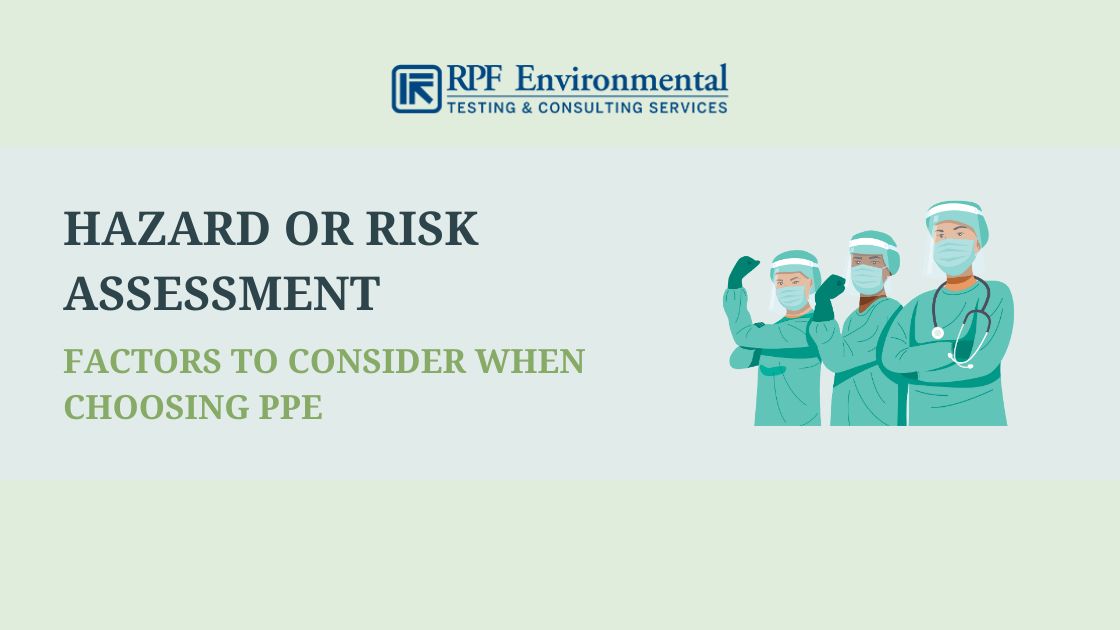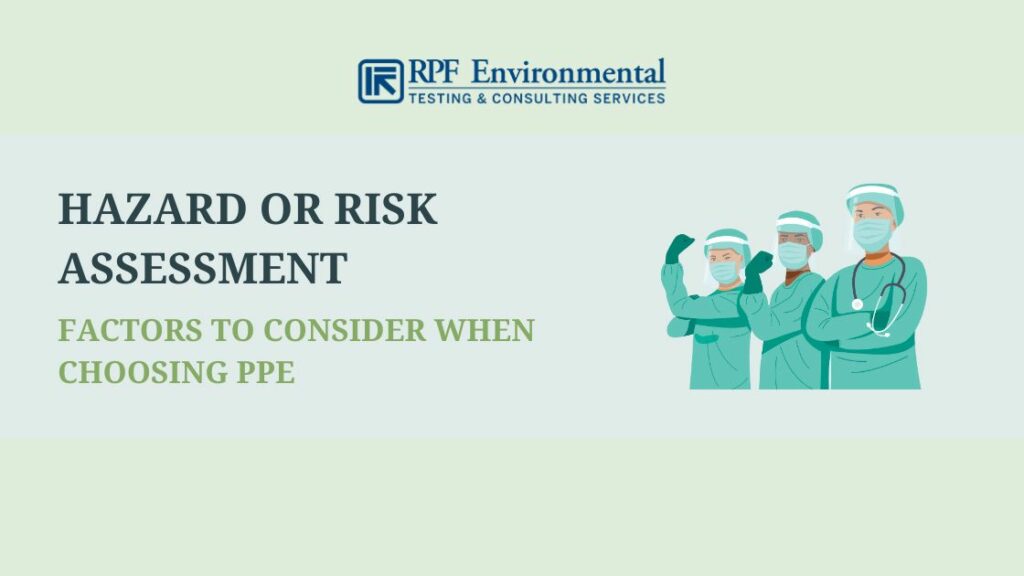 In-depth hazard or risk assessment is a more accurate way of selecting workplace-specific PPE. As we've mentioned, PPE should match the type of hazards in the workplace and provide the right level of protection to workers against these hazards. Collaboration between employers, employees, and other involved people is highly recommended when performing hazard/risk assessments to ensure that all hazards are identified.
Types of hazards may include:
Exposure to harmful substances including aerosols, dust, fumes, gases, etc.
Flammable and toxic chemicals
Working from heights
Slip and trip safety hazards
Confined spaces
Moving parts of machinery
Electrical hazards
Biological health hazards (e.g. mold, viruses, blood)
Radiation
Extreme temperatures
Ergonomic hazards
Collect & review information about existing and potential workplace hazards
Perform workplace inspections to identify new and recurring hazards
Identify health hazards (chemical, physical, biological, and ergonomic hazards)
Investigate reports and incidents thoroughly to identify root causes
Consider hazards involving non-routine and emergency situations
Determine the likelihood and severity of identified hazards and prioritize corrective actions
Importance of Hazard Assessment in Selecting PPE
One of the "root causes" of workplace injuries, illnesses, and incidents is the failure to identify or recognize hazards that are present, or that could have been anticipated. A critical element of any effective safety and health program is a proactive, ongoing process to identify and assess such hazards. – Recommended Practices for Safety and Health Programs, OSHA
Starting with the effective identification and assessment of hazards in your workplace is the key to ensuring that you choose the right personal protective equipment for the job. In fact, OSHA requires employers to perform a hazard assessment as well as identify and provide appropriate and adequate PPE for their employees.
Eliminating specific hazards or risks can help reduce the needed PPE and cut down on unnecessary costs. You should not heavily rely on PPE.
Once hazards have been identified and it has been determined that PPE is needed, identify the specific types of PPE required such as the material and style.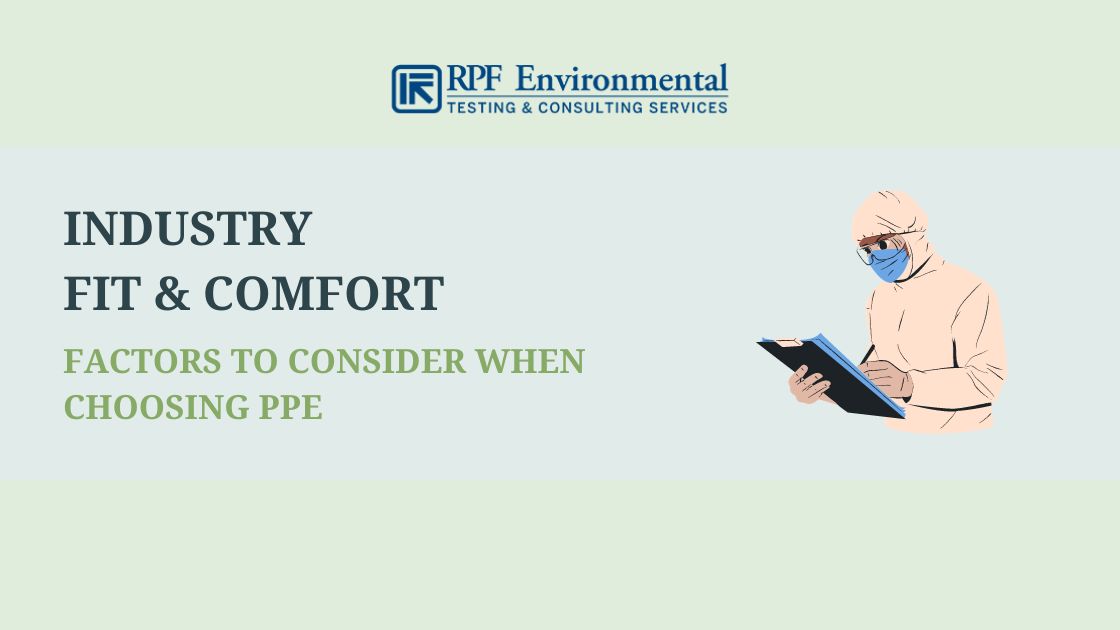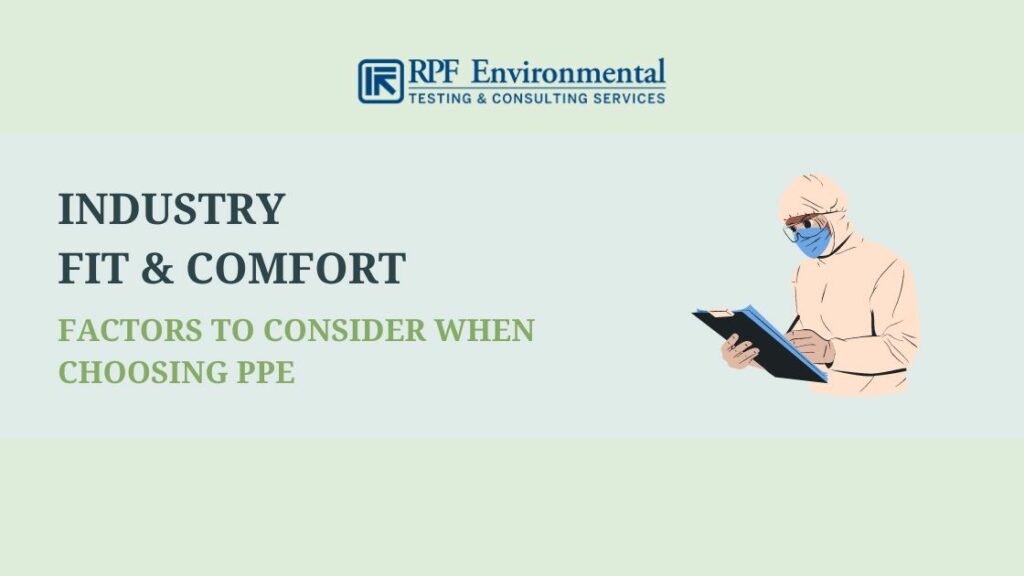 #3. Industry
OSHA has set different requirements for the general, construction, maritime, and agriculture industries. Make sure that you choose PPE that complies with applicable standards in your industry. Take note that there are specific materials in PPE that can be fatal when used in certain situations. An example is PPE made of HPPE that can melt into your skin at high temperatures which makes it not suitable for tasks dealing with fire.
#4. Fit & Comfort
Employers shall take the fit and comfort of PPE into consideration when selecting appropriate items for their workplace. PPE that fits well and is comfortable to wear will encourage employee use. – Personal Protective Equipment, OSHA
According to a study in 2020 regarding PPE use among construction workers, around 60% only use PPE during work and main non-use reasons include discomfort and poor fit. Most PPE comes in various sizes, so make sure that you choose one that fits each employee correctly to encourage them to use it. Besides, poor fit may not be able to provide the needed level of protection to workers.
In addition, ensure compatibility when different PPE will be worn together. They should not interfere with each other.
Consider the Climate Too
Too bulky PPE is not comfortable to use in hot environments and can cause fatigue to workers while PPE that is too light in cold climates can lead to poor coordination. These can cause more serious accidents and injuries.
Balance comfort and safety when choosing the right PPE.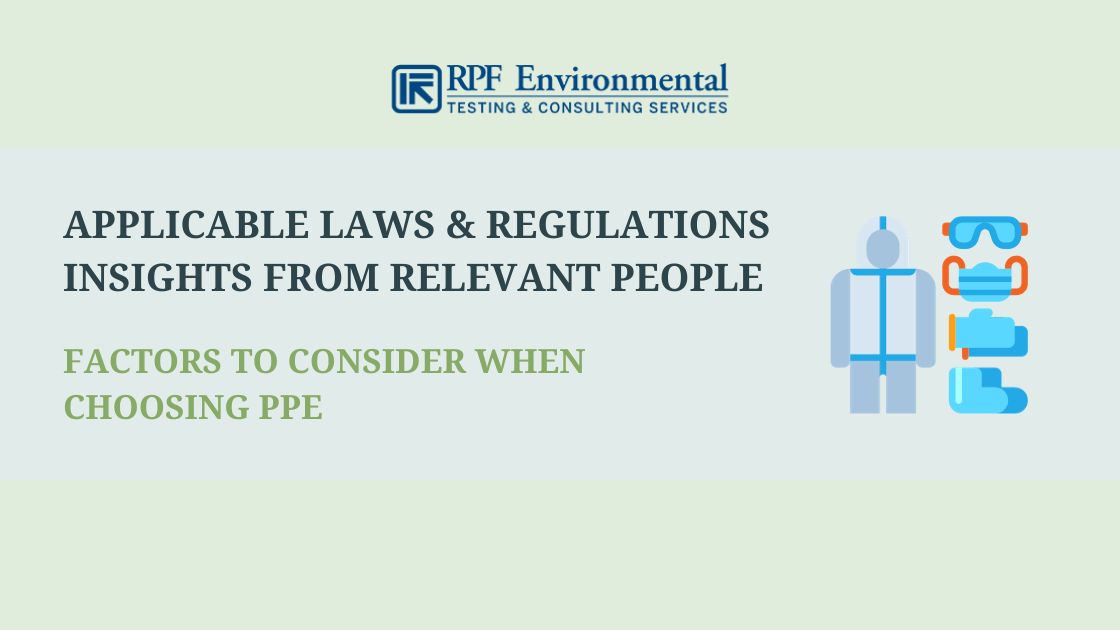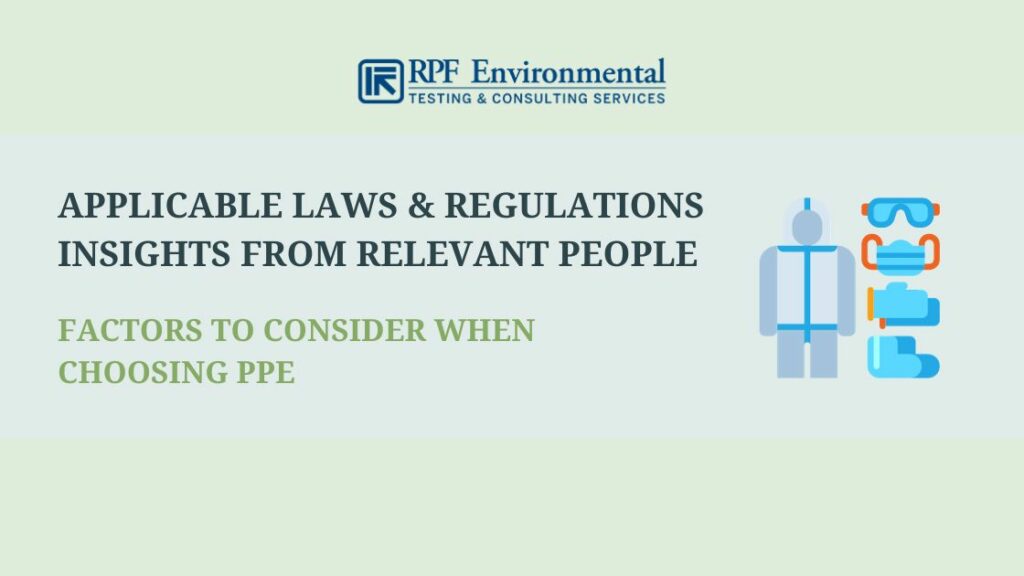 #5. Applicable Local, Federal, & State Laws and Regulations
We mentioned earlier that OSHA has different standards for PPE in various industries. However, OSHA requires most PPE to meet the standards set by the American National Standards Institute. Consider other laws and requirements for PPE and your industry in your local area too.
#6. Safety Professionals, Suppliers, Manufacturers, and Even Your Workers Can Also Help You Choose the Right PPE
Many large PPE suppliers and manufacturers have trained staff to help you determine the most suitable PPE for your workplace. But most importantly, workers who will wear the PPE should be involved in the selection process. They know the specific challenges in the workplace and can provide invaluable recommendations regarding what PPE is best suited for their work. Aside from that, involving them in the selection process will make sure that they will wear the PPE that they help choose themselves.
Other Factors to Consider When Choosing PPE
Resistance to chemicals based on the duration of work
Durability
Cost
Take note that PPE will not be effective without the enforcement of health and safety procedures. Aside from proper usage, PPE should be maintained in good condition and replaced when damaged.
Other Important Things to Know About PPE in the Workplace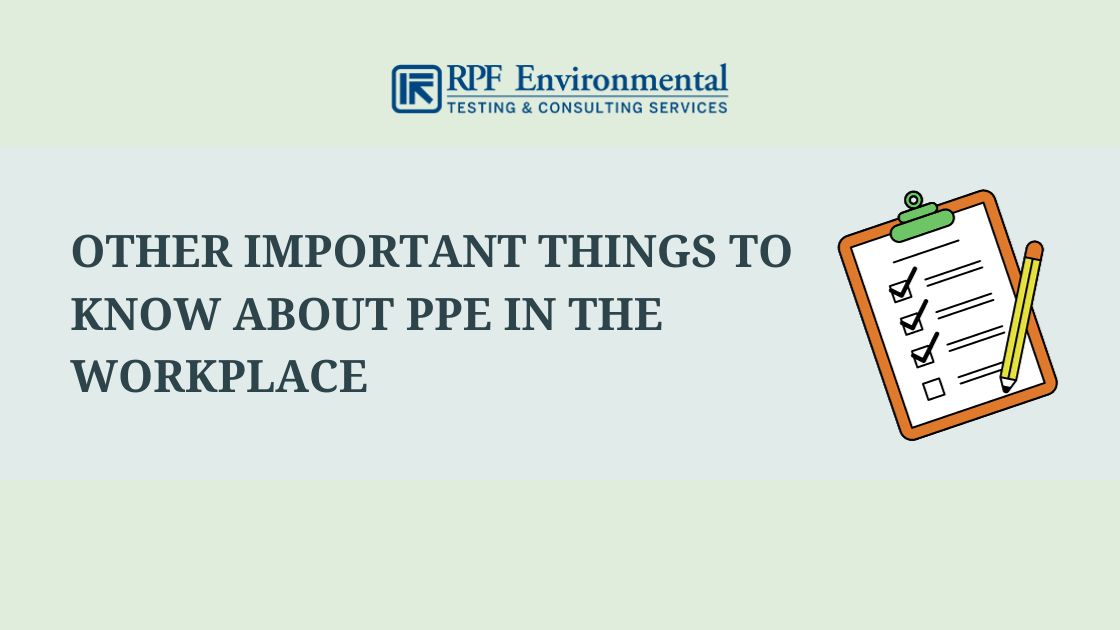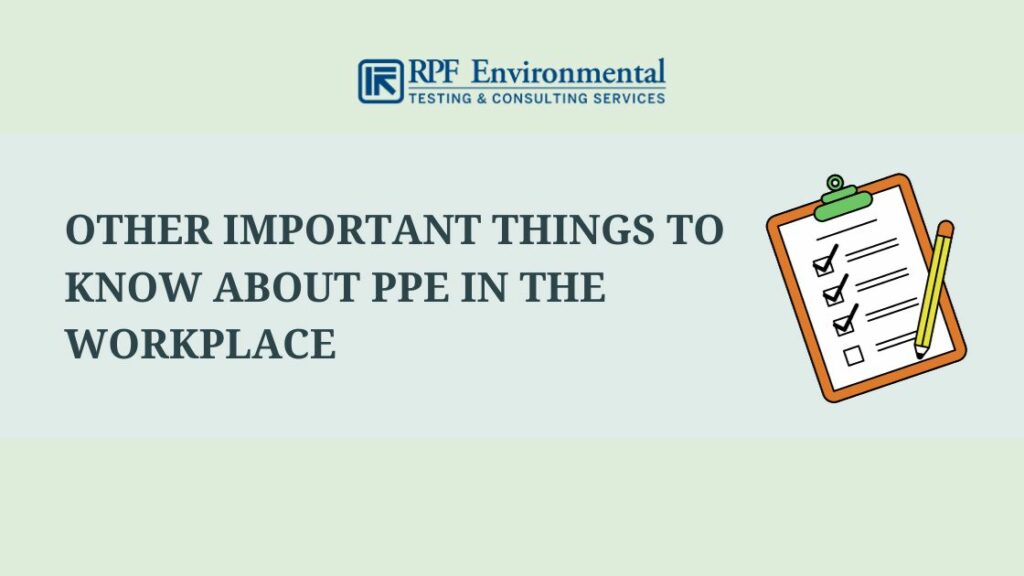 What is PPE?
"Personal protective equipment, commonly referred to as "PPE", is equipment worn to minimize exposure to hazards that cause serious workplace injuries and illnesses. These injuries and illnesses may result from contact with chemical, radiological, physical, electrical, mechanical, or other workplace hazards."
PPE may include:
Gloves
Respirators
Safety shoes
Safety glasses
Earmuffs or earplugs
Hard hats
Coveralls
Full body suits
Vests
Employer & Employee Obligations Regarding PPE in the Workplace
Employers are required to provide PPE at no cost to their employees when engineering, work practice, and administrative controls are not feasible or don't provide sufficient protection.
OSHA requires employers to:
Control hazards in the workplace by performing a hazard assessment
Choose PPE that properly fits affected employees
Train employees regarding proper PPE usage and care
Maintain PPE along with replacement of damaged or worn PPE
Review, update, and evaluate the effectiveness of their PPE program periodically
In addition, employees should also:
Wear PPE properly
Attend PPE training sessions
Clean & maintain PPE
Inform needed PPE repairs or replacements
PPE Training Requirements
Employers must provide training to employees who are required to use PPE as specified in the OSHA Personal Protective Equipment standard. The training must include:
What and when PPE is necessary
Proper PPE usage
PPE limitations
Proper PPE care, maintenance, and disposal
PPE will be useless when employees do not know how to use and care for them properly. PPE training for employees and employers alike is important to ensure compliance and the effectiveness of the PPE program.
FAQs
What is PPE and how do you determine what PPE to wear?
According to OSHA's definition, Personal protective equipment (PPE) is equipment that workers wear to minimize hazard exposure. Hazard and risk assessment is the first step to determining the best PPE that can provide the right level of protection against the hazards present in the workplace.
What factors should you consider when choosing PPE?
Among the main factors that you should consider when selecting the appropriate PPE for the job include:
– Safety Data Sheets (SDS)
– Hazard or risk assessments
– Industry
– Fit & comfort
– Applicable laws and regulations
– Insights from safety professionals, PPE suppliers and manufacturers, and workers
Why is it important to use PPE correctly in the workplace?
Wearing PPE helps reduce potential accidents, injuries, and fatalities in the workplace. When not worn correctly and without adequate training on its usage, workers may still be exposed to various hazards regardless of how thoroughly chosen the PPE was.
Conclusion
PPE that is specifically chosen to protect workers against workplace hazards can significantly decrease accidents and fatalities that can lead to potential liabilities and business disruptions. More importantly, involving workers in the selection process and choosing comfortable PPE will ensure that employees will wear them properly and receive the level of protection they need.
RPF Environmental can help you with OSHA-compliant PPE hazard assessments to ensure that you choose the right PPE for your workplace. We also offer EH&S training programs to maximize safety and protect your employees and business. Contact us now!