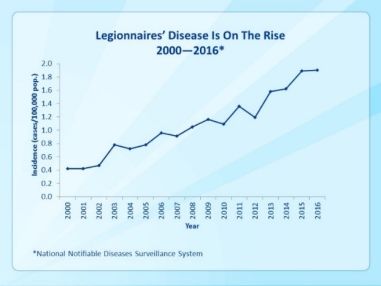 In last week's blog, we reviewed Legionellosis and its impacts. We talked about how Legionnaires' disease is on the rise and that better water management systems could help prevent outbreaks. In this third blog of the four-part series, we will look at what The American Society of Heating, Refrigerating and Air-Conditioning Engineers (ASHRAE) did in response and delve a little into how it is especially important for health care facilities.
ASHRAE formed a team in 2005 to devise a standard for managing risk associated with building water systems. After five drafts were released for public review, the final standard was issued in June 2015, and was called Standard 188, Legionellosis: Risk Management for Building Water Systems.
Standard 188 is voluntary unless it is adopted by a government entity. For example, in 2015, New York City legislated building owners to follow part of Standard 188 after there was a Legionella outbreak that resulted in the death of 12 people. The standard addresses risk management of Legionella in building water systems with the creation and ongoing use of a water management plan. It applies throughout construction, operation, and maintenance phases of new building construction, renovations, modifications, or additions. Designers and building owners and their managers are the audience and specific buildings types are targeted. These include non-residential, human-occupied buildings only if there are multiple housing units with one or more centralized water systems, more than ten stories, facilities with immunologically compromised patients that stay more than 24 hours, or facilities that house people more than 65 years of age.
All potable water systems, hot or cold, are included because of their delivery mechanisms—ice machines are included. It also applies to non-potable water systems that have cooling towers or evaporative condensers, humidifiers, air washers, atomizers, misters, or any devices that result in water aerosols.
Health care facilities, including long-term care, and their patients have conditions that cause elevated risk. In 2017, the CDC noted that people got Legionnaires' disease from a health care facility in 76% of the locations that reported exposures and that 25% of those died as a result. It is interesting to note that devices such as hydrotherapy equipment, respiratory machines, bronchoscopes, and CPAP machines offer ways in which Legionella can be spread.
The CDC encourages health care facility leaders to use CDC's toolkit as a guide for developing their water management plan (which is based on ASHRAE's Standard 188), to work with healthcare providers to identify Legionnaires' disease cases early, report Legionnaires' disease cases to local public health authorities quickly, and to investigate and prevent additional infections. The bonus here is that this will help control other water-related, health-care associated infections.
There is a normative annex in the ASHRAE's Standard 188 for health care facilities that meet certain qualifications. It calls for a water management program team member to be certified in infection prevention or to be an epidemiologist with a minimum of a master's degree. It has other specifications such as criteria for the water system flow diagram, minimum requirements for the risk management plan, and types of building water systems to be included.
The risk of Legionnaires' disease outbreaks at health care facilities is so high that The Centers for Medicare & Medicaid Services issued a memo in June of 2017 requiring certified healthcare facilities to have a water management program to reduce the growth and spread of Legionella. They referenced ASHRAE's Standard 188 as a guide.
RPF Environmental can offer you both an outstanding team and reliable, cost-effective testing results, but what really sets us apart from the competition is our service. We believe that each project deserves the same amount of attention and focus as though it were our only one, and we will find the unique, best-fit solution to your needs. We will analyze your situation from multiple angles and determine the best way to handle your Legionnaires' disease prevention needs. Contact us at www.airpf.com or 1.888.SAFE.AIR (888.723.3247).