There are states that require regular apartment or rental property inspections. But, property managers and landlords including apartment complex owners and even potential renters can schedule inspections when necessary. This is to spot problems that might lead to major issues such as water damage that can lead to mold growth or asbestos and lead contamination that can cause various health complications.
Key Takeaways
Apartment inspections identify potential issues and necessary repairs in the unit before they turn into bigger and costlier problems.
They ensure that lease agreements are being followed and that the property remains compliant with applicable laws and regulations.
They can be conducted annually or every few months especially when tenants move in and move out of the unit.
It is recommended to seek the help of a professional during apartment inspections to accurately identify serious problems such as toxic mold, lead, and asbestos.

What Is an Apartment Inspection?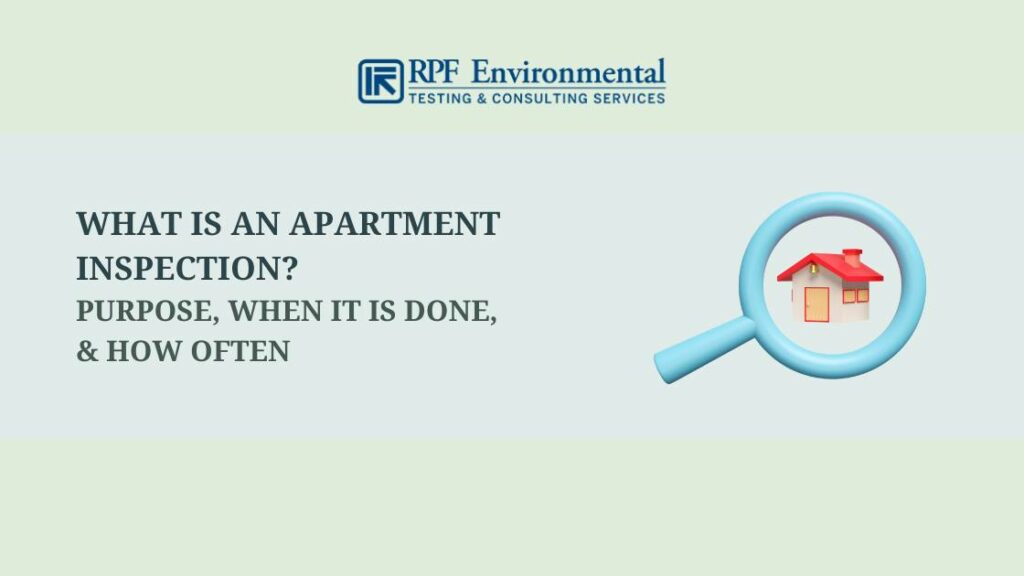 Apartment inspections or rental property inspections are standard routine checks conducted to ensure that the property is in good condition without violations or damages. They can be done by the property manager or professionals typically with the presence of the tenant. Aside from checking for any damage, alterations made inside and outside are also noted.
What Is the Purpose of an Apartment Inspection?
Apartment inspections are done to identify potential issues including any maintenance or repairs that might be needed before they turn into big issues. Their main purpose is to make sure that the property is safe for occupancy. In addition, city inspections can also be performed on rental properties to ensure that these properties meet local codes and other laws and regulations including health and safety requirements.
Benefits of Apartment Inspections to Property Owners
You are legally allowed to perform inspections to protect your investment
They help settle disputes and account for deductions from your renter's security deposit in case of damages
To ensure that lease agreements are not violated
To make sure that you comply with laws regarding the removal of hazards such as lead and asbestos that can result in health risks and hefty fines
Benefits of Apartment Inspections to Renters
To ensure that you get a safe and pleasant living space especially if you are renting an apartment in an old building where toxic lead and asbestos might be present
To document pre-existing damages before you move in so you won't have any trouble once it is time for you to get your security deposit back
Tip: Have the landlord fix existing issues before you sign your lease.
When Is an Apartment Inspection Done?
Apartment inspections can be done whenever the property manager feels that it is necessary regardless if you are home or not. They can be done before the tenant moves in (called move-in inspections or walkthroughs) where both the tenant and property manager go through an inspection checklist. It can also be done before tenants move out (called move-out inspections) where any damage incurred will be taken out of the tenant's security deposit.
Other types of apartment inspections are:
Quarterly Inspections – Seasonal inspections where the landlord gives the tenant notice regarding the inspection to ensure that tenants are not violating the terms of the lease.
Drive-by Inspections – Quick assessments of the property where the exterior is visually inspected.
Moreover, city inspectors perform random rental property inspections especially if violations are suspected.
How Often Are Apartment Inspections Done?
Some states require annual inspections, but property managers can conduct one every few months, and some only when the tenant moves in and moves out. Lease agreements may also state the frequency of apartment inspections.
NOTE: Too frequent visits (multiple times in one month) is considered excessive.
Apartment Inspection Checklist: Things That Landlords, Property Managers, And/Or Trained Professionals Look For During a Property Inspection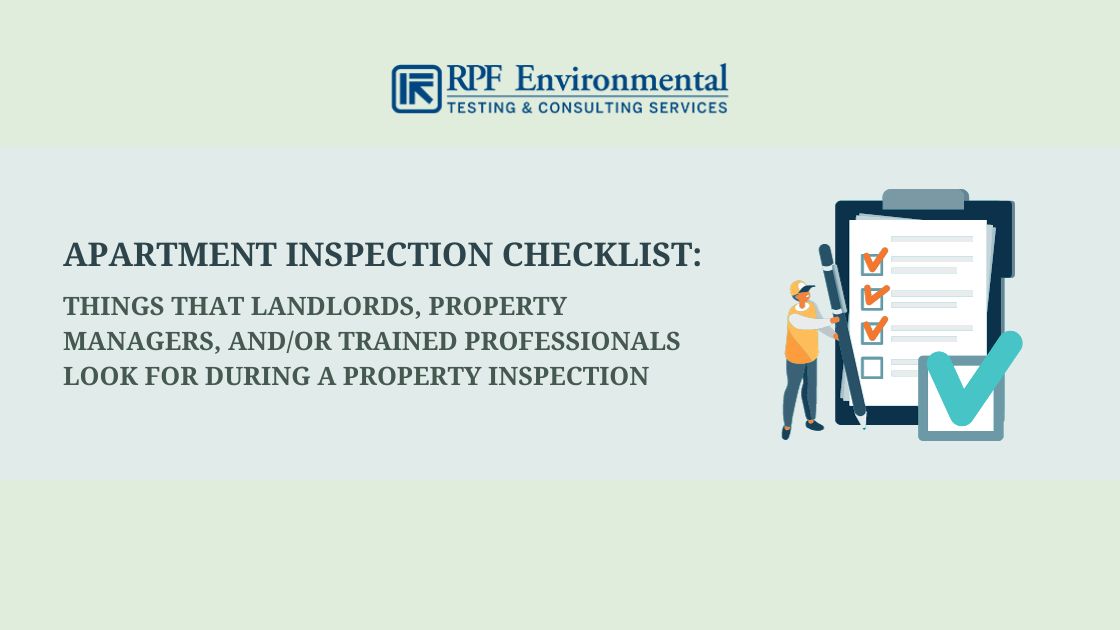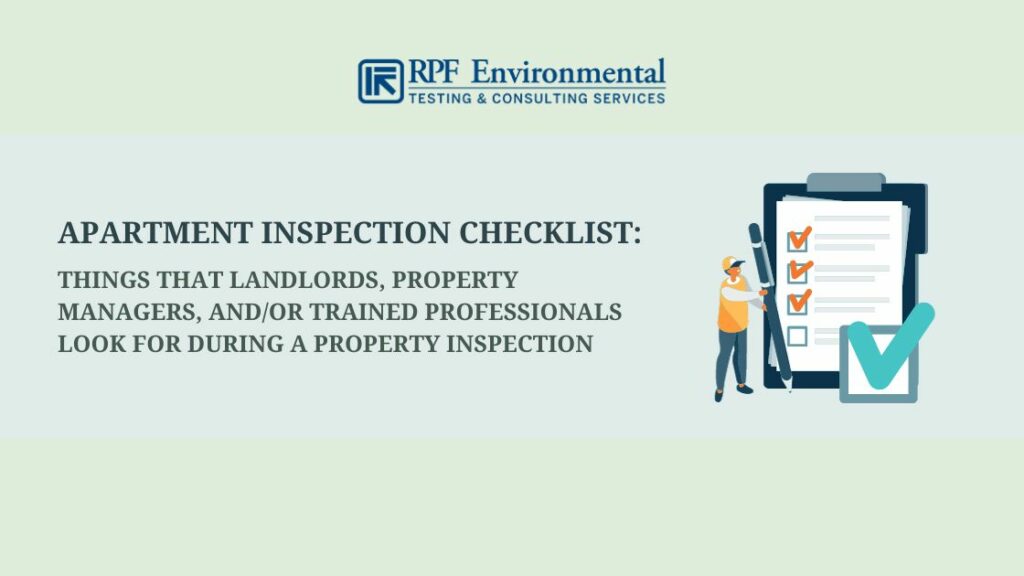 During an inspection, the tenant and landlord may have a comprehensive inspection checklist that they will both sign. It will include the functionality and general condition of various items in the unit including the following:
Doors
Door locks
Windows
Walls
Roof
Gutters
Beds
Lighting
Kitchen appliances
Cabinetry
Closets
Counters
Drawers
Toilet
Sinks
Plumbing
Shower
Tub
Flooring
Carpet
Blinds
Shades
Smoke detectors
Carbon monoxide alarms
Cable hookups
Electrical outlets
Heating and cooling systems
Ceiling fans
Furniture
Thermostat
Fuse box
Balconies
Porches
Walkways
Decks
Garage
Pest infestations
Structural weakness
Foundation issues
Other add-ons
Other Top Concerns During Inspections
Aside from making sure that you are living in a pleasant space, inspections also help identify serious health hazards such as toxic mold, lead, and asbestos exposure.
Water Damage & Mold
Water damage causes mold growth that can be destructive and cause various health issues including severe allergic reactions, especially in immunocompromised individuals. Exposure to toxic mold can worsen asthma symptoms and lead to respiratory infections.
Mold can also grow in various places including areas with excessive moisture such as roofs, walls, and pipes. This makes checking for hidden mold with the help of a professional important to completely get rid of the problem.
Also Read:
Lead
Many buildings including apartments built before 1978 have lead-based paint which can be a serious health hazard with young children and pregnant women being the most at risk. Inhaling or ingesting lead dust can cause fatal lead poisoning and can lead to irreversible damage to the health including:
Behavioral and learning problems
Brain and kidney damage
Damage to the nervous system
Miscarriage
Premature birth
Stillbirth
In fact, the Lead-Based Paint Disclosure Rule requires landlords to disclose certain information regarding the presence of lead-based paint hazards in apartments built before 1978.
Also Read:
Asbestos
Asbestos materials are common in rental properties built or renovated before the 1980s. It can be found in numerous building materials including flooring, ceiling, roofing, insulation, and walls. Inhaling toxic asbestos fibers can cause various diseases including asbestosis, mesothelioma, and lung cancer.
ONLY PROFESSIONAL INSPECTION CAN ACCURATELY AND SAFELY IDENTIFY LEAD-BASED PAINT AND ASBESTOS HAZARDS IN A PROPERTY.
Other Important Things to Know About Apartment & Home Inspections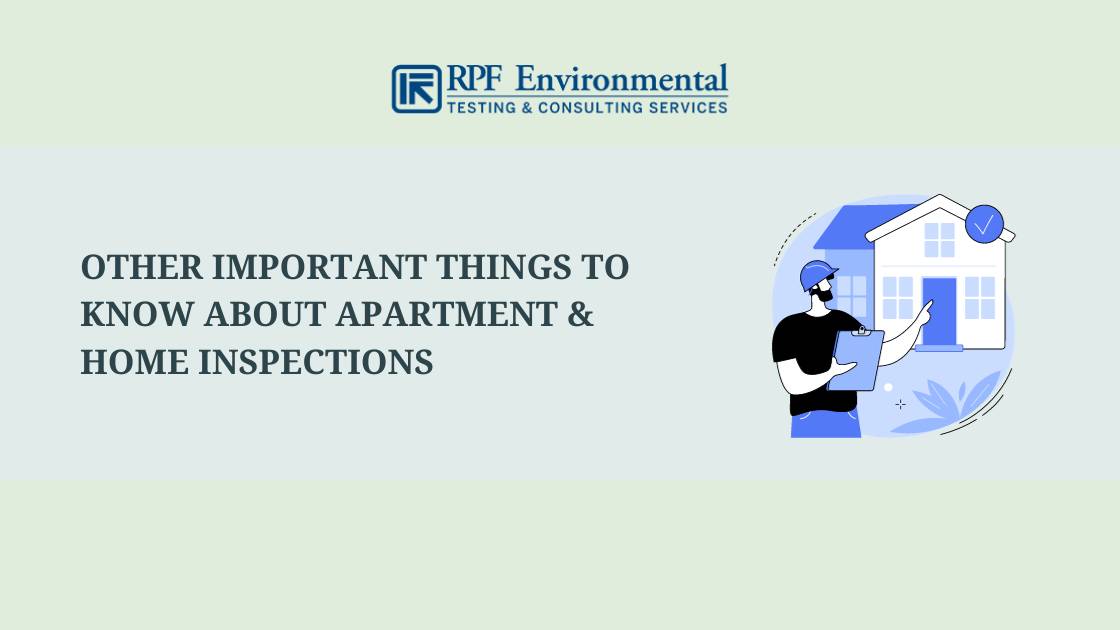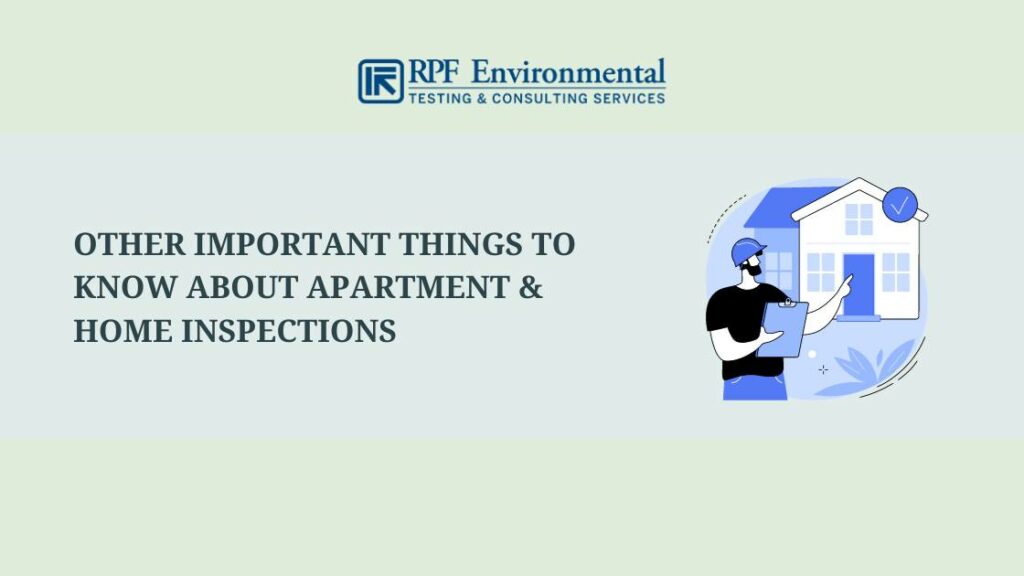 Reasons That Will Cause You to Fail an Apartment Inspection
Below are common reasons that may cause an apartment inspection to fail:
Unauthorized pets & remodels
Holes/cracks in the walls
Broken windows
Inappropriate behavior
Vandalism
Stains
Broken appliances
Water damage
Excessive mold/mildew
Unsanitary bathroom
Commercial activities
Electric & HVAC issues
Fire code violations
Other serious damage
Are Property Managers Required to Give You Notice?
Depending on your area, landlords must give a 24 to 48-hour notice (often in writing). Some provide a week for the tenants to prepare. It's usually unlawful for property managers, landlords, or inspectors to show up unannounced. However, tenants should also check their contracts regarding routine inspections.
How Do You Prepare for an Apartment Inspection?
For property managers or landlords, you can avoid city inspections by making necessary repairs and keeping the exterior of your property neat and clean before inspectors visit your property. For tenants, you should clean stains and marks on your walls, flooring, and carpeting as well as make minor repairs where needed. The key is to keep your unit clean and in good condition.
Conclusion
Landlords and property managers often conduct apartment inspections to keep their properties in good condition. This also ensures that the space is safe for tenants to live in and won't pose any significant health risks. It also helps prevent hefty fines associated with the presence of toxic substances in the property.
RPF Environmental has been helping various businesses create safe living spaces and work environments as well as prevent violations in the New England region for over three decades. Book a consultation now to learn more about our services!