Residents living near waste sites and manufacturing facilities as well as employees working with PFAS have the highest risk of getting exposed to these chemicals. PFAS, especially PFOA and PFOS, can be found in various places in the United States including water sources.
Moreover, exposure to PFAS can cause adverse health effects. Thus, testing for PFAS in drinking water and well water is necessary to ensure your family's or employees' safety. Below are important things you need to know about PFAS water testing such as how it is done, PFAS water testing costs, causes of PFAS in water, and more!
Key Takeaways:
Contact your state for certified PFAS testing laboratories and make sure that they are following EPA's testing regulations and other requirements in your area.
PFAS can be found in many home products including personal care products and oil, heat, stain, and water-resistant products.
PFAS exposure can happen through ingestion of PFAS-contaminated food, water, and dust/soil or by breathing contaminated air.
Current studies suggest that PFAS can cause reproductive issues, cancers, developmental effects, and immune system damage.

RPF Environmental offers PFAS water testing in Massachusetts, Maine, New Hampshire, and beyond the US. We have licensed professionals who will conduct the test at our certified water testing lab to ensure compliance with EPA's PFAS testing requirements. Contact us for more details!
Overview About PFAS: What Are PFAS Chemicals?
Per- and polyfluoroalkyl substances (PFAS) are a group of thousands of manufactured chemicals used in various consumer and industry products. PFAS were used since the 1940s due to their resistance to water, heat, and oil. Perfluorooctanesulfonic acid (PFOS) and perfluorooctanoic acid (PFOA) were the two most regulated and studied types of PFAS.
According to the CDC, PFAS are a concern due to the following reasons:
They don't break down
They can be carried through the soil
They can build up in fish and wildlife
Methods for PFAS Testing in Drinking Water: How Do You Test for PFAS in Water?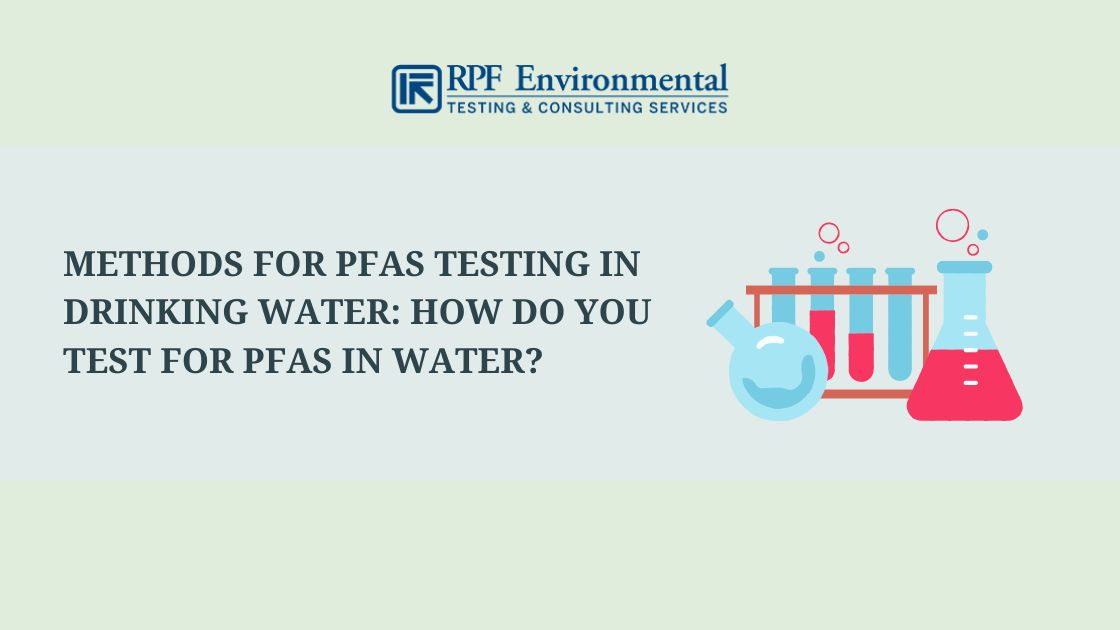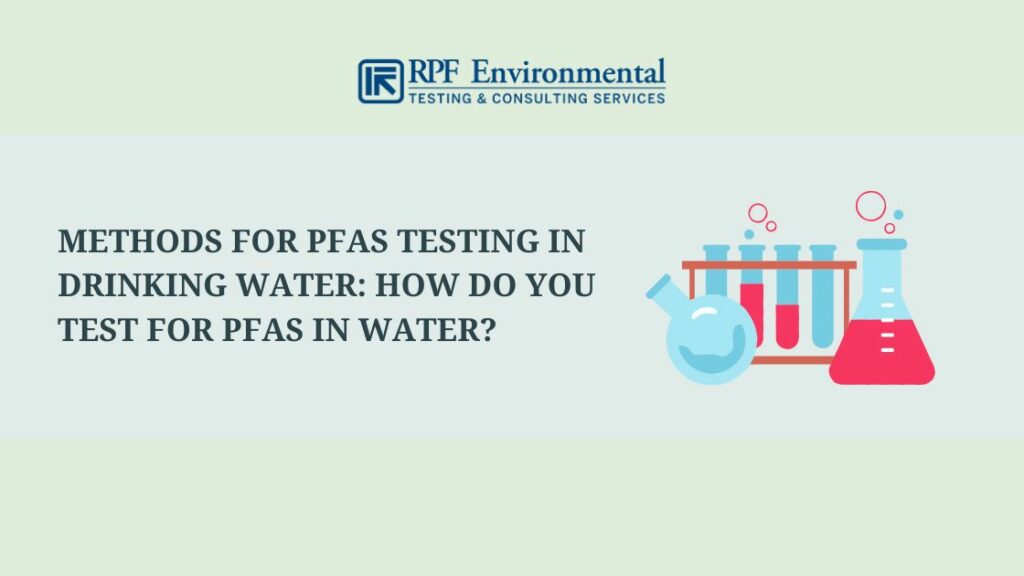 3 EPA PFAS Sample Collection & Analysis Methods
There are three methods developed and validated by the EPA for testing 29 PFAS including the Massachusetts PFAS6 in drinking water (groundwater or surface water):
You may encounter modified versions of these methods, but these have not been evaluated by EPA. Thus, their effectiveness is not guaranteed. Also, take note that there are some areas that don't approve specific methods for PFAS testing. Only a certified PFAS testing professional who is well-versed in local, state, and federal regulations can ensure a compliant PFAS test.
"EPA is not aware of a standardized description of the modified methods, nor is the Agency aware of studies that have validated the performance of these modified methods across multiple laboratories. Therefore, EPA cannot address the performance of "modified methods" in a general manner."

– EPA PFAS Drinking Water Laboratory Methods
Where You Should Test for PFAS
Whether you are a homeowner, an organization, or a business that wants to test for PFAS in your drinking water, make sure that you are working with a certified laboratory. Most importantly, it is best to find laboratories that use the three EPA-approved PFAS testing methods. Take note that PFAS laboratories will have different testing kits that can test for specific types of PFAS.
Moreover, EPA does not regulate PFAS and does not have PFAS laboratory certification requirements. The agency recommends contacting your state to find certified laboratories in your area. There are states that offer certification programs for laboratories testing for PFAS.
Other organizations offering PFAS laboratory certification programs are:
ISO 17025 accreditation bodies ("International Laboratory Accreditation Cooperation signatories")
Department of Defense Environmental Laboratory Accreditation Program (DoD ELAP)
Tip:
There are sample collection procedures for PFAS that you need to follow. We do not recommend doing PFAS water sampling yourself because you might accidentally contaminate the water while taking samples. Professionals take specific precautionary measures before taking samples and are trained to do PFAS sampling safely and effectively.
PFAS Water Testing Cost
Certified PFAS testing costs can range from $300 to $600+ per sample depending on the laboratory. You may find laboratories charging lower rates (even lower than $100), but they are most likely uncertified. PFAS testing involves a complex process and you will need to pay a few hundred dollars.
PFAS Testing Benefits: Why You Should Test for PFAS in Water?
One of the main reasons why you should test drinking water for PFAS is for compliance purposes. Another important reason is to detect issues as early as possible to avoid serious health concerns that might affect your family or business in the future. Testing for PFAS allows you to mitigate the problem before it gets worse especially if you are located near PFAS-contaminated sites.
Important Things to Know About PFAS in Drinking Water: Causes, PFAS Standards, & Health Impacts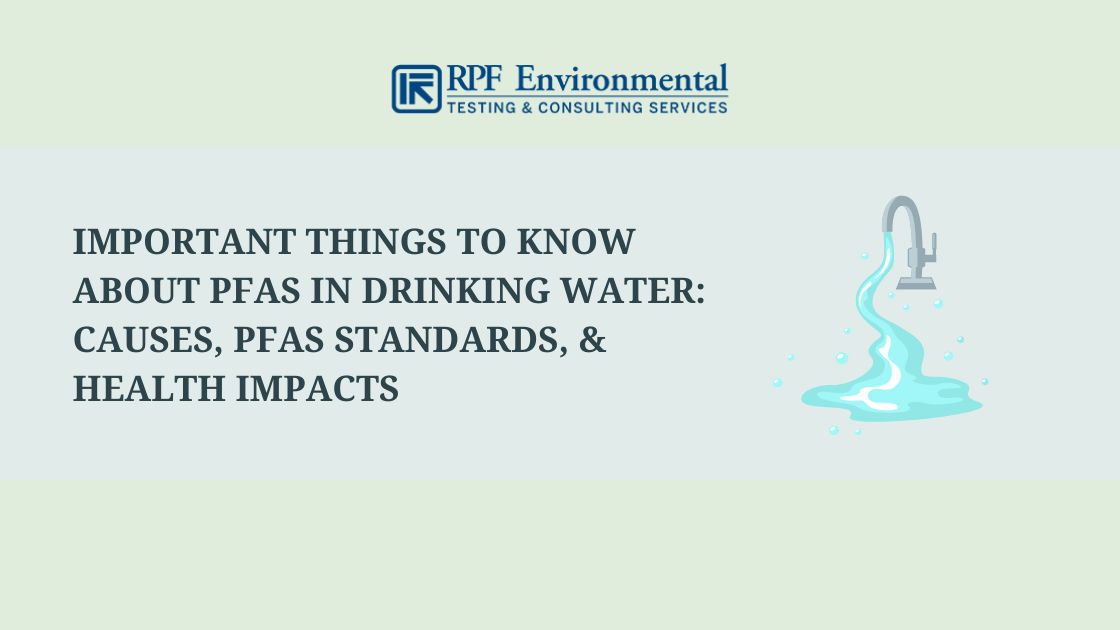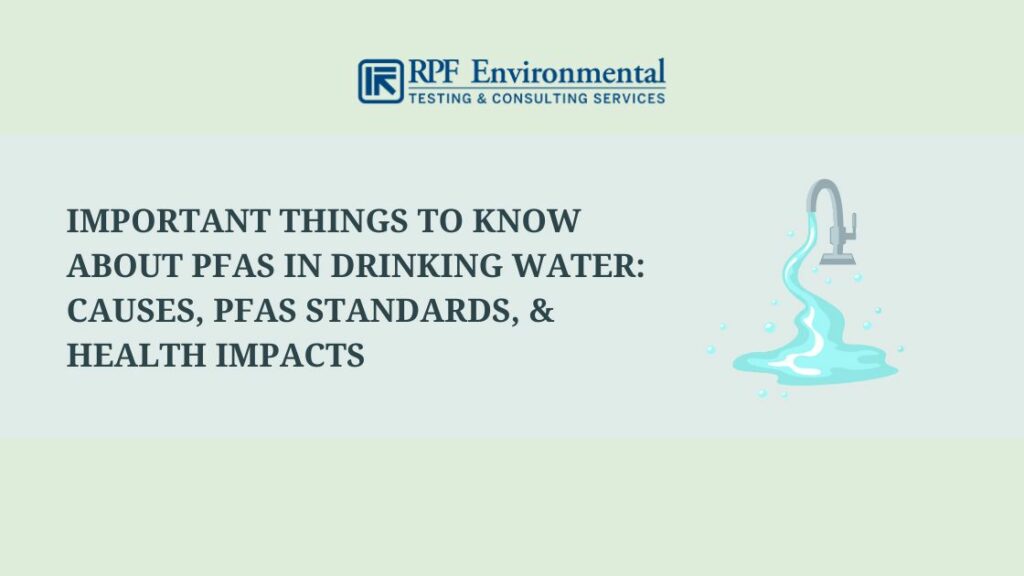 How Do PFAS Get Into Drinking Water? What Are the Causes?
PFAS can get into your drinking water when products containing them are spilled or disposed of. Thus, contaminating the ground and getting into the groundwater used in water supplies. Another cause is when they are released into rivers and lakes which are also common drinking water sources. Even PFAS released into the air can contaminate lakes and rivers.
PFAS Standards for Drinking Water: What Is the Acceptable Level of PFAS in Drinking Water?
EPA has proposed a National Primary Drinking Water Regulation (NPDWR) that will set Maximum Contaminant Levels (MCLs) and Maximum Contaminant Level Goals (MCLGs) for six PFAS found in drinking water:
PFOA
PFOS
PFHxS
PFNA
PFBS
HFPO-DA (GenX Chemicals)
These levels are specified below: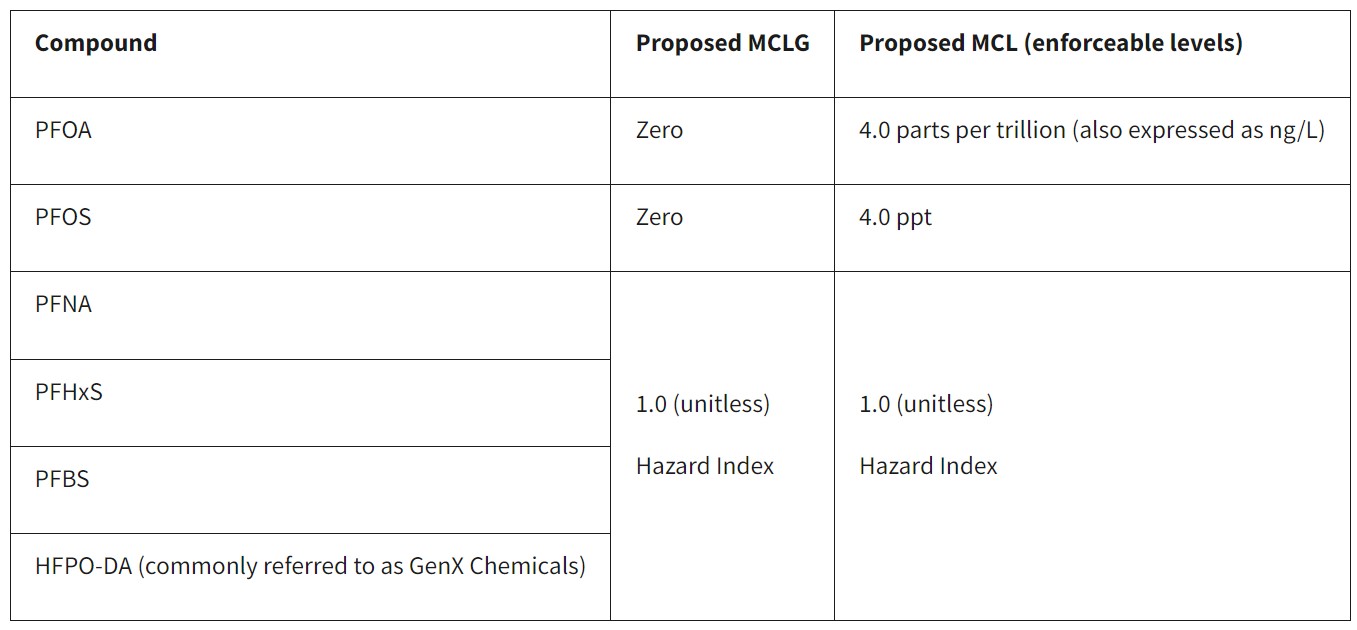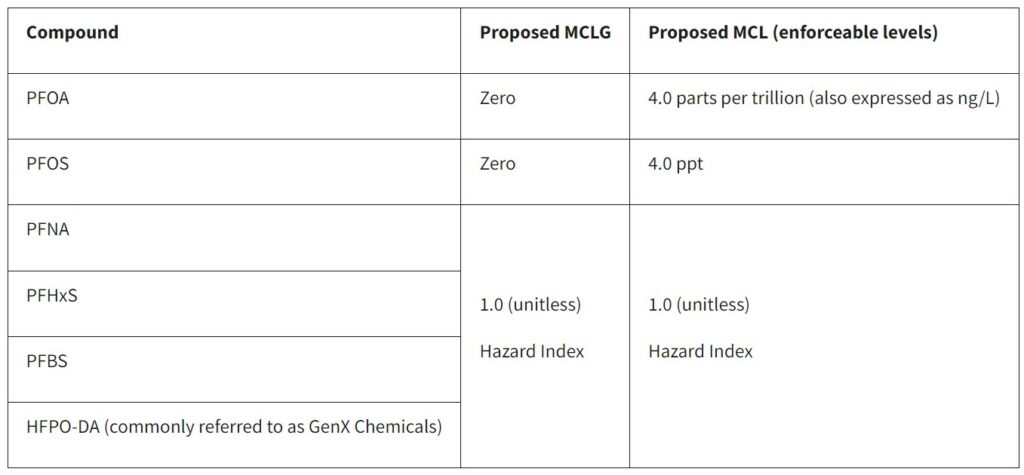 Source: EPA, Proposed PFAS National Primary Drinking Water Regulation
Take note that MCL is an enforceable standard while MCLG is not.
Additional requirements in the regulation include:
Monitoring for the mentioned PFAS
Notifying the public of PFAS levels
Reducing PFAS levels that exceed the standards
Where Can You Find PFAS?
PFOS and PFOA are no longer used in commercial products, but you can still find them in the environment (air, soil, water, and food) and other products:
Private drinking water wells
Public drinking water systems
Aqueous film-forming foams (AFFFs)
Cleaning products
Chrome plating
Paper and textile manufacturers
Electronics
Stain-resistant carpet and upholstery coatings
Personal care products
Fish in contaminated waters
Dairy products (livestock can be exposed to PFAS)
Grease-resistant food packaging
Non-stick cookware
Paints, sealants, and varnishes
Other oil, heat, stain, and water-resistant products
How Does Exposure to PFAS Happen?
According to the EPA, PFAS exposure can happen through the following:
Occupational exposure to PFAS such as chemicals manufacturing
Eating and drinking food and water that contains PFAS
Ingesting contaminated dust/soil, especially by children
Breathing PFAS-contaminated air
Using products that contain PFAS
NOTE: The study done by the Centers for Disease Control and Prevention (CDC) scientists revealed that nearly all of the people they tested have PFAS in their blood. Thus, most US citizens have been exposed to PFAS.
Dangers & Health Risks of Exposure to PFAS
Most exposures are low, but exposure to concentrated sources over an extended period of time can result in high exposures. Thus, leading to serious health conditions once they accumulate in the body.
Current studies suggest that PFAS exposure can result in adverse health effects. But according to the EPA, research about the impact of different PFAS exposure levels is still ongoing.
Below are the potential health effects of PFAS exposure according to current studies:
Decreased fertility
Increased high blood pressure
Developmental effects (behavioral changes, bone variation, accelerated puberty, and low birth weight)
Damage to the immune system
Cancer (testicular, kidney, and prostate)
Liver damage
Obesity
In addition, below are the people who are most at risk:
Workers exposed to PFAS
Pregnant/lactating women
Developing children
Also Read:
FAQs
Can I test my own water for PFAS?
Although certified PFAS testing laboratories can provide guidelines for using PFAS test kits for homeowners to test PFAS in their water, we recommend hiring experienced professionals. This ensures that sampling is done properly and guarantees accurate results.
How do I know if my water has PFAS?
If you are concerned about PFAS in your water, contact your state for certified PFAS testing laboratories that can help you test your water for PFAS. If you are connected to a public drinking water system, you can ask them if they have already tested for PFAS.
How do you test water for PFAS chemicals?
Find a certified PFAS laboratory in your area that will do the job for you. PFAS testing is a complex process that should only be done by qualified professionals to ensure compliance and reliable results.
Conclusion
Exposure to PFAS chemicals can lead to serious health complications, especially for pregnant women and children. They can be found in various places including your drinking water. If you want to ensure your business's or family's safety, hire a qualified professional with experienced and certified chemists to test PFAS in your water.
RPF Environmental has been offering environmental testing services in the New England region for over three decades. We have licensed professionals and a certified laboratory to guarantee that you get reliable results at the best prices. Contact us now for more details about our PFAS water testing services!