At RPF Environmental, we are continually striving to provide better and better environmental testing and consulting services for our clients throughout Maine, Massachusetts, New Hampshire, and beyond. Part of how we accomplish the ever-rising trend of great client service is by collecting new knowledge, growing our understanding, and proving that we are the industry experts that professionals and corporations alike can depend on.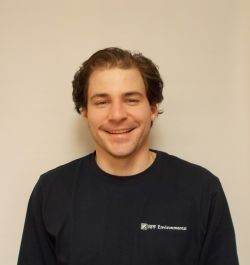 In an impressive show of his professional abilities, Benjamin MacDonald of RPF Environmental has recently expanded his own knowledge base, and therefore further improved our already-specialized company, by passing the American Board of Industrial Hygiene exam. This challenging accomplishment has officially earned his Certified Industrial Hygienist (CIH) credentials. We would like to take this time to congratulate Benjamin on his success and look forward to all of his fantastic achievements that certainly await.
What is an Industrial Hygienist?
Much of the projects we take on at RPF Environmental are focused on improving safety conditions at industrial sites and ensuring nothing at such locations jeopardizes local communities through containment leaks or hazardous disposal errors. An industrial hygienist takes a scientific approach to this task, reviewing worksites and analyzing any potential hazards to help protect worker and community member health as well as encouraging safe habits and protocols. Due to the extremely technical knowledge required for the job, only a Certified Industrial Hygienist with appropriate credentials should be retained.
In order to obtain CIH credentials, the individual must excel in:
Air sampling
Biostatistics
Community exposure
Engineering and non-engineering controls
Health risk analysis
Radiation research
Toxicology
And much more
About Benjamin MacDonald & RPF Environmental
Mr. Benjamin MacDonald is a Senior Environmental Health & Safety Consultant at RPF Environmental, Inc., headquartered in the northeast. He has spent the last 7 years working with commercial and industrial clients that required his expertise. Benjamin has also earned a certification as a microbial consultant. For more intricate and potentially hazardous worksites, he has been licensed in several states to act as an asbestos consultant, helping companies moving into new properties or updating current structures determine the asbestos risk at a site. Despite asbestos being a known carcinogen, it is still permitted for use in many construction and industrial projects.
RPF Environmental is a trusted industry leader that provides indoor air quality assessments, mold testing and remediation, OSHA and EPA regulatory compliance services, and many other assignments and services. We are also proud advocates of the improvement of worker and community health and safety and how environmental control issues play a factor. To spread awareness of dangers and knowledge in smart safety practices at industrial sites and other commercial locations, we routinely offer safety training programs for New Englanders.
If you would like to know more about Benjamin MacDonald or RPF Environmental, Inc., please feel free to contact us online at any time. You can also call 603-942-5432 to schedule an initial consultation for a more in-depth discussion or review of our services.